APPLY FOR THIS OPPORTUNITY! Or, know someone who would be a perfect fit? Let them know! Share / Like / Tag a friend in a post or comment! To complete application process efficiently and successfully, you must read the Application Instructions carefully before/during application process.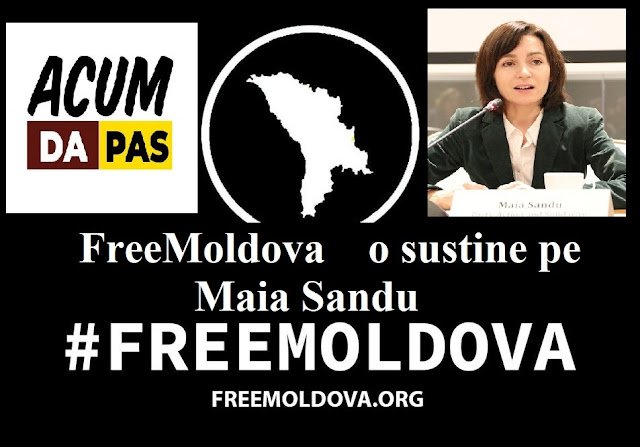 Astăzi Maia Sandu și-a anunțat candidatura pentru Circumscripția 50 – Europa de Vest. Tot astăzi câțiva activiști civici din diasporă și susținătorii lor și-au arătat nemulțumirea față de decizia ACUM. Noi respectăm opinia fiecărei părți, pentru că fiecare are dreptul la replică, pentru că dorim să trăim în democrație și pentru că credem în libertate. Și deși avem încă multe de făcut la capitolul comunicare între cei plecați și cei rămași, FreeMoldova își păstrează aceeași poziție pe care a avut-o de la început și anume de a susține Blocul ACUM la alegerile din 24 Februarie. Considerăm că acum mai mult ca niciodată trebuie să lăsăm orgoliile la o parte, să fim maturi în declarații, chibzuiți în gândire și uniți în dreptate pentru scopul nostru comun. Ținem să precizăm și să credem că ACUM va valorifica această încredere a noastră și nu ne va dezamăgi.




Maia Sandu – Dragi prieteni din diasporă și de oriunde, am auzit astăzi mai multe opinii cu privire la faptul că am decis să candidez pe circumscripția 50 – Europa de Vest. Întotdeauna există argumente pentru o decizie sau alta. De această dată, mi-am asumat sarcina să conving cât mai mulți concetățeni din diasporă să depună un efort și să vină pe 24 februarie la secțiile de vot în număr cât mai mare. Există mulți oameni valoroși în fiecare țară de pe continentul european potriviți pentru a reprezenta diaspora, însă am considerat că ACUM este necesară înaintarea unui candidat unic, susținut de peste 138 000 de oameni în 2016, cărora le mulțumesc enorm pentru sprijin. Sper că la aceste alegeri vor ieși la vot și mai mulți. Prezența mare la vot a cetățenilor noștri din diaspora europeană va însemna nu doar câștigarea circumscripției, dar și câteva mandate în plus pe listă, suficient pentru ca ACUM să facem schimbarea. Învingem ACUM!


https://www.facebook.com/FreeMoldova/
How to Stop Missing Deadlines? Follow our Facebook Page and Twitter !-Jobs, internships, scholarships, Conferences, Trainings are published every day!