APPLY FOR THIS OPPORTUNITY! Or, know someone who would be a perfect fit? Let them know! Share / Like / Tag a friend in a post or comment! To complete application process efficiently and successfully, you must read the Application Instructions carefully before/during application process.
Nici o persoană fizică sau juridică nu are acordul meu de a mă filma, orice persoană care declară că are semnătura mea trebuie imediată raportată la poliție! Ceea ce a înțeles o canadiană cu origini africane de la Minister du Travail, de L'Emploi et de la Solidarite Sociale nu au înțeles cei de la The Canadian Security Intelligence Service (CSIS), sau li s-a dat comand ca să nu înțeleagă!
Și anume :că nu am permis de muncă și că am nevoie acordul celor de la LIPR de a munci! ( orice persoană care declară ca are semnătura mea ar trebui arestată! Pentru că sunt plătiți canadieni de către moldoveni și români ca să mă filmeze! Iar eu presupun că ei le zic că au semnătura mea! Atunci toate persoanele respective ar trebui arestate, pentru că tot ce fac ei este ilegal! Însă avem și un alt aspect! Eu i-am informat pe cei de la CSIS cât și Poliția despre derapajele unor canadieni și despre faptul că sunt plătiți din banii rușilor ( chiar dacă au trecut prin mai multe bănci prin europa) . Însă ceea ce mă miră că nici după un an de când mă aflu în Canada nu se reacționează! Să presupunem că canadienii au crezut totuși pe români și pe moldoveni că au semnătura mea, atunci atât cei de la Poliție cât și cei dela CSIS ar fi trebuit să mă aresteze pe mine! Însă nu au făcut-o din motive foarte simple, pentru că e destul să te uiți la contul meu bancar gol și totul devine foarte clar! Iar asta ar însemna să-i aresteze pe persoanele care trasmit informații lui Plahotniuc despre orice pas al meu în Canada! Plahotniuc se teme de o revoluție! Și romanii sunt persoanele care îl sprijină pe Plaha!
Românii au făcut tot posibilul ca eu să nu ajung în SUA în 2016 ca sădiscut direct cu americanii despre alegerile prezidențiale din toamna anului 2016! Pe data de 7 mai am depus și un memoriu în cadrul ambasadei SUA din București că dacă nu se va interveni cel mai probabil va gâștiga Dodon! Nu am primit nici o reacție atunci! Însă după ce a câștigat Dodon, i-am sunat pe cei de la Ambsada SUA din Bucrești și am cerut o copie a memoriului depus pe 7 mai 2016! Și atunci se prefăceau că nu cunoșteau nimic! Aflându-mă în Canada sunt atacat zilnic de tot felul de persoane, de la ONG-iști (inclusiv din RM și Ro) pină la persoane din tot felul de servicii! Toate persoanele care au venit din RM și RO prin Montreal la invitația a altor activiști din RM și RO ( indiferent de relația mea cu aceste persoane) toți prestează servicii pentru Plaha! Timp de un an eu nu am putut să întreprind nimic împotriva lui Plaha din cauza acestor activiști și nici acești activiști nu au întreprins nimic împotriva lui Plaha! La mine au început problemele după martie 2014 atunci cand rușii au luat Crimeea! Pentru că în februarie 2014 am făcut următoarea analiză că rușii vor lua Crimeea și că vor încerca să facă în Ucraina ceea ce au făcut și Moldova cu Transnistria! Sunt un foarte bun expert pe ceea ce inseamnă spațiul ex-sovietic și știu deasemenea cum ar putea să fie înlăturat de la putere Plaha cu toate panaramele sale! Datorită faptului că FBI-ul nu își face meseria cum trebuie va câștiga din nou Dodon împreună cu Plaha și Șor! Există o problemă de securitate atât în Canada cât și în România și asta se datorează banilor enormi plătiți de ruși prin intermediari moldoveni!
Rușii vor câștiga din nou în RM din cauza incompetenței și corupției celor din vest!
Acum când totul devine foarte clar, aceste persoane devin foarte nervoase și va fi nevoie să vină și cu o reacție pe măsură! Iar persoana vinovatăvor fi tot eu! Îmi este și mie interesant încăcât timp cei de la CSIS și Poliția dinCanada se vor preface că nu văd nimic! Cât despre ONG-iști care sau perindat pe aici presupun c majoritatea din ei nici nu știu pentru ce au fost chemați! Însă un lucru le-a devenit clar la toți! Că cei care fac invitația și cei care trimit cecuri pentru ca să mă urmărească prestează servicii pentru ruși!
Plop Andrei/ Lucrarea de master/ – Rolul mass-media în reflectarea conflictelor geopolitice. Studiu de caz: Mass-media în Federaţia Rusă/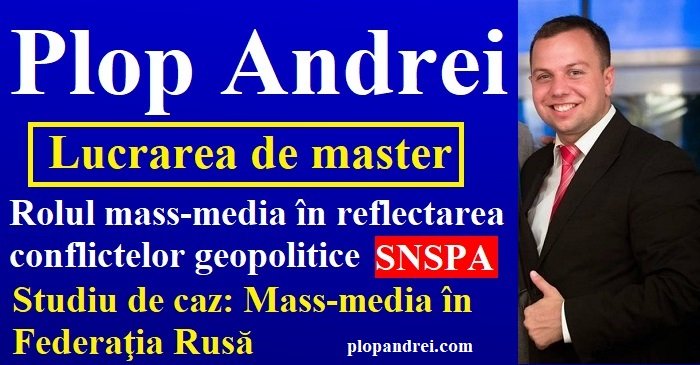 Plop Andrei: Update/ De ce are Moldova de o mobilizare generală și de o armată profesionistă! Maia Sandu este AGENTUL de influență al Kremlinului?!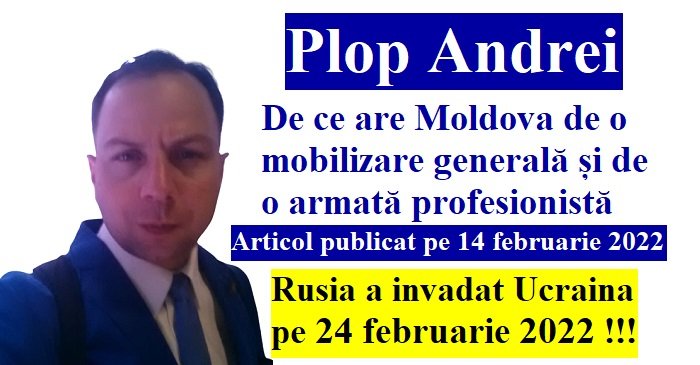 How to Stop Missing Deadlines? Follow our Facebook Page and Twitter !-Jobs, internships, scholarships, Conferences, Trainings are published every day!