APPLY FOR THIS OPPORTUNITY! Or, know someone who would be a perfect fit? Let them know! Share / Like / Tag a friend in a post or comment! To complete application process efficiently and successfully, you must read the Application Instructions carefully before/during application process.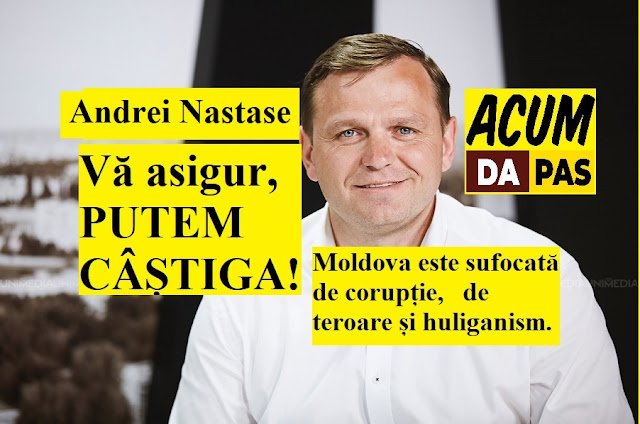 Dragi Prieteni, Vă rog să distribuiți.
Vă asigur, PUTEM CÂȘTIGA!

În ciuda unei flagrante tentative a monstrului Plahotniuc-Dodon-Șor de fraudare totală a acestor alegeri cruciale pentru țară și pentru fiecare cetățean în parte, PUTEM CÂȘTIGA!

Iar victoria depinde de cât de mare e dorința noastră de a trăi ca lumea civilizată la noi ACASĂ.

Putem să ne eliberăm și să trăim normal în țara noastră, așa cum mulți alții, nu puțini, peste 500 de milioane de suflete, trăiesc normal în țările lor europene.

Avem la îndemână modele. Putem face comparații. Putem face un efort minim să înțelegem cât de diferită este viața noastră față de a celorlalți oameni din Europa.

Știm, cei mai mulți dintre noi, cum este viața în țările civilizate. Mulți dintre noi au fost în aceste țări. Iar dacă nu am ajuns noi în Europa, au ajuns copiii, părinții, rudele sau prietenii noștri și ne-au povestit cât de liberi sunt oamenii din țările în care ei trăiesc astăzi.

Toți cei care au plecat la muncă în alte colțuri ale lumii au plecat de acasă din cauza sărăciei și a corupției, a umilinței la care au fost supuși ca oameni de monștrii politici. Moldova nu mai este, de prea multă vreme, un loc în care să vrei să-ți crești copiii. Pentru că din cauza celor aflați la putere, Moldova, atât de dragă nouă, nu ne mai poate oferi un trai decent, sigur și predictibil.

Moldova este sufocată de corupție, de teroare și huliganism. Pe străzi s-a instaurat dictatura infractorilor, bandiților. Legea nu mai este lege, iar șefii instituțiilor obligate să asigure ordinea și securitatea publică sunt slugile lui Plahotniuc. Locuri de muncă nu sunt, pensiile ne țin cărunții sub pragul sărăciei, iar cei are ne-a jefuit țara vor din nou în Parlament, deși locul lor este în pușcărie, nicăieri în altă parte.

Catastrofa socială și economică din Moldova are la bază statul corupt și captiv grupului de interese condus, după legi mafiote, de Vladimir Plahotniuc. Lumea civilizată știe, înțelege și a sancționat cu severitate abuzurile lui Plahotniuc împotriva poporului, împotriva noastră.

LUMEA CIVILIZATĂ NU POATE VOTA ÎN LOCUL NOSTRU!

Lumea civilizată, dragii mei prieteni, nu poate vota în locul nostru. Oamenii liberi ai Europei, fie că ei sunt olandezi, germani, francezi, britanici sau belgieni, nu pot decide și nu pot vota în locul nostru. Pentru că fiecare popor își alege singur soarta, votează pentru țara lui, pentru el și pentru familia lui.

Așa au făcut olandezii. Au ales să fie liberi, iar Olanda este astăzi un model de democrație și prosperitate. Așa au făcut și belgienii, austriecii sau germanii. Fiecare popor are propria lui întâlnire cu istoria. Aceste popoare nu au plahotniucul lor pentru au decis cu fermitate și maximă responsabilitate două lucruri.

În primul rând au decis cu toții să voteze, să nu stea acasă și să facă parte din istorica decizie colectiva pe care oamenii o iau atunci când vor să se elibereze. Al doilea lucru pe care oamenii îl fac atunci când vor să fie liberi este să aleagă, într-o singură zi, SCHIMBAREA completă a clasei politice care a adus prăpădul peste țara și sufletele lor.

Nimeni, dar absolut nimeni, nu mă poate convinge că NOI, oamenii Moldovei, cei mulți, drepți, cinstiți, harnici și curajoși, suntem mai prejos decat toți ceilalti care, vă rog să mă credeți, ne așteaptă în marea lor familie europeană. Doar că, dragii mei prieteni, cu Plahotniuc în fruntea statului nostru, cu Dodon și Șor nimeni, nicăieri, nu doar în Europa, nu ne așteaptă și nu ne poate prețui!

Vă rog să înțelegeți valoarea votului dumneavoastră și să evaluați ceea ce votul corect și asumat vă aduce la schimb. Acordați votul și încrederea voastra blocului ACUM și vă promitem că vom trasforma împreună Moldova într-o țară prosperă, democratică, civilizată.

Vă promitem că vom spulbera corupția și vom umple închisorile cu toți bandiții, mafioții și huliganii care au umilit și stăpânit această țară și oamenii ei. Vom confisca toate averile dobândite ilegal. Vă promitem dreptate pentru țară și pentru fiecare în parte. Vom aduce democrația și libertatea în țara noastră. NU suntem ca ei, ca cei care-și bat pur și simplu joc de oameni și de demnitatea lor. SUNTEM ÎMPOTRIVA LOR!

Nu vă fie teamă! Nu avem nevoie de stăpâni, iar acești stăpâni există pentru că noi le-am permis acest lucru. Ieșim la vot și terminăm cu ei! Ieșim la vot și scăpăm de ei. Scăpăm de teroare, de sărăcie și-i întoarcem pe cei dragi acasă!

SĂ SPUNEM "NU" CÂND SUNTEM OBLIGAȚI ȘI "DA" CÂND SUNTEM RUGAȚI!

Dragi prieteni, Moldova, iubita noastră Moldovă, va fi țara pe care ne-o dorim, țara pe care o merităm, abia atunci când vom decide că a sosit momentul să spunem din nou NU atunci când suntem obligați și DA atunci când suntem rugați. Abia atunci vom fi cu toții liberi, iar Moldova atât de dragă nouă ne va putea din nou cuprinde pe toți.

FIȚI PREZENȚI LA ÎNTÂLNIREA POPORULUI NOSTRU CU ISTORIA!

Vă rog să ieșiți la vot și să spuneți întregii lumi că ați fost prezenți la întâlnirea poporului nostru cu istoria. Să spuneți lumii că v-ați eliberat, că ați eliberat Moldova și că veți face dreptate și o viață mai bună!

Vă asigur de tot respectul și prețuirea mea! Doamne Ajuta!
How to Stop Missing Deadlines? Follow our Facebook Page and Twitter !-Jobs, internships, scholarships, Conferences, Trainings are published every day!