APPLY FOR THIS OPPORTUNITY! Or, know someone who would be a perfect fit? Let them know! Share / Like / Tag a friend in a post or comment! To complete application process efficiently and successfully, you must read the Application Instructions carefully before/during application process.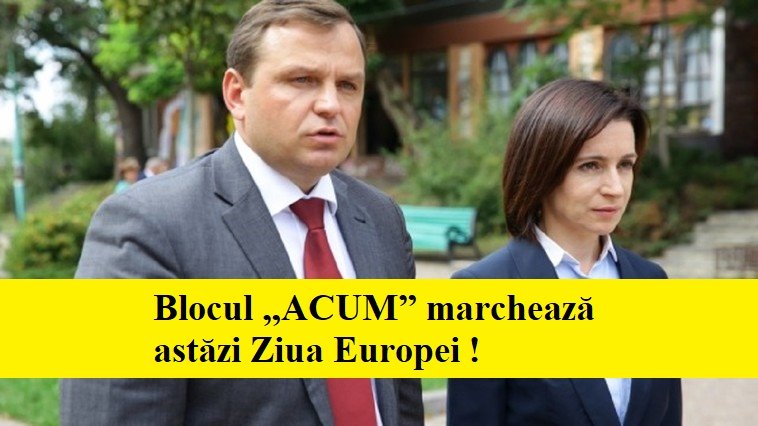 How to Stop Missing Deadlines? Please Follow our Telegram channel https://t.me/PlopAndreiCom ( @plopandreicom)
Vă invităm să urmăriți acum manifestația organizată de Blocul Politic ACUM cu ocazia Zilei Europei.
Manifestație organizată de Blocul Politic ACUM prilejuită Zilei Europei
Primarul Sucevei, Ion Lungu, îl propune pe Andrei Năstare, pe care l-a numit "primarul legitim al Chișinăului", cetățean de onoare al municipiului Suceava.
"Dragă Andrei, vreau să-ți spun că în ședința Consiliului Local din 30 mai, ca o minimă recunoștință a noastră pentru tine, pentru bătălia pe care o duci în Republica Moldova, pentru democrație, pentru Europa, voi propune să devii cetățean de onoare al municipiului Suceava", a spus Lungu, în cadrul unui miting electoral al PNL.
Liderul Platformei Demnitate și Adevăr a menționat, la rândul său, că este prea mult să i se confere titlul de cetățean de onoare, dar Ion Lungu a spus că este "pe merit".
Suceava înseamnă enorm pentru mine.
Înseamnă, de fapt, începutul.
Este locul unde, în 1992, adolescent fiind, am ales să învăț adevărata istorie și geografie a Țării, la facultatea Universității "Stefan cel Mare și Sfânt".
Am avut privilegiul să asist la cursurile unor dascăli de certă calitate, precum profesorii Ignat, Brânduș, Catană, Iosep, Iacobescu…
Dar ce colegi… Dumitru, Nelu, Alina, Anișor, Gelu… Niște frați adevărați, care m-au sprijinit cu tot de ce erau în stare, care m-au împătimit de lectura celor mai bune cărți, tipărite în acea perioadă în Moldova la prețuri derizorii și pe care le aduceam cu dragoste la caminul "Petru" din preajma liceului "Petru Rareș".
Anul trecut, cu binecuvântarea Arhimandritului stareț al Mănăstirii Putna, unde își doarme somnul de veci Ștefan cel Mare, împreună cu seful de campanie, Alexandru Machedon, anume de aici am început bătălia pentru Primăria capitalei Chisinau, demarând periplul prin cele mai bine administrate orașe ale României, pentru a prelua experiența acestora și bunele practici de administrare urbană.
Am pornit de la Suceava, oraș declarat destinație europeană de excelență, cu o moștenire culturală și istorică incontestabilă și cu cel puțin 12 etnii conlocuitoare.
Am apreciat înalt calitatea administrațiilor liberale (municipală și județeană) din Suceava și am luat cunoștință de bunele practici din domeniile turismului și culturii, infrastructurii și transportului, inclusiv a celui aerian low cost, modul eficient de accesare și administrare a fondurilor europene, inclusiv a celor destinate proiectelor transfrontaliere și am calificat drept extrem de oportune și utile discuțiile cu echipele manageriale ale dlui Ion Lungu, Primarul orașului din partea PNL, aflat la al treilea său mandat și cu dl. Gheorghe Flutur, președintele Consiliului Județean, un om de mare omenie și deosebit prin tot ce este și face.
Acest gen de practici de administrare modernă, eficientă, europeană, în interesul oamenilor, urmau a fi implementate de echipa mea de profesioniști și în Chișinău, cu suportul celor mai de succes primari ai României și Europei.
Am revenit cu drag pe aceste meleaguri, pentru un nou început, am revenit ca Acasă, unde pe vreme potrivnică, pe ploaie și vânt am fost încălzit de bunăvoința și dragostea frățească a oamenilor locului, a președintelui Ludovic Orban, a primarului Ion Lungu, a președintelui Consiliului Județean, Gh. Flutur, a vicepresedintelui PNL, Ioan Balan, de candidații PNL la alegerile europarlamentare, Rareș Bogdan, Vasile Blaga, Siegfried Mureșan, Adrian Dupu, Mihai Țurcanu, Cristian Bușoi, prietenii și apărătorii Republicii Moldova în țară și în străinătate.
I-am salutat cu Hristos a Înviat pe cei peste cinci mii de oameni veniți din localitațile județului Suceava și le-am transmis salutul frațesc al oamenilor liberi de dincolo de Prut. Le-am mulțumit Sucevenilor în nume propriu și în numele tuturor celor care au avut încredere în mine la alegerile câștigate anul trecut și cărora le datorez recâstigarea mandatului anulat în mod arbitrar de către justiția lui Plahotniuc, pentru frumoasa inițiativă a Primarului capitalei istorice a Moldovei de a-mi conferi titlul de cetățean de onoare al Sucevei.
Suntem la fel și gândim la fel, iubim și plângem la fel, ne închinăm în aceleași biserici și vrem cu totii câteva lucruri atat de importante pentru noi si pentru generatiile viitoare: LIBERTATE, DEMNITATE, RESPECT, DEMOCRATIE.
Lupta pentru libertate si democratie trebuie sa reprezinte principalul proiect comun al celor de pe ambele maluri ale Prutului.
Avem obligația să păstrăm România în Europa, iar pentru asta, noi, cetatenii români din stânga Prutului, vom vota candidații PNL și cu DA la referendumul inițiat de președintele Iohannis.
Generatia noastra este datoare sa puna capăt MINCIUNII. Pentru că se minte si aici si in Moldova de dincolo de Prut.
Generația noastră este datoare să pună capat IMPOSTURII. Pentru că sunt prea mulți impostori. Si aici si in Moldova din stânga Prutului.
Generația noastră este datoare să pună capăt OPORTUNISMULUI POLITIC. Pentru că este din belsug și aici și dincolo.
Generația noastră este datoare să dezvolte proiecte comune pentru România și pentru Republica Moldova. Doar muncind împreuna putem spera că vom fi din nou ceea ce am fost și mai mult decât atât.
Trebuie să lăsăm generațiilor viitoare un loc unde să se poată regăsi. Trebuie să făurim locuri de unde oamenii nu mai pleacă, ci se întorc.
Trebuie să facem tot ce este omeneste posibil pentru a ne recăpăta demnitatea, onoarea și respectul pe care noi, românii, il merităm.
Trebuie, așadar, să avem din nou încredere unii în ceilalți, să muncim mai mult, să ne străduim mai mult, să ne implicam mai mult si să avem mai mult curaj.
Oameni buni, ÎNTOTDEAUNA TREBUIE SĂ EXISTE…MÂINE! ÎNTOTDEAUNA TREBUIE SĂ EXISTE VIITOR ȘI TREBUIE SĂ LUPTAM PENTRU EL!
Să avem speranță, obiective clare, încredere si forța de a face din aceste pământuri dragi sufletelor noastre locul în care vrem cu toții să traim, locul în care vrem să ne creștem și să ne educăm copiii!
VA IUBESC! DOAME AJUTA!
How to Stop Missing Deadlines? Follow our Facebook Page and Twitter !-Jobs, internships, scholarships, Conferences, Trainings are published every day!