APPLY FOR THIS OPPORTUNITY! Or, know someone who would be a perfect fit? Let them know! Share / Like / Tag a friend in a post or comment! To complete application process efficiently and successfully, you must read the Application Instructions carefully before/during application process.

Diaspora cuprinde nu doar categorii ocupationale foarte variate, dar si o geografie foarte extinsa. Deaceea, teza ca un reprezentant al diasporei poate cunoaste "mai bine" problemele intregii diaspore e una falsa. Si chiar daca admitem ipotetic ca le cunoaste, acesta e doar unul din criterii si departe de a fi cel mai important. Figurantii de pe lista ACUM sunt selectati si dupa o multime de alte criterii, fara sa le mai enumeram acum. Voua insa va scapa aspecte mult mai importante, care se iau in calcul pentru a stabili candidatul optim din partea blocului. Cred ca principalul criteriu sunt sansele pe care acel candidat le are sa fie ales pe o circumscriptii atat de complicata si cu oponenti atat de puternici. Eu presupun ca voi nici nu ati banuit ca aceste sanse sunt destul de mari doar pentru Maia Sandu, pe care o cunoaste toata lumea, si oricine altcineva risca sa nu cumuleze voturile minime pentru trecere. Dar lupta e foarte dura pentru fiecare loc, pentru ca sansele sa obtinem o majoritate pentru guvernare sunt destul de mici. Apoi, din lista vor trece nu nume ci numarul de deputati din lista conform voturilor obtinute, excluzandu-i pe cei care au trecut pe circumscriptii. Deci Maia Sandu a fost atribuita acestei circumscriptii nu pentru a-si asigura ei mandat, ci pentru a spori matematic numarul de mandate obtinut pentru intregul bloc. Si celelalte partide au procedat la fel, daca inca nu ati observat. Pot paria ca Igor nu s-a gandit la aceste realitati "polittehnologice", precum le scapa si multor altor, mai mult sau mai putin implicati in proces. Dar eu sunt convins ca conducerea ACUM va oferi explicatiile de rigoare pentru toate deciziile ei din campanie. Totodata, e important sa stiti ca problemele diasporei, in cea mai mare parte a lor tin de competenta guvernului, si de instrumentele acestuia prin care gestioneaza relatiile si acordurile bilaterale. Eu nu stiu de ce lista de probleme vorbeste Igor si de ce e convins ca acestea trebuiau sa fie examinate sau mediatizate anume M. Sandu. Pot sa va asigur ca daca ele au ajuns in oficiul partidului si aveau relevanta, inseamna ca s-a tinut cont de ele atunci cand elaborau programul partidului (sau blocului) la componenta gestiunea migratiei de munca si a diasporei.

Bogdan Ghencea Serios??!… A dormit in PMAN??… A luat avionul si a venit la protest??! "A sustinut-o pe Maia si pe Nastase"??! Si gata? Doar atat?? Asta inseamna "patriotism" dupa voi??! Dar si mai grav – asta e suficient pentru a pretinde la un mandat??! Baieti, dar voi sunteti total pe dinafara adevaratei lupte, daca percepeti asa lucrurile! O jumatate de populatie sta cu ochii pe ACUM, ca ei sa selecteze cei mai buni candidati dupa toate criteriile, dar nu dupa moftul unuia sau altuia dintre sustinatori! Eu vreau sa va amintesc ca sunt mii de oameni care au facut eforturi si sacrificii mult mai insemnate decat Igor Cereteu, dar ei nu vin cu asemenea pretentii si critici absolut neintemeiate ca ale voastre! Si poate nu ati inteles, dar acum nu se impart laurii ca sa se creada cineva insuficient de bine "recompensat". Acum se formeaza echipa principala, pe umerii careia va cadea o povara enorma in urmatorii 4 ani! Pe langa activitatea parlamentara si in serviciul cetateanului si comunitatii, acesti alesi isi asuma lupta directa cu mafia actuala! Igor este convins ca a dorit si a putut sa-si asume asemenea responsabilitate?? Sau poate el a obosit prin strainatate si crede ca in viitorul parlament va avea posibilitatea sa se odihneasca??! Apoi, daca insasi Maia Sandu a candidat din partea diasporei, voi cei din diaspora trebuie sa va bucurati! Nimeni mai bine ca ea nu va va reprezenta interesele! Si nu e deloc acesta un semn al "lacomiei" sau "nesimtirii" ei, ci dimpotriva e un pas foarte chibzuit, pentru ca echipa cu care va intra in parlament dupa alegeri sa fie una cat mai numeroasa si puternica. Asa că, lăsati-o mai moale băieţi, că nu vă onorează deloc această abordare! Spun asta cu tot respectul meu pentru Igor Cereteu si pentru tine, Alexandru Cazacu Dor.
Plop Andrei/ Lucrarea de master/ – Rolul mass-media în reflectarea conflictelor geopolitice. Studiu de caz: Mass-media în Federaţia Rusă/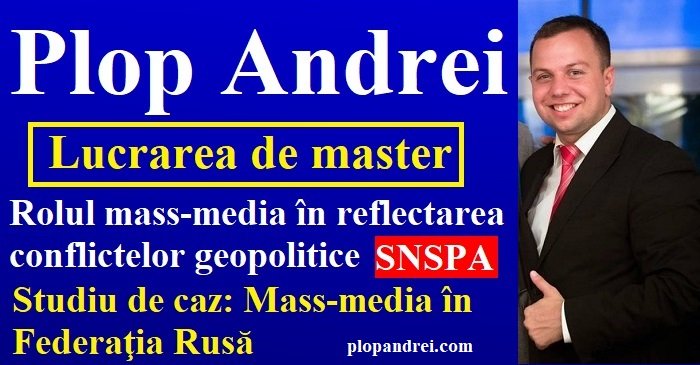 Plop Andrei: Update/ De ce are Moldova de o mobilizare generală și de o armată profesionistă! Maia Sandu este AGENTUL de influență al Kremlinului?!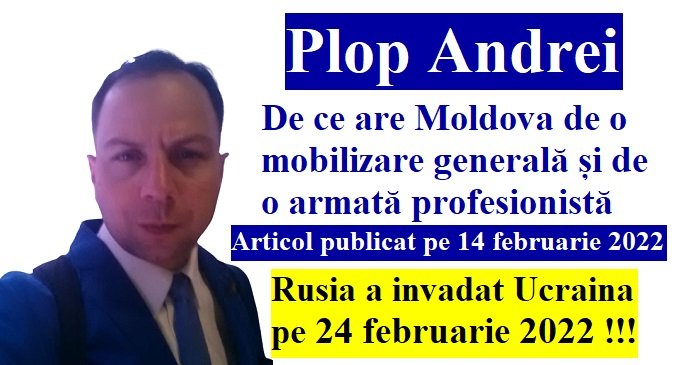 How to Stop Missing Deadlines? Follow our Facebook Page and Twitter !-Jobs, internships, scholarships, Conferences, Trainings are published every day!