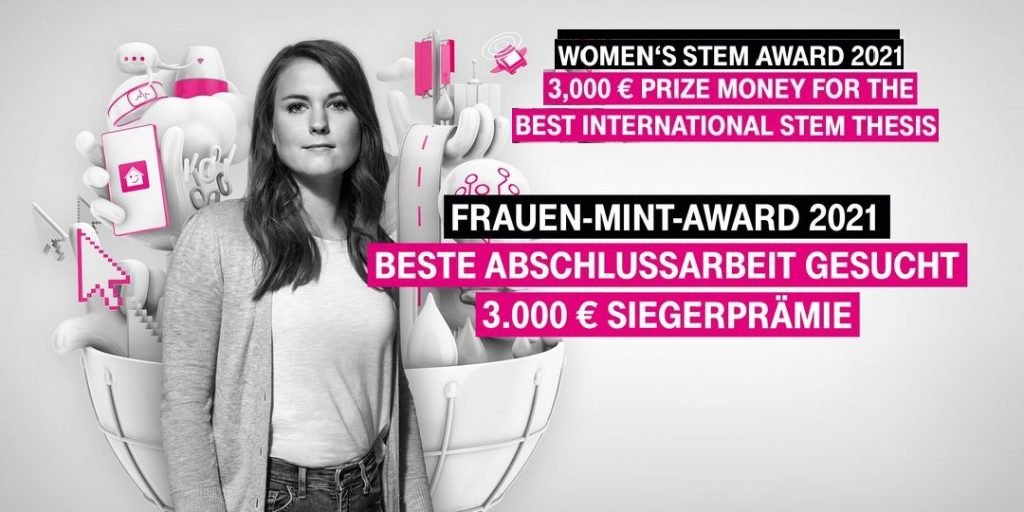 For the eighth time, Deutsche Telekom praises the Women's STEM Award. STEM graduates from all over the world can submit their thesis with focus on one of the strategic growth areas: Cloud, Internet of Things, Artificial Intelligence, Cyber Security and Networks of the Future. The best thesis will be awarded 3,000 euros. In addition, each innovative topic will be awarded 500 euros.
Your bachelor or master thesis is (almost) completed? You studied a STEM subject (Science, Technology, Engineering or Mathematics)? Perfect. Apply here with your thesis and convince our jury!
All relevant facts on Women's STEM Award 2021:
Below you can find all information on the strategic growth fields and conditions for participation.
For more information please open this link
https://www.telekom.com/en/careers/women-s-stem-award
"Diversity in management teams has a major impact on the innovative power of business enterprises. Companies that foster a monoculture in today's fast-paced and innovative digital economy will be left by the wayside. Diversity means bringing together people of different nationalities, educational backgrounds and genders. We must also make sure that we provide more women with the expertise they need to play an active part in areas where they are still under-represented, for example, the STEM subjects. As a physicist, therefore, I am very pleased to be patron of the Women's STEM Award. My tip to all young women is, be bold. Take the opportunity that STEM offers you – exciting careers and interesting development opportunities await you."
Claudia Nemat, Board member of the Deutsche Telekom AG responsible for Technology and Innovation
Cloud
Cloud technologies have become the new normal in many companies! We are looking for theses in which cloud plays a significant role as an enabler technology in the context of digital transformation. The use of Edge or the cloud layer Iaas, PaaS and SaaS in the development of completely new, disruptive business models or the optimization of existing business models (e.g. in the Corona crisis) are of high interest for us. We are looking forward to practical use cases based on cloud technologies from a wide variety of industries (e.g. automotive & manufacturing, logistics, banking & finance, health, retail, public sector etc.).
Internet of Things
The Internet of Things has long been more than just an abstract vision. Solutions from the Industrial Internet allow companies to automate workflows, optimize supply chains by using intelligent software, and deploy their machinery safely and efficiently. We look forward to hearing about how you tackle the topic!
Artificial Intelligence
Machine learning, thinking robots and intelligent navigation: in the growth field of Artificial Intelligence, we are looking for scenarios for, and analyses of, the use of artificial intelligence in every sphere of life. What might AI mean for medicine and care, and what might it bring to logistics or the automotive industry? What are the opportunities and risks? Surprise us with a piece of work that pushes the boundaries of possibility!
Cyber Security
Attacks on the information infrastructures in cyber space are becoming increasingly complex and professional. At the same time, companies, state and citizens grow ever more dependent on IT, and so the potential for damage increases accordingly. Cyber security extends the area of activity of traditional IT security to cover all of cyber space. This makes modern information and communication technology practically in its entirety part of cyber space.
Networks of the Future
Networks are the backbone of our connected society. However, rapidly growing data volumes and increasing complexity are a constant economic and operational challenge. The historical separation between Telecommunication and IT Technologies are blurring and open up a disruptive field of global technology innovation.In addition, innovation in applications provides new possibilities for industry and end customers. Whether with 5G or fiber-optic rollout, ICT-Convergence, Virtualization and Cloudification of Network Functions, AI-based and closed-loop Automation in Operations – crucial for our economic development are scaling, performant and intelligent networks. Inspire us with your ideas on networks of the future!
Anna-Lena Bruné
+++ Vice President Digital Transformation +++ Technology and
Innovation +++ Infrastructure +++ Cryptography +++ Complexity Theory
+++ Digital Female Leader Award +++ Master of Science Informatics +++
Dr. Jan Hofmann
+++ Vice President Top Program Lead AI +++ Products for Digital
Transformation +++ Leading Initiative Artificial Intelligence
Enterprise +++ Studies in Physics and Product Design +++
PhD Human Computer Interaction +++
Dr. Caren Klingbeil
Head of Indirect Sales & Partnering IoT +++ Partner Management +++ IoT Partner Ecosystem +++ B2B +++ Telekom IoT +++ Agile Working+++ Master of Science in Business Administration+++ Dr.rer.pol. Business Administration +++
Thomas Tschersich
+++ Head of Group Security Services +++ Fraud Management +++ Human
Resources Security +++ Building Security +++ IT Security +++ Cyber Defence Center
+++ Chairman of the BITKOM Security Steering Committee +++ Adviser to the German
Federal Government and German Parliament +++ Graduate Engineer +++
Frank Strecker
+++ Senior Vice President Public Cloud Managed Services and Big Data
+++ Member of the Supervisory Board: Trusted Cloud e.V. +++ Board Member of
BITKOM working group: Cloud Computing and Outsourcing +++ University Degree
in Technical-Oriented Business +++
Lena Simons
+++ Expert Security Management +++ T-Systems International GmbH +++ Strategic Alignment Internal Security +++ Master of Arts in Europäistik +++ Master of Science in International Management +++
Nina Brandau
+++ Bitkom Digital Association +++ Digital Transformation with German
Education System +++ Strong Networks for Women in Tech +++ Empowerment
STEM Education for Girls and young female talents in IT +++ Master Erasmus
Mundus Euroculture +++