APPLY FOR THIS OPPORTUNITY! Or, know someone who would be a perfect fit? Let them know! Share / Like / Tag a friend in a post or comment! To complete application process efficiently and successfully, you must read the Application Instructions carefully before/during application process.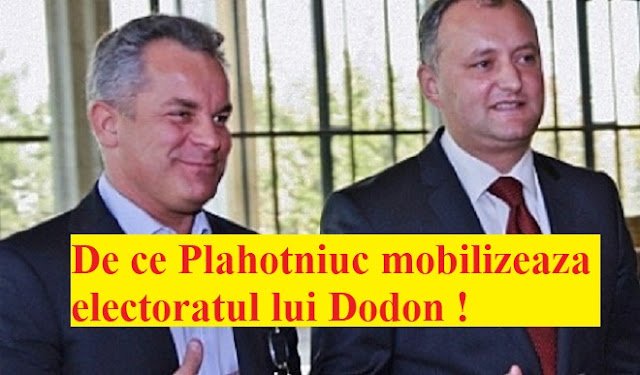 Cand ma uit la scandalurile din Moldova incep sa ma gandesc cine are de castigat! Cu ce scop! Si care vor fi urmarile! Am tot asteptat sa vad ce si cum scrie ca sa vad intentiile tuturor!

Mi se pare ca s-a creat foarte mult scandal artificial in ajunul alegerilor pe marginea unui politist care nu vorbea in limba rusa si un cetatean al Republicii Moldova vorbitor de limba rusa care nu dorea sa vorbeasca in limba romana!
Plahotniuc este gata sa faca orice ca sa ramana la putere iar pentru asta foloseste din nou o tema foarte sensibila pentru Moldova! Voi trece direct la subiect fara sa folosesc un limbaj de lemn!
Luand in considerare cam ce o sa se intample la urmatoarele alegeri de pe 24 februarie si cine va frauda/cumpara voturi si cine va fi pentru inca 4 ani presupun ca inteleg toti si cine va conduce Moldova pentru urmatorii 4 ani! OK! Cine nu a inteles am sa explic totusi! Vom avea o alianta dintre Plahotniuc, Dodon si eventual Sor! Nu exclud ca o parte din deputatii PSRM sau a lui Sor sa devina independenti si sa treaca la Partidul Democrat pentru ca lobby-sti lui Plaha in special cei din Romania sa mai poata promova pentru cei din Vest ca Plaha este pro-european/ pro-american! Stiu ca suna stupid insa credeti-ma ca Moldova nu este pe agenda SUA/UE! Iar de exemplu cei din SUA care se ocupa de Moldova au nevoie de un pretext (chiar daca e stupid) pentru a le trimite celor de sus! Cei de sus nici nu mai verifica daca e adevarat sau nu! Ei pur si simplu ii cred! Pentru ca Romania este partener NATO si este un partener de incredere! Iar un partener de incredere nu are cum sa minta! Cu toate ca toti din Moldova inteleg ca Plaha face jocul rusilor! Ca sunt mituiti romanii de Plahotniuc sau nu este cu totul altceva! Ca acesti oficiali romanii care s-au crezut mai smecheri decat moldovenii si au crezut ca vin in Moldova doar ca sa se relaxeze fiind filmati facand sex cu ,,activiste femen", apoi santajati, si in majoritatea cazurilor care accepta sunt si remunerati pe viitor ca sa presteze servicii pentru Plaha! De aici si vine suportul romanilor pentru Plahotniuc! Pe acelasi model a ajuns Plahotniuc sef la

Rompetrol Moldova! Find proxenet de meserie face la ce se pricepe cel mai bine!
Dodon pierde din pozitii si de aici vine si mobilizarea electoratului lui Dodon de catre Plahotniuc! Dodon si Sor sunt speranta lui Plahotniuc! Sor este o victima de a lui Plahotniuc cu dosar penal!
Iar daca Sor nu va indeplini conditiile puse de Plaha acesta va fi inchis! Faptul ca Sor este o nulitate nici nu se discuta! Ca are si el materiale compromitatoare la adresa lui Plaha in cazul furtului miliardului este o intrebare pe care noi o stim deja!
Sa revenim la scandalul pe tema limbii nationale/romane!
Toti si-au dat seama ca prea se exagereaza pe tema limbii nationale! Era un subiect care a fost promovat si cine a avut de castigat presupun ca toti si-au dat seama! Aceste alegeri sunt falsificate/cumparate/fraudate si daca dupa aceste alegeri vor fi organizate proteste de catre blocul ACUM, rusii vor face niste exercitii militare in Transnistria iar cei din Romania care au fost susrprinsi prin diferite ipostaze ( mai putin ortodoxe) si sunt santjati de catre Plaha vor striga in gura mare in cadrul NATO/UE ca rusii vor sa atace Moldova! Iar cei din NATO/UE neintelegand ce se petrece in Moldova si nestiind care este miza acestor alegeri ii vor contacta pe Andrei Nastase/ Maia Sandu si ii vor spune destul de clar ca sa renunte la proteste! Nu exclud ca indivizii care sunt platiti de Plaha sa insiste ca Maia Sandu/Andrei Nastase sa faca o alianta cu Plahotniuc pentru a evita un conflict armat si pentru ca Dodon (PSRM) sau Sor sa nu ajunga in guvern!
Toti in Republica Moldova inteleg ca daca se va face o alianta dintre Plahotniuc cu Maia Sandu/Andrei Nastase cei din blocul ACUM vor fi lipsiti de orice sprijin popular din partea cetatenilor Moldovei! Lucru care il inteleg atat Andrei Nastase cat si Maia Sandu! Daca se va face o astfel de alianta indiferent de ce va zice Andrei sau Maia, ei vor fi compromisi si vor fi considerati ca tradatori ai Moldovei!
Cel putin pe acest scenariu se merge la Bucuresti cu suportul si logistica din partea Kremlinului prin intermediari de la Chisinau!! Ca vor fi luati iar nepregatiti cei din SUA/UE si vor merge pe planul celor de la Bucuresti nici nu ar trebui sa ne mire! Pentru asta si sunt platiti lobby-isti!
Avem insa si alte aspecte! Andrei Nastase nu va merge la compromis cu Plahotniuc si nu va face nici o alianta! Cum de altfel nici un partid nu va lua majoritatea la aceste alegeri! Ca va face Andrei proteste in urma fraudarii sau se va multumi cu doar cu mandatul de deputat este o intrebare foarte buna! Un lucru este clar la toti! Ca o parte din deputatii lui Dodon, Sor, vor vota pentru Plahotniuc! Ca se va trece din PSRM si Sor in PDM pentru a mai crea o impresie pentru cei din Vest ca Plaha este pro-european! Dupa ce Plahotniuc va fi votat de catre Dodon si Sor va trebui sa se faca o curatenie la Bucuresti! Toti cei care au colaborat cu Plahotniuc si i-au facut si fac lobby in continuare acestuia vor trebui alungati din functii publice cu suturi in fund! Ar trebuii sa se inceapa cu functionari romani care au fost prin Clubul Drive, de la fosti consilieri prezedintiali, ambasadori in UE, si cu acces la informatii din SRI/SIE! Lucru care cel mai probabil nu se va face! Din simplul motiv ca sunt multi si majoritatea din ei cu acces la butoane prin servicii, guvern etc…!!! Un lucru este clar pentru toti! Miza acestor alegeri este prea mare si Plahotniuc va face tot posibilul ca sa ramana la guvernare! Ca se va merge la anticipate este foarte putin probabil! Pentru ca Plaha este dispus de a face orice pentru a ramane la butoane! Cu inca 4 ani de conducere a Partidului Democrat nu vom mai avea o opozitie care sa risposteze! Nu vom avea o televiziune precum JurnalTV care sa arate telespectatorilor din Moldova despre toate infractiunile comise de catre Plaha! Daca cei din Vest vor reactiona in continuare in acelasi mod cum au reactionat pina acuma pot sa va asigur ca peste 4 ani nu vom mai avea Platforma Demnitate si Adevar si PAS si vom avea un regim dictatorial care nu va mai putea fi distrus!
How to Stop Missing Deadlines? Follow our Facebook Page and Twitter !-Jobs, internships, scholarships, Conferences, Trainings are published every day!