APPLY FOR THIS OPPORTUNITY! Or, know someone who would be a perfect fit? Let them know! Share / Like / Tag a friend in a post or comment! To complete application process efficiently and successfully, you must read the Application Instructions carefully before/during application process.
Am incercat sa explic cat mai simplu, nu incercati sa imi cereti ,,traducere"!
Cine vrea sa inteleaga – am sa ma bucur, cine nu o sa inteleaga – imi pare rau!
Nici Plahotniuc si nici Andrei nu o sa renunte, intrebarea pe care mi-o pun pina unde se va merge?
Situatia devine destul de tensionata, numarul mare de politisti creeaza impresia ca traim intr-un stat milietenesc!
Lukashenko are adversar la capitolul dictator!
Este destul ca un protestatar sa fie arestat si va incepe valul persecutiilor, sau daca va fi arestat Andrei ambasadele vor fi nevoite sa reactioneze!
Cu siguranta ca Plahotniuc nu va ajunge sa prinda alegerile din toamna, s-ar putea sa prinda alegerile PD-ul insa nu si Plahotniuc!
in occident Se incearca recrutarea PD-istilor ca sa scape de Plahotniuc, tradarea va veni din interiorul partidului!
Plahotniuc scufunda corabia in care se afla, iar persoane din anturajul sau nu pot accepta sa se scufunde impreuna! Ori il va arunca peste bord pe Plahotniuc ori se vor scufunda toti!
Plahotniuc – un bolnav psihic a devenit indizerabil, iar decizia de a anula votul Chisinauienilor a fost ultima picatura!
Acest bolnav psihic stie ca daca va avea vreun moment de slabiciune si va ceda, imediat vor sari toti la gatul lui, de aceea avem si aceasta demonstratie de forta care are ca scop de asi speria mai mult parteneri!
Andrei trebuie sa continue protestele calm, cu sange rece, si sa nu reactioneze la provocarile lui Plahotniuc! poate nu este cel mai bun exemplu insa orice persoana care s-a ocupat cu arte martiale stie: cand ai primit o lovitura trebuie sa ramai calm, iar daca incepi sa te inervezi o sa primesti si mai multe lovituri si atunci cu siguranta o sa pierzi!
Aceste proteste trebuie mediatizate in exterior insa pentru asta Aveti nevoie de strategii, creativitate, improvizatie!
in luna august studentii vor revenii la studii in Chisinau. Studentii intotdeauna au fost o forta impotriva dictaturii. In special studentii revenitii de prin raioane, unii vor reveniii din ,, work & travel". Aceste persoane nu se compara cu tinerii care au participat la concertul lui Dodon! Pregatiti strategii astfel incat sa considerati ca si cum plahotniuc sta in camera de alaturi si indiferent cum va actiona la strategia voastra sa piarda!
Plahotniuc este vulnerabil, se afla intr-o stare de psihoza permanenta si intrebarea pe care si-o pune acuma cine il va trada primul!
Din cauza lui Plahotniuc reputatia Romaniei este foarte patata! Au iesit in lume cu un proxenet!
Capacitatea de inteligenta a politicienilor de pe Dambovita este la nivelul gleznei (vroiam sa scriu la nivelul lui Dancila!)
Comunisti din Romania sau comunistii reformatii de pe Dambovita (in Romania sunt cunoscuti ca PSD), au alergie la revolutionari, la proteste, la tot ceea ce inseamna stat de drept, asa ca ajutor din partea Romaniei nici sa nu sperati!
Faceti conexiune cu furtul miliardului din bugetul RM, spalarea banilor a mafiei rusesti/FSB prin bancile din Republica Moldova si comisionul primit in plicuri sau offshore pentru persoane influente de pe Dambovita pentru a face lobby! In Romania mai este cunoscut si termenul de capusari! Acesti capusari si-au folosit/folosesc relatiile stabilite din perioada 2004 -prezent! Incercati sa intelegeti de ce se tem de un guvern la Chisinau care nu este santajabil, care nu este corupt ( iar Andrei nu este santajabil si nici corupt, daca ar fi avut ceva ar fi folosit-o demult)
Un ultim exercitiu de imaginatie pentru cei de la PPPDA si PAS ce o sa se intample cu acesti capusari daca persoane din anturajul lui Plahotniuc (poate insasi Plahotniuc) o sa ciripeasca despre provinienta banilor!!!
Andrei, noi te sustinem! never surrender
Plop Andrei/ Lucrarea de master/ – Rolul mass-media în reflectarea conflictelor geopolitice. Studiu de caz: Mass-media în Federaţia Rusă/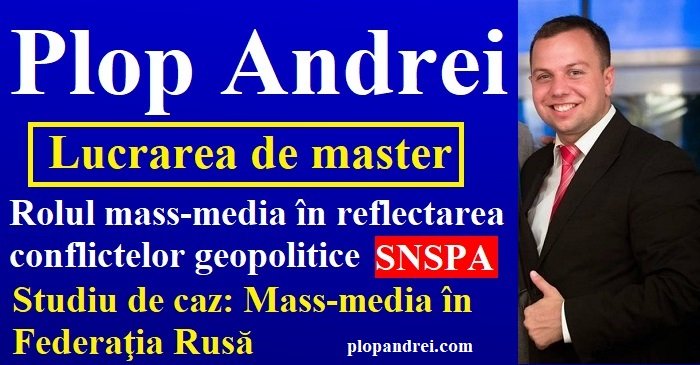 Plop Andrei: Update/ De ce are Moldova de o mobilizare generală și de o armată profesionistă! Maia Sandu este AGENTUL de influență al Kremlinului?!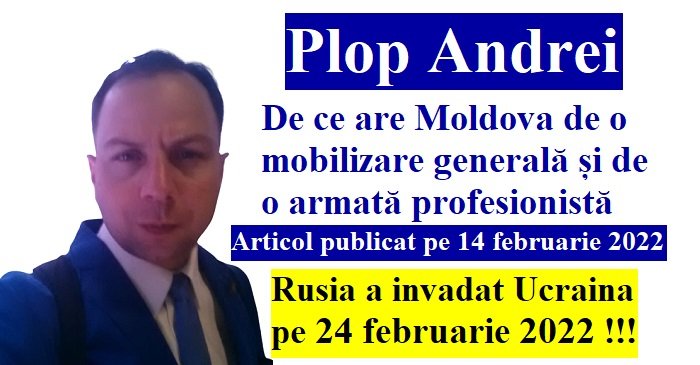 How to Stop Missing Deadlines? Follow our Facebook Page and Twitter !-Jobs, internships, scholarships, Conferences, Trainings are published every day!