APPLY FOR THIS OPPORTUNITY! Or, know someone who would be a perfect fit? Let them know! Share / Like / Tag a friend in a post or comment! To complete application process efficiently and successfully, you must read the Application Instructions carefully before/during application process.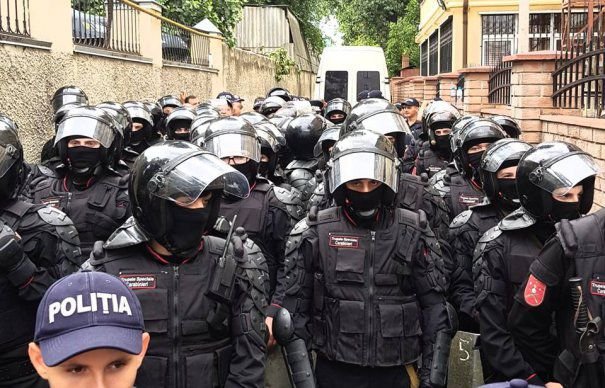 Dupa ce au fost invalidate alegerile din Chisinau PDA, PAS si PLDM trebuia sa dea aceasta guvernare jos au ajuns in situatia ca ei insisi sa se apere!
Daca o sa se continue in acelasi ritm cine o sa-si mai aduca aminte peste o luna/ doua ca alegerile au fost invalidate!
Din aparare plaHOTniuc a trecut la atac! Pe zi ce va trece se vor inventa tot felul de strategii ca sa discrediteze opozitia!
pla

HOT

niuc directioneaza toata atentia spre Shor, ca sa distraga atentia de la problemele reale si intr-un fel ii reuseste!
Pentru ca la atacurile lui Shor opozitia trebuie sa vina cu replica! Shor demult a intrat in campanie electorala! Iar daca opozitia nu va veni cu o replica la actiunile lui Shor se va creea impresia ca acest individ are dreptate!
pla

HOT

niuc a preluat aceasta strategie de la Putin! Cand ii sperie pe cei din vest cu Jirinovski sau Ziuganov!
Daca voi nu ma sustineti pe mine in locul meu va veni Jirinovski sau Ziuganov! Iar cand te uiti la acesti doi indivizi ( unul nationalist si celalalt comunist ) Putin pare raul cel mai mic! Iar

pla

HOT

niuc pe langa aceste creaturi precum Dodon sau Shor li s-ar putea parea celor din vest o fiinta rationala! Stiu ca suna absurd, de altfel tot noi stim felul cum a ajuuns Dodon presedinte si din ce cauza Shor este inca in libertate! insa lobby-sti lui

pla

HOT

niuc anume asta si vor incerca sa le demostreze atat Bucuresti, Bruxelles si Washington ca daca nu il sustin pe

pla

HOT

niuc vor veni rusii!
Daca se va merge in acelasi ritm, cu atacuri permanente la opozitie ( PDA, PAS si PLDM), cu votul mixt nu prea vad cum ar castiga ca cei din opozitie sa castige alegerile!
pla

HOT

niuc se retine de la unele actiuni doar din cauza alegerilor parlamentare! Luand in considerare de resursele pe care le dispune ( MAI, Procurtaura Generala, SIS, CNA,) cat si resursele pe care le dispune in teritoriu nu va avea probleme ca sa falsifice aceste alegeri, sa cumpere voturi!
Odata ce va trece de parlamentare va trece la actiuni de forta, pentru ca ceea ce face acuma s-ar putea parea joaca de copii!
Daca nu se va da acest guvern jos pana la alegerile parlamentare vom avea un regim de tipul celui al Belarusului, in care oamenii sunt arestati pentru simplul fapt ca aplauda in centrul Minskului!
Pana cand va intelege acest lucru si partenerii de dezvoltare care mai sustin aceasta guvernare va fi prea tarziu! Pentru ca nu avea cine sa mai protesteze in Moldova! O parte din ei vor fi arestati, o parte va pleca peste hotare iar altii vor fi distrusi peste hotare cu ajutorul lobby-stilor!
Atentie ceea ce urmeaza s-ar putea sa fie metafora!!!
Opozitia are o singura sansa ( s-ar putea sa existe mai multe) insa data de 26 opozitia ar trebui sa faca aceasta guvernare scrob ( mancare traditionala moldoveneasca avand ca ingridient principal oul)!
De ce nu ar hrani opozitia pe politisti cu ,,scrob si placinte" ( avand ca ingridient principal faina)!
Insa luand in considerare felul cum politisti apara regimul lui plaHOTniuc cred ca este destul ca sa le fie date ingridientele principale ca ei singuri sa isi pregateasca mancarea!!!
Pe de o parte vedem ca plaHOTniuc promite cresteri salariale unor categorii de persoane cu pozitii cheie pentru businessul sau cat si pentru alegerile parlamentare! iar pe de alta parte cere ca UE sa acorde sprijinul financiar!
Nu ma face sa ajung la concluzia ca pentru el este important ca sa ajunga pina la alegerile parlamentare! Iar dupa alegeri vom avea din nou furturi. etc…..
How to Stop Missing Deadlines? Follow our Facebook Page and Twitter !-Jobs, internships, scholarships, Conferences, Trainings are published every day!