APPLY FOR THIS OPPORTUNITY! Or, know someone who would be a perfect fit? Let them know! Share / Like / Tag a friend in a post or comment! To complete application process efficiently and successfully, you must read the Application Instructions carefully before/during application process.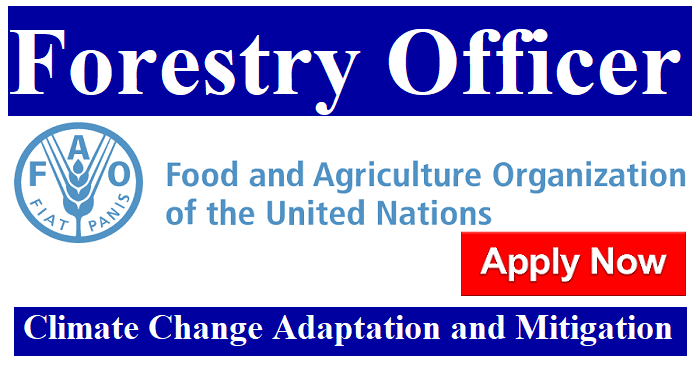 Forestry Officer (Climate Change Adaptation and Mitigation)
Job Posting
: 23/Nov/2021
Closure Date
: 20/Dec/2021, 12:59:00 AM
Job Type
: Staff position
Type of Requisition
:
Professional
Primary Location
: Italy-Rome
Duration
:
Fixed term: 2 years with possibility of extension
• FAO is committed to achieving workforce diversity in terms of gender, nationality, background and culture
• Qualified female applicants, qualified nationals of non-and under-represented Members and persons with disabilities are encouraged to apply
• Everyone who works for FAO is required to adhere to the highest standards of integrity and professional conduct, and to uphold FAO's values
• FAO, as a Specialized Agency of the United Nations, has a zero-tolerance policy for conduct that is incompatible with its status, objectives and mandate, including sexual exploitation and abuse, sexual harassment, abuse of authority and discrimination
• All selected candidates will undergo rigorous reference and background checks
• All applications will be treated with the strictest confidentiality
• FAO staff are subject to the authority of the Director-General, who may assign them to any of the activities or offices of the Organization.
How to Stop Missing Deadlines? Please Follow our Telegram channel https://t.me/PlopAndreiCom ( @plopandreicom)
Organizational Setting
The Food and Agriculture Organization of the United Nations (FAO) contributes to the achievement of the 2030 Agenda through FAO's Strategic Framework by supporting the transformation to More efficient, inclusive, resilient and sustainable agri-food systems, for Better production, Better nutrition, a Better environment and a Better life, leaving no one behind.
The Forestry Division leads FAO's work in promoting sustainable forest management and providing leadership on the environmental, social and economic dimensions of forestry, including its contributions to poverty reduction and food security and nutrition. It liaises with member countries, civil society and the private sector in aspects ranging from development of effective forest policies to forest conservation and management issues, and strengthens the role of forests in climate change mitigation and adaptation. The Division also collects, analyses and disseminates information on the world's forest resources and on the production, trade and consumption of wood and non-wood forest products.
The post is located in the Climate Change and Resilience Team of the Forestry Division (NFO) at FAO headquarters in Rome, Italy.
Reporting Lines
The Forestry Officer (Climate Change Adaptation and Mitigation) reports to  the Senior Forestry Officer/Team Leader of the Climate Change and Resilience Team of the Forestry Division. S/he will work closely with members of the Team and Division, the Decentralized Offices, other relevant FAO units and international forestry experts.
Technical Focus
Forests and Climate Change.
Key Results
Comprehensive technical and policy expertise to support the planning, development and implementation Divisional programmes, projects, products and services in accordance with Divisional objectives.
Key Functions
• Plans and leads components of multi-disciplinary teams, leads and/or participates on Organization-wide, cross-Divisional committees, project teams, and working groups and/or provides specialized expertise on technical networks and/or international technical policy  and standard setting bodies.
• Develops technical, analytical, monitoring and reporting frameworks, and related methodologies, tools, systems and databases etc. to support the planning, implementation/delivery and monitoring of programmes of work, projects, products and/or services.
• Designs and conducts research, data collection, validation, analysis and/or reporting activities to support the development of technical standards, international instruments, innovative approaches and strategies, new tools, technologies, technical reports/publications, and/or policy proposals as well as the provision of technical/policy/ specialist/advice and expertise.
• Responds to country requests for technical and policy assistance, provides technical advice, assistance and solutions to Decentralized Offices and provides technical backstopping to field projects.
• Collaborates in, provides technical backstopping to, and ensures the quality / effectiveness of, capacity development and knowledge sharing activities within member countries such as policy support, organizational development and individual learning events including preparation of related information, learning materials, on-line tools.
• Promotes international cooperation/advocates best practices, increased policy dialogue and provides technical expertise at international/intergovernmental meetings.
• Participates in resource mobilization activities in accordance with the FAO Corporate Strategy.
Specific Functions
• Coordinates FAO's work on forests and climate change adaptation, resilience and mitigation (the latter in close collaboration with the REDD+ team).
• Provides technical and policy expertise to support the planning, development and implementation of Forestry Division programmes, projects, products and services focused on climate change adaptation and resilience in accordance with Forestry Division objectives, the FAO Strategic Framework and Programme Priority Areas (BE1 ' Climate and BL5 ' Resilience).
• Designs, plans and implements normative activities on forests and climate change, including on ways to achieve adaptation-mitigation synergies, and develops guidelines, best practices and training materials.
• Provides technical and policy advice and supports capacity development of FAO member countries on integrating forests and trees in their national climate strategies and plans (e.g. Nationally Determined Contributions, National Adaptation Plans), and makes available relevant technical and informational materials.
• Works with diverse stakeholders at global, national and subnational levels to advance ecosystem-based adaptation approaches.
• Plans, designs and implements forests and climate change adaptation-mitigation projects and activities in member countries, including project formulation, resource mobilization, and technical backstopping.
• Coordinates with all relevant FAO technical Divisions, Offices and Centres and Decentralized Offices to plan and implement activities related to climate change adaptation and resilience, with strong links to mitigation.
• Performs other duties as required.
___________________________________________________________________________________________________
CANDIDATES WILL BE ASSESSED AGAINST THE FOLLOWING
Minimum Requirements
•  Advanced university degree in forestry, natural resources or a closely related field.
• Seven years of relevant experience in the field of forest resources management and climate change, which includes international experience and working experience in developing countries and/or countries in transition.
•  Working knowledge of English and limited knowledge of another FAO official language (Arabic, Chinese, French, Russian or Spanish)
Competencies
•  Results Focus
•  Teamwork
•   Communication
•    Building Effective Relationships
•    Knowledge Sharing and Continuous Improvement
Technical/Functional Skills
•  Work experience in more than one location or area of work, particularly in field positions is desirable
•  Extent and relevance of experience and technical knowledge on the links between forests and climate change, including those related to the United Nations Framework Convention on Climate Change (UNFCCC)
•  Extent and relevance of experience in analyzing forests and adaptation/resilience and mitigation issues
•  Demonstrated ability to manage projects, budgets and human resources efficiently
•  Demonstrated ability to mobilize resources
_________________________________________________________________
FAO staff are expected to adhere to FAO Values of Commitment to FAO, Respect for All and Integrity and Transparency.
_________________________________________________________________
Extension of fixed term appointments is based on certification of performance and availability of funds

FAO reserves the right not to make an appointment.
CONDITIONS OF SERVICE
A competitive compensation and benefits package is offered. For information on UN salaries, allowances and benefits, click on the following link:  
http://www.un.org/Depts/OHRM/salaries_allowances/salary.htm
  Other benefits, subject to eligibility, include:
• Dependency allowances
• Rental subsidy
• Education grant for children
• Home leave travel
• 30 working days of  annual leave per year
• Pension fund entitlements under the UN Joint Staff Pension Fund
• International health insurance; optional life insurance
• Disability protection
FAO encourages  a positive workplace culture to increase inclusivity and diversity within its workforce. FAO applies measures in which all staff members contribute equally and in full to the work and development of the Organization. This includes:
• elements of family-friendly policies
• flexible working arrangements
• standards of conduct.
_________________________________________________________________________________________________
______________________________________________________________________________________________________
HOW TO APPLY
To apply, visit the recruitment website at 

Jobs at FAO

 and complete your online profile. We strongly recommend that your profile is accurate, complete and includes your employment records, academic qualifications and language skills.

Candidates are requested to attach a letter of motivation to the online profile;

Once your profile is completed, please apply and submit your application;

Your application will be screened based on the information provided on your online profile;

Please note that 

FAO only considers higher educational qualifications obtained from an institution accredited/recognized in the World Higher Education Database (WHED), a list updated by the International Association of Universities (IAU) / United Nations Educational, Scientific and Cultural Organization (UNESCO). The list can be accessed at http://www.whed.net/
C

andidates may be requested to provide performance assessments and authorization to conduct verification checks of past and present work, character, education, military and police records to ascertain any and all information which may be pertinent to the employment qualifications;

Incomplete applications will not be considered;

Only applications received through the FAO recruitment portal will be considered;

We encourage applicants to submit the application well before the deadline date.
If you need help, or have queries, please contact: Careers@fao.org
For more information please open this link
Apply Here
https://jobs.fao.org/careersection/fao_external/jobdetail.ftl?lang=en&searchExpanded=true&job=2103133
Plop Andrei/ Lucrarea de master/ – Rolul mass-media în reflectarea conflictelor geopolitice. Studiu de caz: Mass-media în Federaţia Rusă/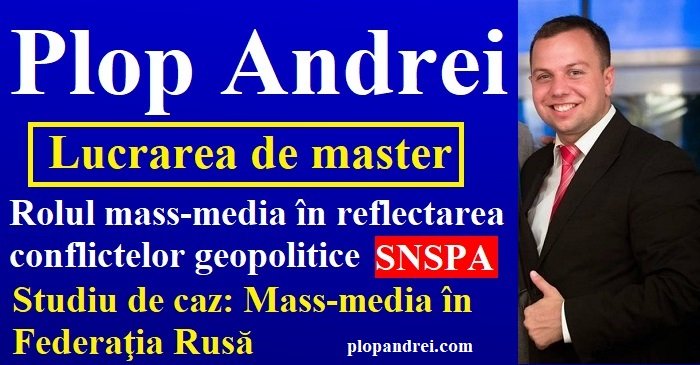 Plop Andrei: Update/ De ce are Moldova de o mobilizare generală și de o armată profesionistă! Maia Sandu este AGENTUL de influență al Kremlinului?!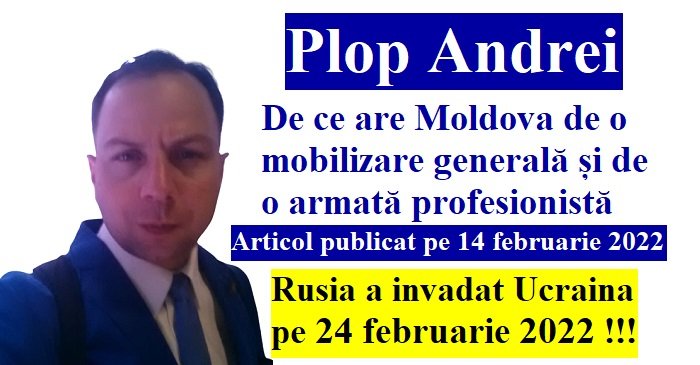 How to Stop Missing Deadlines? Follow our Facebook Page and Twitter !-Jobs, internships, scholarships, Conferences, Trainings are published every day!