It's big and it's brash. It promises lots of noise, action and sexy bodywork, while not really worrying about sophistication. No, it's not a Michael Bay film, it's something far better: the 2012 Chevrolet Corvette. In place of computer-generated robots and epic explosions, the Corvette provides special effects of a more visceral, personal sort. Whether you go for the 430-horsepower base model or the 638-hp ZR1, the Corvette's wide rear tires are in constant danger of being vaporized into fine grains of black rubber dust. Simply put, this is the American sports car.
It has power and lots of it. The current-generation (C6) Corvette debuted in 2005, and although we wouldn't say it's past its prime, it's definitely feeling its age. The cabin lacks the sophistication, quality and craftsmanship of other sporting cars in its price range, while its many electronics controls still use the previous generation of GM switchgear. Nevertheless, straight-line thrills are timeless, and Team Corvette has done plenty over the years to keep its American classic fresh. For 2012, the seats have thankfully been given more bolstering, the steering wheel has been updated and special ultra-high-performance tires are now offered on the Z06 and ZR1. There's also the Chevrolet Centennial Special Edition, which honors Chevrolet's 100 years on the road with a special black-on-black color scheme.
Regardless of what has been changed or added, the 2012 Chevy Corvette provides the same sort of thrills it has since nearly the very beginning: American power, American style and American value. Indeed, the Vette still gives you more bang for your buck in terms of power than anything else on the road. However, its lack of sophistication means cars like the BMW M3, Nissan GT-R and Porsche's many sports cars will continue to hold great appeal. Let's also not forget the new wave of American muscle cars that includes the Dodge Challenger SRT8 and Ford Shelby GT500. At the end of the day, though, America loves a big, brash blockbuster, and that's exactly what the Corvette is.
Body Styles, Trim Levels, and Options
The 2012 Chevrolet Corvette is available in hatchback coupe and convertible roadster body styles. The base Corvette and Grand Sport (GS) are available in both body styles, and each is broken into 1LT, 2LT, 3LT and 4LT sub-trims. The higher-performance Z06 and ZR1 are coupe only, and are broken down into their own sub-trims.
The base Corvette 1LT comes standard with silver-painted alloy wheels (18-inch front, 19-inch rear), a limited-slip differential, automatic xenon headlights, foglamps, a removable targa-style roof panel, heated and (driver-side) auto-dimming mirrors, keyless ignition/entry, dual-zone automatic climate control, a six-way power driver seat (manual recline), a tilt-only steering wheel, leather upholstery, an auto-dimming rearview mirror, OnStar and a seven-speaker sound system with satellite radio, a CD player and an auxiliary audio jack. Convertible models feature a manual-folding soft top.
The 2LT gains a head-up display, Bluetooth, a touchscreen navigation system, an iPod/USB audio interface and a nine-speaker Bose sound system. The 3LT adds a power telescoping steering wheel (manual tilt), driver memory functions and heated six-way power sport seats (manual recline) with power-adjustable bolsters and lumbar. The Convertible 3LT also gets a power-folding soft top. The 4LT gets extended leather interior trim, faux-suede seat inserts and extra armrest padding.
The Grand Sport is also available in the above trims, but adds to each stiffer springs and stabilizer bars, different dampers, larger and cross-drilled brakes, special wheels and Grand Sport styling elements. When equipped with the standard manual transmission, it also features a dry-sump oil system and a differential cooler.
Options on the base Vette and GS include an adaptive suspension, a transparent removable roof panel, dual-mode exhaust (adds 6 extra horsepower) and a convertible wind deflector. The Chevrolet Centennial Special Edition available on the 3LT or 4LT trims of both the base Vette and GS adds unique black paint, black and red wheels, and the adaptive suspension.
The Z06 is available in 1LZ, 2LZ and 3LZ sub-trims. Each one gets a bigger V8 engine, essentially the same suspension and brake setup as the Grand Sport, axle and transmission coolers, unique wheels, carbon-fiber front fenders and floor panels, and a head-up display. In terms of comfort and convenience equipment, the Z06′s sub-trims are pretty much identical to their "LT" counterparts except that the 3LZ gets the 4LT's extra leather interior bits. The Carbon Fiber package adds most of the ZR1′s carbon-fiber body pieces for reduced weight along with a ZR1-style spoiler. The Z06 Ultimate Performance package adds carbon-ceramic brakes, lightweight black wheels (19 inches front and 20 inches rear), Michelin Pilot Sport Cup run-flat tires, an adaptive suspension, Performance Traction Management and a larger spoiler.
The ZR1 gets a supercharged V8, unique wheels (19-inch front, 20-inch rear), carbon-ceramic disc brakes, adaptive suspension, Performance Traction Management, additional carbon-fiber body panels (roof, front fascia, hood) and a clear panel in the hood that shows off the supercharger. The 1ZR trim is similar to the 1LZ in equipment, while the 2ZR is similar to the 3LZ. The ZR1 High Performance package gets those items from the Z06 Performance package not already included on the ZR1 as standard.
Like many exotic sports cars and high-end luxury vehicles, the Corvette can be personalized in a number of different ways, including contrasting stitching, different headlight surround colors, brake caliper colors, and personalized exterior/interior color combinations. One interesting option is Corvette Museum Delivery, which allows you to pick up your car at Corvette's historic museum and factory facility in Bowling Green, Kentucky.
Powertrains and Performance
Both the base Vette and Grand Sport feature a 6.2-liter V8 that cranks out 430 hp and 424 pound-feet of torque. All Corvettes come standard with a six-speed manual transmission and launch control. A six-speed automatic is available on all but the high-performance models. In Edmunds performance testing, a base Coupe went from zero to 60 mph in 4.5 seconds. With the optional dual-mode exhaust that adds another 6 hp and 4 lb-ft, a Grand Sport shaved 0.1 second off that time and sounded even cooler doing it. Despite this strong performance, the Corvette actually gets pretty good fuel economy at 16 mpg city/26 mpg highway and 19 mpg combined. Opting for the automatic shaves 1 mpg off each.
The Z06 is powered by a 7.0-liter V8 that produces 505 hp and 470 lb-ft of torque. We found that it hits 60 mph in 3.9 seconds. Fuel economy is again pretty good at 15/24/18. The ZR1 gets a supercharged version of the 6.2-liter V8 that cranks out 638 hp and 604 lb-ft. This is a massive amount of power, so much so that no amount of rubber can appropriately cope. As such, its 0-60 time is only 0.1 second less than the Z06 even if it actually feels much quicker. Its fuel economy is 14/20/16.

Safety
Antilock disc brakes and side airbags are standard. Side curtain airbags are not available.
The 2012 Chevrolet Corvette's special "Active Handling" stability control system has been tuned to engage in a soft, noninvasive way that doesn't panic you. The Corvette's stability control also includes a Competition mode that gives the expert driver more leeway for aggressive dynamics while still maintaining an effective safety net. The even more sophisticated Performance Traction Management system is standard on the ZR1 and optional on the Z06.
In Edmunds brake testing, a base Corvette came to a stop from 60 mph in 118 feet, which is decent for a sports car. We found that the Grand Sport and ZR1 came to a stop from 60 mph in between 100 and 104 feet, which is excellent performance. However, a Z06 Carbon did it in an astonishing 96 feet, one of the best numbers we've ever recorded.

Interior Design and Special Features

The Corvette's interior is certainly functional, and Chevrolet has been offering upgraded interior appointments for a few years now, yet the overall interior quality still leaves a lot to be desired. Step out of a BMW M3 or a Nissan GT-R and into a 'Vette and you'll likely find the Chevy's trim pieces, controls and overall ambience disappointing. While the affordable price of a base Corvette seems to excuse such things, the costlier Z06 and ZR1 play in a more demanding market. The front seats and their bolsters have been enhanced for 2012; they may finally lose their standing as the worst seats found in a sports car. On the bright side, the Vette's large gauges and remarkable cargo capacity (22 cubic feet in coupes and 11 cubes in the convertible) make it a sports car that's easy to live with on a day-to-day basis.

Driving Impressions
No question here: The 2012 Chevrolet Corvette can bring the heat. The base car is extremely fast: the Z06, terrifyingly so. As for the ZR1, any car whose speed at the end of the quarter-mile approaches 130 mph is just in a different league — the ballyhooed Nissan GT-R trails the ZR1 by a full 10 mph here. Top to bottom, the Corvette stable has enough broad-shouldered eight-cylinder force to satisfy even the most depraved speed fiend. Nor does this hamper drivability, as all Corvette models are pretty easy and comfortable to drive around town.
Compared to a car like the M3, the Corvette's steering can indeed seem a bit deficient in terms of communication. Thanks to their upgraded suspensions and tires, though, the ZR1 and Z06 (with the Ultimate Performance package) are noticeably better in this regard. The Vette's brakes are strong and fade-free, especially the available carbon-ceramic binders, and grip from the enormous tires is, well, enormous. However, the Chevy Corvette still feels less nimble than it should when driven on tight, curvy roads.
Changes, and new interior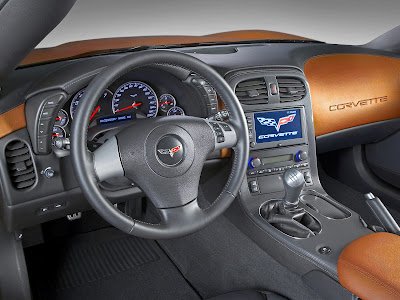 All models of the 2012 Corvette receive new seats and a redesigned steering wheel. The seats are distinguished by their wings and thigh support more pronounced for better support, especially during high-speed maneuvers, while remaining comfortable for everyday driving in the city. The microfiber suede inserts available as an option to improve the tactile sensation and a supporter.
The new seats are complemented by the redesigned steering wheel adorned with badges of the model, a control key pad purest ray and packed. The center console and armrests are padded in all 2012 models. We note another key aesthetic edge: the stitching in a contrasting color – red, blue and yellow – which accompany the custom leather coatings.
Also new in 2012, the new sound system Bose premium includes nine speakers (compared to seven in 2011) to offer a more finely optimized audio reproduction with respect to acoustic properties of the cabin. The new speakers beginning of the dashboard and the system of new generation Nd serious are the main advantages that the driver of the Corvette can detect ear.