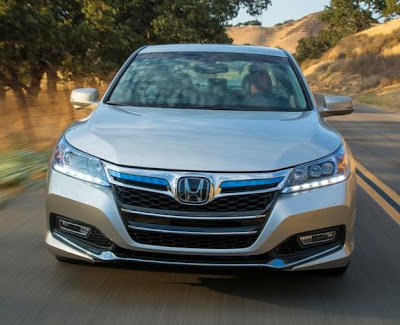 he 2014 Honda Accord Plug-in Hybrid Sedan will provide the athleticism and craftsmanship of the all-new Accord platform, charged with a remarkable dose of hybrid efficiency and electric torque. Set to go on sale in early 2013, the 2014 Accord Plug-in Hybrid (PHEV) Sedan will offer premium technology, exceptional cabin space, the ability to run in an all-electric mode for 10 to 15 miles1 and a calculated1 total driving range over 500 miles. The 2014 Accord Plug-in Hybrid Sedan features one of four efficient new powertrains for the all-new Accord.
The Accord Plug-in Hybrid will also serve as the basis for a conventional hybrid version of the Accord Sedan, which will join the Honda Accord lineup in the summer of 2013. The 2014 Accord Plug-in Hybrid is powered by Honda's first two-motor hybrid system, and uses a new Earth DreamsTM 2.0-liter i-VTEC 4-cylinder engine producing 137 horsepower, teamed with a powerful 124-kilowatt (kW) electric motor. Electric driving is supported by a 6.7 kilowatt-hour (kWh) lithium-ion (Li-Ion) battery, and total system output is 196 horsepower.
To maximize driving efficiency, the uniquely designed two-motor hybrid system allows the Accord PHEV powertrain to move seamlessly between all-electric EV Drive, gasoline-electric Hybrid Drive; and direct Engine Drive. Fuel efficiency for the 2014 Honda Accord Plug-in Hybrid is expected to exceed 100 MPG-e, and it's also expected to receive an Enhanced AT-PZEV rating from the California Air Resources Board (CARB).
Beyond its function as a full-electric vehicle, owners of the 2014 Accord PHEV will be able to choose two additional driving modes to manage battery capacity and tailor the capabilities of the plug-in Accord to their own commute. In its default upon start-up, the Accord PHEV acts as a pure electric vehicle and will continue on in full-electric mode until battery capacity necessitates the automatic switch to gas/electric hybrid operation. At higher speeds or under high demand for acceleration, the gasoline engine can kick in to provide additional power.
In "HV" mode, the plug-in Accord acts as a conventional hybrid, blending motor power between gasoline and electric to maximize fuel efficiency while maintaining the battery charge level. In "HV Charge" mode, the Accord PHEV blends gasoline and electric power while also augmenting the battery charge level.
The 2014 Accord Plug-In Hybrid Sedan will feature an electric servo braking system similar to the setup on the Honda Fit EV, which allows for exceptionally natural brake pedal feel, while extending the range over which the regenerative braking can take place. In addition to its efficient powertrain, the Accord PHEV features remarkably swift charging times. The plug-in Accord can be fully charged from a low-charge indication point in less than three hours using a standard 120-volt household electrical outlet, and in less than one hour using a 240-volt "Level-2″ charger. The free HondaLink™ EV smartphone application will allow owners to easily monitor the charging state of the Accord PHEV.
Based on the Touring trim level of standard Accord Sedan, the 2014 Honda Accord Plug-in Hybrid Sedan will feature three exterior color choices, including two standard Accord shades (White Orchid Pearl, Crystal Black Pearl) plus a model-exclusive Burnished Silver Metallic exterior color choice. The Accord PHEV will also feature a weight-saving aluminum hood, 17-inch forged alloy wheels, a unique front bumper along with enhanced underbody aerodynamic treatments.
A host of visibility technologies are standard on the 2014 Accord PHEV, including a rearview camera, an expanded-view driver's mirror, Honda's new LaneWatch™ blind-spot display, LED headlights, LED daytime running lights (DRL), and LED mirror-mounted turn indicators.