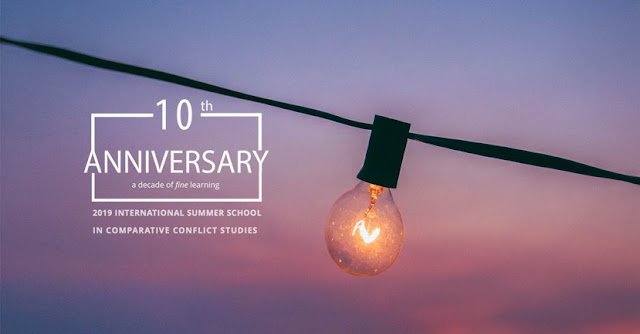 Deadline: 31 March 2019
Open to: graduate students, advance undergraduate students, professionals working in related field
Venue: 23 – 30 June 2019 in Belgrade, Serbia
Description
The Center for Comparative Conflict Studies (CFCCS) at the Faculty of Media and Communications (FMK), Singidunum University invites you to apply for the 10th International Summer School in Comparative Conflict Studies. The 2019 Summer School will take place at the Faculty of Media and Communications in Belgrade, from June 23rd – 30th, 2019.
International Summer School in Comparative Conflict Studies is part of the Politics department at FMK and the MA program in Critical Political Studies. It provides a learning opportunity for students interested in the study and analysis of societies in and post-conflict. Interdisciplinary in its nature, drawing from the fields of Peace and Conflict Studies, History, Anthropology, Education, Law, Political Sciences and International Relations, the International Summer School in Comparative Conflict Studies provides students with an interactive learning experience utilizing frontal lectures and class discussions focusing on comparative conflict analysis of different case studies.
Language of instruction for all courses is English Students who complete the course requirements may transfer the course credit to their home institution (5 ECTS).
(Applicants can attend only one course from this list)
VIOLENCE, WAR AND TRAUMA
MIGRANTS, BORDERS, POWER(S): CONTEMPORARY STRUGGLES, MORAL CLAIMS AND REGIMES OF (IM)MOBILITY
CAUSES AND CONSEQUENCES OF CONFLICT AND INTERVENTION: WILL LESSONS EVER BE LEARNED?
MEMORY AND CONFLICT: REMEMBERING AND FORGETTING IN DIVIDED SOCIETIES
RELIGION AND CONFLICT: THE BALKANS' EXPLORATIONS VS. EXPLORATIONS OF THE BALKANS
Eligibility
We accept applications from graduate students, advance undergraduate students, professionals working in related fields, applicants holding a BA degree who are currently not students but are considering to continue their higher education and pursue a graduate degree, or currently applying for graduate programs, as well from civil society activists.
Costs
The tuition for attending one course in the 2019 summer school is as follows:
Full Tuition: 480 Euros (worldwide).
Reduced Tuition: 250 Euros (available to select countries only)
To qualify for Reduced Tuition, Summer School applicants need to be citizens of and to currently reside in one of the following countries: Albania, Bosnia-Herzegovina, Bulgaria, Czech Republic, Croatia, Greece, Hungary, Macedonia, Montenegro, Israel, Kosovo, Palestine, Romania, Serbia, Slovakia, Slovenia, and Turkey.
Application
THE FINAL DEADLINE FOR RECEIVING APPLICATIONS IS MARCH 31, 2019.
In order to apply,
register HERE.
If you have any questions, check the
FAQ section
or write to:
summerschool@cfccs.org.