APPLY FOR THIS OPPORTUNITY! Or, know someone who would be a perfect fit? Let them know! Share / Like / Tag a friend in a post or comment! To complete application process efficiently and successfully, you must read the Application Instructions carefully before/during application process.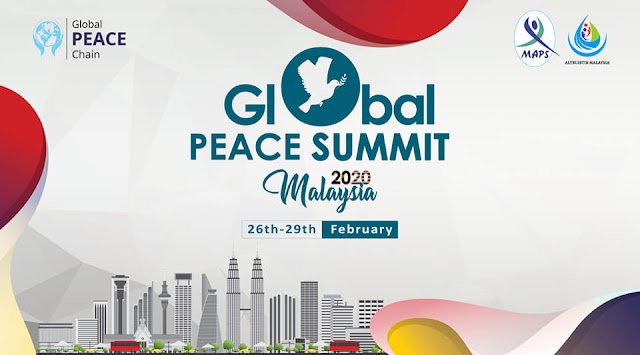 DEADLINE
January 30, 2020
Eligible Regions: Open for All
Application Fee : 25 USD (refundable upon rejection)
Modes of Transactions: 1. PayPal
Categories: 1. Fully Funded 2. Partially Funded 3. Self Funded
GLOBAL PEACE SUMMIT MALAYSIA 2020




Global Peace Chain
(A Project of MAPS) envisions to build resilience, cultivate the culture of tolerance, inclusivity, interfaith harmony,co-existence,love and social peace building across the border through peace camps in educational institutions, interactive sessions, peace talks with society stakeholders, diplomats, ambassadors, influential community groups,UN officials, religious scholars and community based organization across the globe by engaging Global Peace Ambassadors.

Global Peace Summit Malaysia 2020
Global Peace Summit- Kuala Lumpur Malaysia 2020 is providing an opportunity to extraordinary young,competent, and enthusiastic peace builders from 100+ countries to develop their ideas and road maps to achieve sustainable development goals and advocate peace in their communities to counter extreme violent, hate and every kind of discrimination.

This summit aims to connect inspiring young people,to develop their skills in the sphere of peace education,to help them exchange ideas and share projects,while networking with like-minded individuals and world leaders.

This summit will also provide an opportunity to students and young leaders to bring solutions and theory on "Way forward to peaceful & inclusive world and Countering Fifth Generation War" by participating in different peace sessions, talks, group discussions and activities with international delegates and speakers.

Global Peace Summit Malaysia 2020 will incline commencement of mutual understanding, capacity building of youth, social harmony, exposure and interaction with young brains 2020 MBA- Global Vaccines Strategy Internship in USA
plopandrew.blogspot.com
How to Stop Missing Deadlines? Follow our Facebook Page and Twitter !-Jobs, internships, scholarships, Conferences, Trainings are published every day!