APPLY FOR THIS OPPORTUNITY! Or, know someone who would be a perfect fit? Let them know! Share / Like / Tag a friend in a post or comment! To complete application process efficiently and successfully, you must read the Application Instructions carefully before/during application process.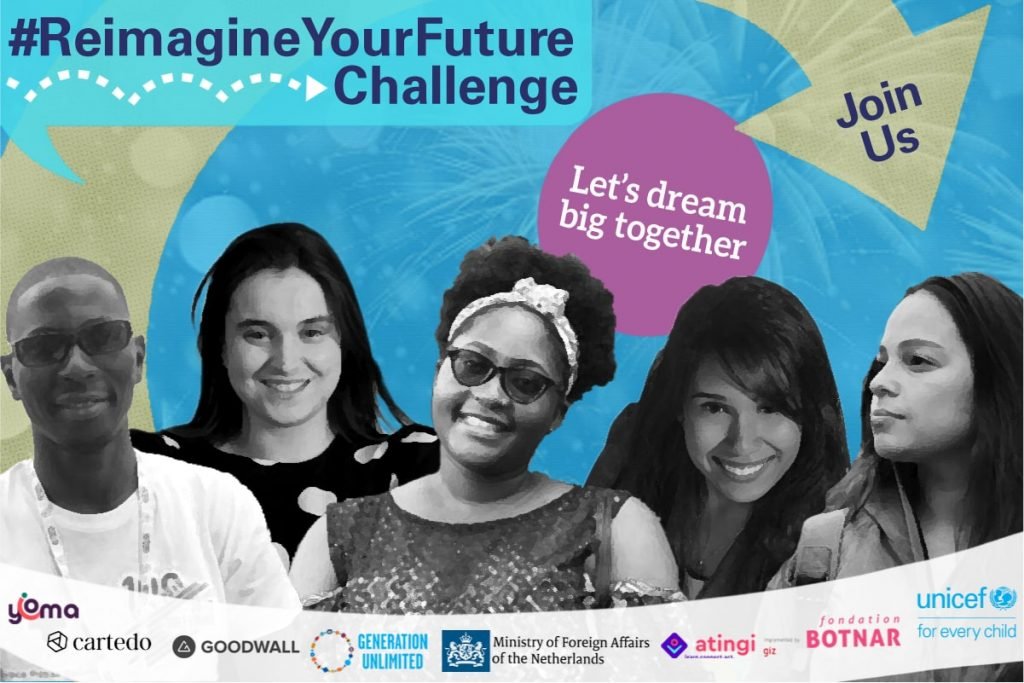 CHALLENGE TIMELINE
Nov 02, 2020
Challenge opens
Nov 23, 2020
Challenge Closes Midnight
OVERVIEW
Across the globe, less than half of the world's 1.3 billion youth (15-24 years old) are participating in the labour market, and youth are three times than adults as likely to be unemployed. These numbers are many times higher among youth who are refugees and migrants, living in extreme poverty.
UNICEF has partnered with Cartedo, Atingi, GenU, Goodwall and others to launch an experiential learning journey with and for youth across all world regions to respond to these issues and to empower youth in reimagining their future. This is an opportunity for youth to dream big, connect, learn and innovate and move from aspirations to action.
ABOUT THE CHALLENGE
This challenge empowers you to think big and define aspirations that could assist you with realizing your dreams. Seize this opportunity to leverage your talents, build skills, connect with peers and explore pathways for learning to earning.
As you venture through this journey, you will learn to use design thinking as a tool to imagine and design your life. You will discover and apply techniques, knowledge and skills that support you in uncovering your talents and aspirations when re-imagining your future.https://player.vimeo.com/video/473476361?title=0&byline=0&portrait=0%22
WHAT PARTICIPANTS ARE SAYING
"It was an amazing experience. I really loved this challenge interface and the concept!"
"This is cool stuff for young people. Great way to learn and inspire oneself."
"It was an amazing challenge! …Initially, I would have ideas, and write them down but it was always hard to achieve them so easily"
"With this challenge, I've learnt how to break my ideas/wishes down into smaller bits which enable me to view it as "easily achievable" than complex""
"I learnt about the vision board and how it helps you see how much you can achieve your idea until completion."
"I found this challenge very educative, it requires some smart thinking and communicates to the user that every idea can actually be achieved if you plan well for it."
"It comes at a perfect moment in my life where I am a young professional searching for balance and work in the middle of a global pandemic."
"I found that the challenge asked me tough questions and forced me to really consider why I feel as though my ideas are good ideas."
"I found the interface to be overall user-friendly, visually appealing, and dynamic from section to section."
WHO CAN PARTICIPATE
Anyone over the age of 14, anywhere in the world
The #ReimagineYourFuture challenge focuses on youth agency, encouraging participants to think big and define aspirations to realize their dreams in an empowered journey from learning to earning. This is an opportunity for youth to leverage their talents and build skills to be able to connect and explore pathways to discover techniques, knowledge, talents and aspirations for re-imagining their future.
For more information please open this link
https://atingi.cartedo.com/challenge/42/reimagine-your-future-programme
How to Stop Missing Deadlines? Follow our Facebook Page and Twitter !-Jobs, internships, scholarships, Conferences, Trainings are published every day!