APPLY FOR THIS OPPORTUNITY! Or, know someone who would be a perfect fit? Let them know! Share / Like / Tag a friend in a post or comment! To complete application process efficiently and successfully, you must read the Application Instructions carefully before/during application process.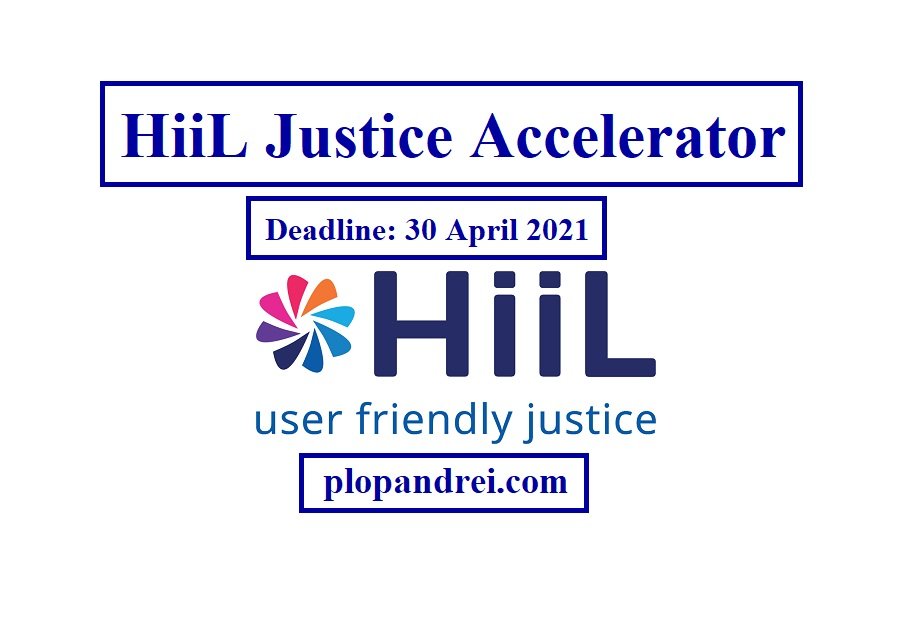 The HiiL Justice Accelerator is currently seeking startups for its 2021 Accelerator programme. We are looking for impact startups focused on tackling justice issues that ensure everyone's access to justice at work, at home, in their neighbourhoods and in business.

We support startups that empower people with break-through innovations to create better:
working conditions with their employer
separation terms with their spouse
protection against theft, fraud and violence
arrangements about noise, damages and property access with their neighbour
housing maintenance and rent conditions with their landlord
agreements on ownership, registration and use of land
contracts, fraud protection and compliance for their small business
We are especially interested in startups that work on what we've identified as potential game-changers

Our programme supports startups that have a proven solution with increasing annual revenue and impact, have a scalable business model, are on their way to financial sustainability and are led by a strong team with experienced founders. Startups can be for-profit or non-profit!

We seek startup applicants from:
East Africa (except Uganda)
West Africa
Southern Africa
MENA region (especially Tunisia, Lebanon and Jordan)
Ukraine

We seek startup applicants who:
have a service that prevents or resolves a clear local justice problem. Check our Dashboard for the most pressing justice problems in your country or region here: https://dashboard.hiil.org/
have proven customer demand, demonstrate increasing revenue and impact
have proven customer demand, demonstrate increasing revenue and impact
have a scalable business model and the potential to become financially sustainable
are led by a dedicated team with experienced founders

At the HiiL Justice Accelerator we deliver a 4 month long accelerator programme that offers the following:
Full training programme delivered by industry specialists on topics such as, business growth, marketing, financial modelling and much more
Regular coaching sessions and mentorship opportunities
€10,000 non-equity funding
International exposure and potential investment opportunities
Chance to win up to €20.000 at the pitch event of the 2022 Innovating Justice Forum

Key dates:
Applications open at 00:00 CEST on March 15, 2021 and close at 23:59 CEST on April 30, 2021.
Those shortlisted for interviews, will have their interviews online between June 14, 2021 and June 24, 2021 .
Following the interviews, the shortlisted applicants will participate in a Bootcamp training between July 5, 2021 and July 9, 2021 .
At the end of the Bootcamp, all Bootcamp participants will deliver a pitch at pitch event. The pitch events take place in each region between July 12, 2021 and July 14, 2021.
Selected participants will be informed by July 20, 2021 about their selection.
The accelerator programme will take place July 26, 2021 to Dec 17, 2021.
For more information, please see our website https://www.hiil.org/innovating-justice-challenge/ or contact the Justice Accelerator Head in your region. You can find the contact info of the Justice Accelerator Head in your region, as the following: in MENA Emna Sayadi, in West Africa Odunoluwa Longe, in East Africa Eric Mwangi Kariuki, in Southern Africa Themba Mahleka or Adam Oxford, and in Ukraine Dmitry Foremnyi. You can find their contact information on the HiiL team page here: https://www.hiil.org/our-team/. If there is no Justice Accelerator Head in your region, please contact the Accelerator Programme Manager, Iran Huffels. Her contact information is also on the HiiL team page.
Launch date: March 15, 2021, 00:00:00 CET
Deadline date: April 30, 2021, 23:59:59 CEST
For more information please open this link
https://platform.younoodle.com/competition/2021_call_for_applications_hiil_justice_accelerator
How to Stop Missing Deadlines? Follow our Facebook Page and Twitter !-Jobs, internships, scholarships, Conferences, Trainings are published every day!