APPLY FOR THIS OPPORTUNITY! Or, know someone who would be a perfect fit? Let them know! Share / Like / Tag a friend in a post or comment! To complete application process efficiently and successfully, you must read the Application Instructions carefully before/during application process.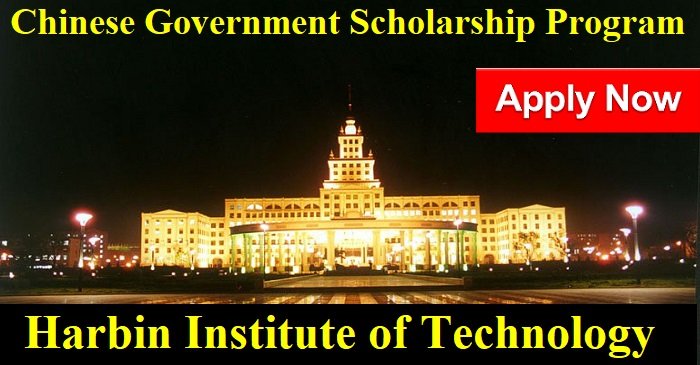 Harbin Institute of Technology (HIT) was established in 1920 in Harbin, Heilongjiang, China. In 1954, HIT became one of China's first six leading universities. Presently HIT is a member of China's top nine University Union (C9). It is a National Key University with science and engineering as its core and has developed to include management, liberal arts, economy, law and other disciplines. In the US News ranking for the Best Global Universities for Engineering, HIT ranked No.2 in China and No.4 globally.
Chinese Government Scholarship – Chinese University Program is established by the Ministry of Education of China (hereinafter referred to as MOE), aiming to develop outstanding international talent and improve the perception of China's higher education. Under the mandate of the MOE, Harbin Institute of Technology is opening application for full-time postgraduate studies under the 2022 Chinese Government Scholarship –Chinese University Program.
Ⅰ. Application Duration
Applicants should post their application materials in time to the International Cooperation Division College of International Education (hereinafter referred to as CIE) of HIT October 15,2021 to March 31, 2022.
Note: The application date is defined as the date on which HIT office receives the paper application materials.
Ⅱ. Eligibility
1.Applicants must be non-Chinese nationality in good health.
2.International students out of China or former graduates of Chinese universities.
3.Educational background required and age limit:
Applicants for master's degree studies must have bachelor's degree and be under the age of 35; Applicants for doctoral degree studies must have master's degree and be under the age of 40.
4.Excellent performance in study.
5.Applicants should have good ability in scientific research.
Note: The scholarship cannot be combined with any other scholarship.
Ⅲ. Details of the Scholarship
1.Exempt from registration fee, tuition fee, and accommodation fee;
2.800 RMB per year for Comprehensive Medical Insurance;
3.Monthly stipend is granted to the students at the following rates after freshman coming to China to register, the stipend will not be reissued before coming China:
Master's degree candidate: 3,000 RMB/month
Doctoral degree candidate: 3,500 RMB/month
Ⅳ. Categories of Applicants and Duration of Scholarship
No.
Categories of Applicants
Duration of Major Studies
Duration of Remedial Chinese Language Studies
Duration of Scholarship
Academic Years
1.
Master's Degree Students
2-3
1
2-4
2.
Doctoral Degree Students
4
1
4-5
Note: The duration of major study for master's degree of School of Management,School of Instrumentation Science and Engineering ,School of Humanities, Social Science and Law,School of Life Science and Technology is 2 years,other majors are all 3 years.
V. Application Materials
The applicants need to provide the following materials truly and correctly (two sets) and pay for the material assessment fee.
1.Application Form for Chinese Government Scholarship (two sets).
The CSC Online Application System is available at: http://studyinchina.csc.edu.cn/ .
Scholarship type: B
code: 10213
2.Highest full-time study diploma (original notarized document in English or Chinese).
Note: If applicants are university students, they should provide original notarized pre-graduation certificate in English or Chinese.
Notarization must be carried out through formal institution, the signature or seal from school or working unit does not have the effect of notarization.
3.Transcripts (It is not required to be notarized, but must be signed and sealed from the university. The transcripts in other languages must be translated in English or Chinese with notarization).
4.A study or research plan (not less than 800 words in English or Chinese).
5.Two recommendation letters by professors or associate professors in English or Chinese.
6.Passport copy (Valid for one year at least).
7.Photocopy of Foreigner Physical Examination Form.
Note:The form is printed by the Chinese Health and Quarantine Department and is restricted to those who study in China for more than 6 months. The medical examinations must cover all the items listed in the Foreigner Physical Examination Form. Incomplete records or those without the signature of the attending physician, official stamp of the hospital or a sealed photograph of the applicants are invalid. The medical examination result is generally valid for 6 months.
8.Bank Receipt of Material Assessment Fee: 60 USD or 400 RMB
Applicants should post the paper application materials with the copy of remittance receipt. Paper materials and material assessment fee are non-refundable.
Remittance Information:
Bank Name: Industrial and Commercial Bank of China, Harbin, Da Zhi Branch
Bank Address: 318 East Dazhi Street, Harbin, People's Republic of China
Name: Harbin Institute of Technology
Account Number: 3500040109008900513
SWIFT/BIC: ICBKCNBJHLJ
9.Language proficiency certificate
Chinese-taught programs:
Master's Degree: report of HSK4 or above (valid for two years),
Doctoral Degree: report of HSK4 or above (valid for two years), English proficiency certificate;
English-taught programs:English proficiency certificate.
10.Certificate of No Criminal Record
11.Acceptance letter( not a must)
Applicants are encouraged to contact the professors prior to application and enclose the acceptance letter from supervisors of HIT.
VI. More Information
Schools & Faculties information, please visit http://www.hit.edu.cn/11296/list.htm
Supervisor information, please visit http://homepage.hit.edu.cn/home-index
Relative materials form, please visit CIE http://studyathit.hit.edu.cn/post/index/459
VII. Teaching Language
All doctoral degree programs can be taught in both Chinese and English is except the School of Humanities, S.S. and Law can only be taught in Chinese.
Master degree programs are generally taught in Chinese, except the English programs of Management, Materials Science, Civil Engineering, Mechanical Engineering, Electronics and Chemical Engineering & Life Science and Technology.
For programs taught in English, applicant whose native language is not English should submit an English proficiency certificate; for Chinese-medium programs or Remedial Chinese Language Courses, applicant should submit report of HSK4 or above (valid for two years).
VIII. Approval and Notification
1.HIT will review all the application materials and is authorized to make necessary adjustments on specialties and duration of study. The application will be regarded as invalid and will not be processed if the applicants are not qualified or the application materials are inconsistent with the recruitment regulations or incomplete.
2.Applicants should check all the information on the admission notice. Applicants are not permitted to change their supervisors, specialties, institutions, duration of study or instruction language specified in the Admission Notice after registration.
3. Please send the electronic version of the application materials to Studyathit@hit.edu.cn for reference while mailing the paper application.
Ⅸ.Contact Us
Visit Website
Call Us
Tel: +86-451-86412647  Korean
+86-451-86402455  English
+86-451-86402455  Russian
E-mail Us: StudyatHIT@hit.edu.cn
Mailing Adress: No.11 Siling Street, Nangang District, Harbin (150001), China
Please mark clearly "CSC Scholarship Application" on the envelope.
International Cooperation Division CIE will keep the explanation authority for this brochure
[download] for Acceptance Letter
[download] Physical Examination Record for Foreigner
[Link]Master Degree Programs (Chinese-taught)
[Link]Master Degree Programs (English-taught) 
[Link]Doctoral Degree Programs (Chinese-taught) 
[Link]Doctoral Degree Programs (English-taught) 
How to Stop Missing Deadlines? Follow our Facebook Page and Twitter !-Jobs, internships, scholarships, Conferences, Trainings are published every day!