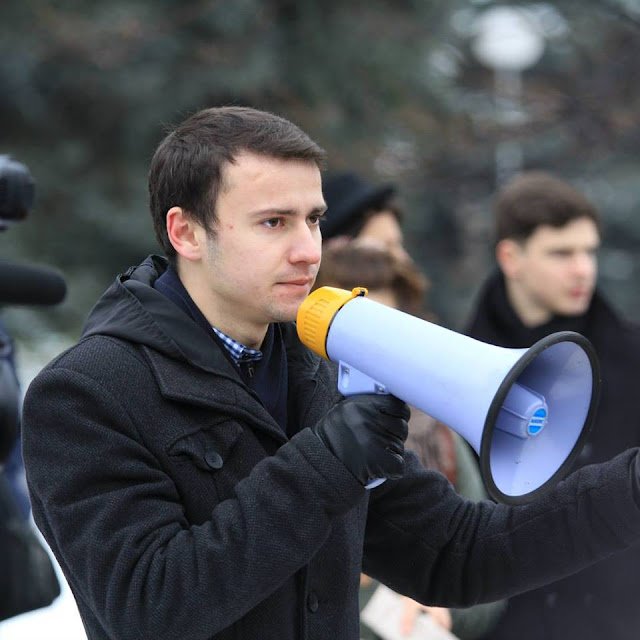 On Sunday, Dinu Plîngău – opposition candidate in the upcoming Moldovan parliamentary elections for the Edineț constituency – was physically assaulted in front of the Edineț police station, after he broadcasted a live video about being persecuted by the police. Mr Plîngău reported that three men attacked him, temporarily dispossessed him of his recording device, threatened him with violence and told him to leave Edineț. According to him, a number of policemen witnessed the

assault, but did not attempt to stop the incident or the attackers from leaving.
Mr Plîngău, 24, was admitted into a nearby hospital immediately to assess the incurred injuries. He filed a complaint and Edineț Police Press Office later confirmed for national press that they have launched a criminal inquiry into the matter and are conducting an investigation to identify the suspects. Witnesses say that a car owned by Oleg Sîrbu – the ruling party candidate in the same constituency – was spotted at the hospital where Mr Plîngău was taken. Journalist Vasile Năstase reported that a number of "dubious" individuals with registration plates from nearby Briceni, were also seen "lurking" on the premises at the time Mr Plîngău was in hospital.
Shortly after his live broadcast on Facebook, Mr Plîngău announced that he had been assaulted around 12.25 PM. "I filed a complaint with the policemen who did not react in any way to the assault and who let the attackers leave", stated Mr Plîngău on Facebook. He later added details about the identity of his attackers:"One of the aggressors is Vlad Nepeivoda, sportsman, a lad from former PD MP Oleg Sîrbu's gang. His father, Igor Nepeivoda, is the vice-president of the PD Edineț branch. Despite police knowing very well who the attackers were, to this moment, they have not undertaken any measures." Dinu Plîngău qualifies the attacks as "an order to prevent my political activity and to determine me to withdraw as an electoral candidate by means of threats and physical assault".
In his initial live video, the 24-year-old candidate had stated that police were intimidating him and members of Platforma DA – whose co-founder and youth wing president he is – by making threatening phone calls and photographing those attending meetings at Mr Plîngău's campaign office in Edineț. He stated that he is unable to safely carry out his campaign and that he is in touch with international and local observers who are monitoring the situation.
Towards the end of the live video, Mr Plîngău said that he was continuing to carry out the investigations into the criminal groups in the north of Moldova, specifically around Edineț, after his first exposé premiered on Jurnal TV in December 2018. Since then, he says that the car he travels in to campaign in and outside of Edineț is often tailed by unidentified individuals, whom he suspects are related to local organised crime members and linked to the ruling party PD.
ACUM DA PAS will continue updating international observers, missions, partners and press and urges them to closely monitor the latest developments in Moldova and to help prevent, to the best of their ability, any threats to the physical safety of opposition candidates, their campaign teams and their supporters.
Dinu Plîngău, born in Edineț, organised the first protests after the Moldovan banking scandal emerged in January 2015. This later grew into a mass anti-corruption movement and the foundation of the Platforma DA grassroots political party. In 2017, the ruling Democratic Party, led by oligarch Plahotniuc, was supported by the pro-Russian Socialist Party to change the electoral system against the recommendations of the Venice Commission. The pro-European opposition – Platforma DA and PAS – are running in the February 24th 2019 parliamentary elections as a bloc, called "ACUM DA PAS", and selected its candidates based on an open, pan-partisan integrity and meritocracy competition that involved investigative journalists, NGOs and civil society members. They have the backing of the European People's Party – the largest and most influential political family in the EU.