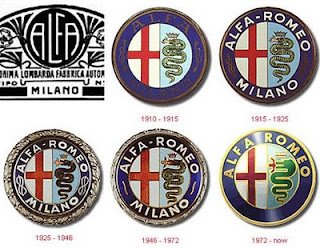 The company that became Alfa Romeo was founded as Società Anonima Italiana Darracq (SAID) in 1906 by the French automobile firm of Alexandre Darracq, with some Italian investors. One of them, Cavaliere Ugo Stella, an aristocrat from Milan, became chairman of the SAID in 1909. The firm's initial location was in Naples, but even before the construction of the planned factory had started, Darracq decided late in 1906 that Milan would be a more suitable location and accordingly a tract of land was acquired in the Milan suburb of Portello, where a new factory of 6,700 square metres (8,000 sq yd) was erected. Late 1909, the Italian Darracq cars were selling slowly and Stella, with the other Italian co-investors, founded a new company named A.L.F.A. (Anonima Lombarda Fabbrica Automobili), initially still in partnership with Darracq. The first non-Darracq car produced by company was the 1910 24 HP, designed by Giuseppe Merosi, hired in 1909 for designing new cars more suitable to the Italian market. Merosi would go on to design a series of new A.L.F.A. cars, with more powerful engines (40-60 HP). A.L.F.A. also ventured into motor racing, drivers Franchini and Ronzoni competing in the 1911 Targa Florio with two 24 HP models. In 1914, an advanced Grand Prix car was designed and built, the GP1914 which featured a four cylinder, double overhead camshafts, four valves per cylinder and twin ignition. However, the onset of World War I halted automobile production at A.L.F.A. for three years.
In August 1915 the company came under the direction of Neapolitan entrepreneur Nicola Romeo, who converted the factory to produce military hardware for the Italian and Allied war efforts. Munitions, aircraft engines and other components, compressors and generators based on the company's existing car engines were produced in a vastly enlarged factory during the war. When the war was over, Romeo invested his war profits in acquiring locomotive and railways carriage plants in Saronno (Costruzioni Meccaniche di Saronno), Rome (Officine Meccaniche di Roma) and Naples (Officine Ferroviarie Meridionali), which were added to his A.L.F.A. ownership. Car production had not been considered at first, but resumed in 1919 since parts for the completion of 105 cars were still lying at the A.L.F.A. factory since 1915.[5] In 1920, the name of the company was changed to Alfa Romeo with the Torpedo 20-30 HP becoming the first car to be badged as such.[7] Their first success came in 1920 when Giuseppe Campari won at Mugello and continued with second place in the Targa Florio driven by Enzo Ferrari. Giuseppe Merosi continued as head designer, and the company continued to produce solid road cars as well as successful race cars (including the 40-60 HP and the RL Targa Florio).
In 1923 Vittorio Jano was lured away from Fiat, partly thanks to the persuasion of a young Alfa racing driver named Enzo Ferrari, to replace Merosi as chief designer at Alfa Romeo. The first Alfa Romeo under Jano was the P2 Grand Prix car, which won Alfa Romeo the inaugural world championship for Grand Prix cars in 1925. For Alfa road cars Jano developed a series of small-to-medium-displacement 4, 6, and 8 cylinder inline power plants based on the P2 unit that established the classic architecture of Alfa engines, with light alloy construction, hemispherical combustion chambers, centrally-located plugs, two rows of overhead valves per cylinder bank and dual overhead cams. Jano's designs proved to be both reliable and powerful.
During the 1960s, Alfa concentrated on competition using production-based cars, including the GTA (standing for Gran Turismo Allegerita), an aluminium-bodied version of the Bertone-designed coupe with a powerful twin-plug engine. Among other victories, the GTA won the inaugural Sports Car Club of America's Trans-Am championship in 1966. In the 1970s, Alfa concentrated on prototype sports car racing with the Tipo 33, with early victories in 1971. Eventually the Tipo 33TT12 gained the World Championship for Makes for Alfa Romeo in 1975 and the Tipo 33SC12 won the World Championship for Sports Cars in 1977.
By the 1970s Alfa was again in financial trouble. The Italian government company Finmeccanica bowed out in 1986 as Fiat Group bought in, creating a new group, Alfa Lancia Industriale S.p.A., to manufacture Alfas and Lancias. Models produced subsequent to the 1990s combined Alfa's traditional virtues of avant-garde styling and sporting panache with the economic benefits of product rationalisation, and include a "GTA" version of the 147 hatchback, the Giugiaro-designed Brera, and a high-performance exotic called the 8C Competizione (named after one of Alfa's most successful prewar sports and racing cars, the 8C of the 1930s).
In 2005 Maserati was bought back from Ferrari and brought under Fiat's full control. The Fiat Group plans to create a sports and luxury division from Maserati and Alfa Romeo. There is a planned strategic relationship between these two; engines, platforms and possibly dealers will be shared in some market areas.
In the beginning of 2007, Fiat Auto S.p.A. was reorganized and four new automobile companies were created; Fiat Automobiles S.p.A., Alfa Romeo Automobiles S.p.A., Lancia Automobiles S.p.A. and Fiat Light Commercial Vehicles S.p.A. These companies are fully owned by Fiat Group Automobiles S.p.A.
Racin History
Alfa Romeo has always been involved with motor racing. In the 1920s and 30s Alfa Romeo scored wins at many of the most famous and prestigious races and motoring events such as Targa Florio, Mille Miglia and Le Mans. Great success continued with Formula One, Prototypes, Touring and Fast Touring. Private drivers also entered some rally competitions, with fine results. Alfa Romeo has competed both as a constructor and an engine supplier, via works entries Alfa Corse, Autodelta and private entries. Today Alfa Romeo is active in different Touring car series and the new Alfa Romeo 8C Competizione is planned to take part to Le Mans GT2 class in the near future