APPLY FOR THIS OPPORTUNITY! Or, know someone who would be a perfect fit? Let them know! Share / Like / Tag a friend in a post or comment! To complete application process efficiently and successfully, you must read the Application Instructions carefully before/during application process.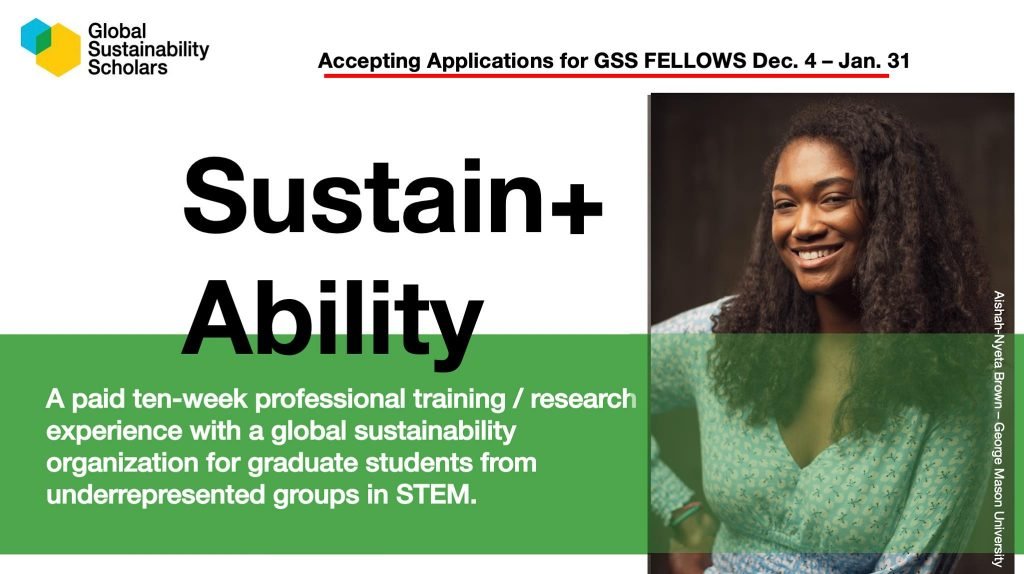 Overview
The GSS Fellows program offers a 10-week paid immersive training and mentoring with a global sustainability organization. Fellows will gain professional work experience, receive professional mentorship and professional development training, and build an international professional network in sustainability science. We will accept 2-6 fellows per year to join the GSS community; provide advanced professional development training; and build professional connections that foster opportunities for employment and/or graduate school opportunities.
Fellows will work with sustainability organizations such as Belmont Forum research projects or Future Earth and will engage with participants of the GSS scholars. Fellows are paid a stipend of $8,000 for their full participation in the program. Each fellowship may provide different opportunities and experiences, however all Fellows will have a core curriculum and a GSS mentor. GSS Fellowships may meet graduate school requirements as professional internships, so be sure to make proper arrangements with the GSS program director prior to acceptance. FELLOWS PROGRAM FAQ
Eligibility
GSS Fellows must have completed a bachelor's degree within the past four years and be able to demonstrate their interest in working on global sustainability solutions. Applicants should be enrolled in graduate studies currently or have receipt of admissions in a program by Fall 2021 .
2021 Fellows will be embedded in projects with our partners organizations in the Belmont Forum or Future Earth research communities. GSS Fellows will be expected to work independently and if appropriate mentor GSS Scholars.
Applicants must be U.S. citizens and have the proper legal documentation to travel abroad (passport) May 2021.
APPLICATIONS ACCEPTED FROM DEC. 4 TO JAN. 31, 2021
For more information please open this link
https://gsscholar.squarespace.com/fellows-program
Fellows FAQ
Eligibility and Requirements
Who Can Apply to Be a Fellow?
Applicants must be U.S. citizens that have graduated with a Bachelor's degree in the past four years and currently enrolled and in good academic standing in a graduate program from an accredited college. If you are not currently enrolled, but have been accepted for Fall 2021, please be sure to submit your future enrollment verification with your transcripts.
As stated in our mission, we are interested in training a new generation of diverse and inclusive sustainability scientists. To that end, we strongly encourage applicants who are historically underrepresented in STEM fields, including but not limited to students who are Black or African American, American Indian or Alaska Native, and Hispanic or Latino, female, first generation college students.
GSS also welcomes lesbian, gay, bisexual, and transgender students; students who have experienced, and worked to overcome, educational or economic disadvantage and/or have personal or family circumstances that may complicate their continued progress in research careers.
No person shall be denied admission to any educational program or activity or be denied employment on the basis of any legally prohibited discrimination involving, but not limited to, such factors as race, color, creed, religion, national or ethnic origin, marital status, sex, sexual orientation, gender identity or expression, age, disability, or protected veteran status.
What Type of Qualities Make a Strong Candidate for This Program?
This program is geared for graduate students in sustainability fields who have completed their bachelor's degree in the past four years. Applicants must demonstrate through professional or academic experience that they are self-directed, mature, collaborative, solutions-oriented, and that they have a deep commitment to working in the field of sustainability science. In addition, applicants should be able to articulate their understanding of how equity and inclusion interests intersect the success of sustainability solutions across the globe. Strong candidates must also be able to travel (if applicable this year), be open to learning leadership and professional development skills, and be committed to mentoring undergraduates from underrepresented in the field. Please send an email to gsscholarinfo@gmail.com for questions.
Will Dreamers or DACA Recipients Be Considered for as a GSS Fellow?
Because this program travels abroad and may require visas to visit certain countries, all applicants must have legal documentation such asU.S. passport to be eligible.
What Does a Strong GSS Fellow Application Look Like?
Applicants should demonstrate their interest, expertise and experience in Sustainability research as well as articulate their career goals and how this fellowship will advance them toward these goals. Showing by example is always the strongest way to show your capabilities. When appropriate, we encourage you to give examples of your resiliency, how you face adversity and your commitment to Sustainability. In addition, competitive applicants should be able to articulate the role of inclusivity in Sustainability research.
As stated in our mission, our program is aimed at training a new generation of diverse and inclusive sustainability scientists. To that end, we are looking for scholars who are historically underrepresented in STEM fields, including but not limited to students who are Black or African American, American Indian or Alaska Native, and Hispanic or Latinx, female, first generation college students.
Do GSS Fellow Applicants Need to Be in the STEM Sciences?
No, however they must be familiar with the natural and social sciences involved in developing solutions to sustainability goals. For example GSS Fellows may be working toward a career in communications, advocacy, or public policy.
What Type of Work Will I Be Doing as a Fellow?
The Fellowship will be a full-time job experience with professional meetings, communications and tasks. During the Summer 2021, four Fellows will be selected to work with Belmont Forum Collaborative Research Action (CRAs) projects and two Fellows with Future Earth projects. Both are GSS partner organizations that work internationally. Belmont Forum CRAs work on issues of Food, Water & Energy, and Ocean sustainability. Future Earth is the largest network of sustainability researchers in the world. They are responsible for convening themed based research communities and building capacity across these communities for a more sustainable future. . In the application form you will have a chance to select the themes that most interest you. If you are selected, we will match your interests and skills with one of our partner organizations & themes.
Would I be traveling abroad this year?
We cannot guarantee travel at this time, however we are planning for an in-person experience with your host organization for at least part of the Fellowship. If by April 2021, we don't feel it is safe to travel or if travel restrictions prohibit travel, we will coordinate a remote engagement with the host organization.
Is this a paid fellowship?
Yes. Fellows are paid USD8,000 for the ten weeks of participation.
If travel is possible, do I have to pay for airfare, housing, and food?
If travel is possible, the GSS Program will cover the airfare round trip (economy class) and housing in a youth hostel or some similar arrangement. You must have a valid US passport at the time of traveling. GSS cannot reimburse for participants for Passport expenses and fees. Your participant stipend is intended to cover food costs.
Will I Have a Mentor as a GSS Fellow?
Yes! This is an important and key piece of the program. You will have a program mentor and an outside mentor.
More questions for us?
Please email any additional questions to gsscholarinfo at gmail.com
When will the Fellows Program start in the Summer 2021?
We estimate that the program will begin in mid-May 2021.
How to Stop Missing Deadlines? Follow our Facebook Page and Twitter !-Jobs, internships, scholarships, Conferences, Trainings are published every day!