APPLY FOR THIS OPPORTUNITY! Or, know someone who would be a perfect fit? Let them know! Share / Like / Tag a friend in a post or comment! To complete application process efficiently and successfully, you must read the Application Instructions carefully before/during application process.
Do you have a vision to eradicate poverty in unity with women and indigenous communities? We are now accepting applications to be an ASEAN WISE Fellow.APPLY
​What is it?
The ASEAN Women Impact Social Entrepreneurship (WISE) Fellowship is year-long fellowship to support changemakers and their social enterprises tackling UN SDGs #1 No Poverty, #5 Gender Equality, and #12 Responsible Consumption with a focus on women and indigenous communities.
Who can apply?
We are looking for medium-sized, women or indigenous-led, community-based social enterprises that work to end poverty via the creative economy sector. Here is a complete list of eligibility criteria:
Is your business women-led and/or women-owned?
Is it community-based and impacting women? (Special priority for those focused on indigenous communities)
Is your business in the creative economy (sustainable/regenerative textiles, artisanal or handmade goods)?
Is your venture generating revenue (more than 2 years)?
Does your business aggregate value of other artisans or micro-businesses?
Do you address SDGs #1, #5 or #12?
Is your business in a country that is part of ASEAN?
Two businesses from each ASEAN country will be selected for the fellowship.
What are the benefits?
As part of our second cohort, you will select corporate partners from the Angels of Impact network to further prepare your business for investment, boost sales, and enhance marketing. Fellows also have access to capacity-building workshops, market access and funding opportunities, and a community of learning. In short, we seek to help women and indigenous entrepreneurs unlock funds that will catalyze their positive impact on communities in Southeast Asia.
Interested? Tell us about yourself today.  Applications are open until January 15, 2021.
Please reach out to contact@angelsofimpact.com with any inquiries. 
For more information please open this link
http://www.angelsofimpact.com/asean-wise-fellowship.html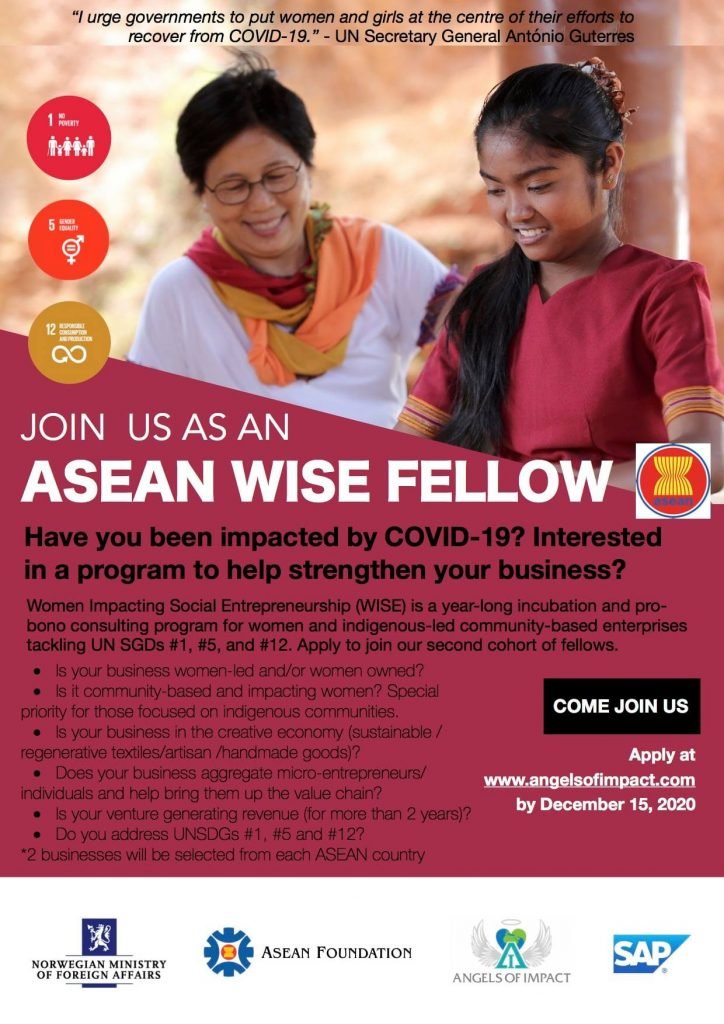 How to Stop Missing Deadlines? Follow our Facebook Page and Twitter !-Jobs, internships, scholarships, Conferences, Trainings are published every day!