APPLY FOR THIS OPPORTUNITY! Or, know someone who would be a perfect fit? Let them know! Share / Like / Tag a friend in a post or comment! To complete application process efficiently and successfully, you must read the Application Instructions carefully before/during application process.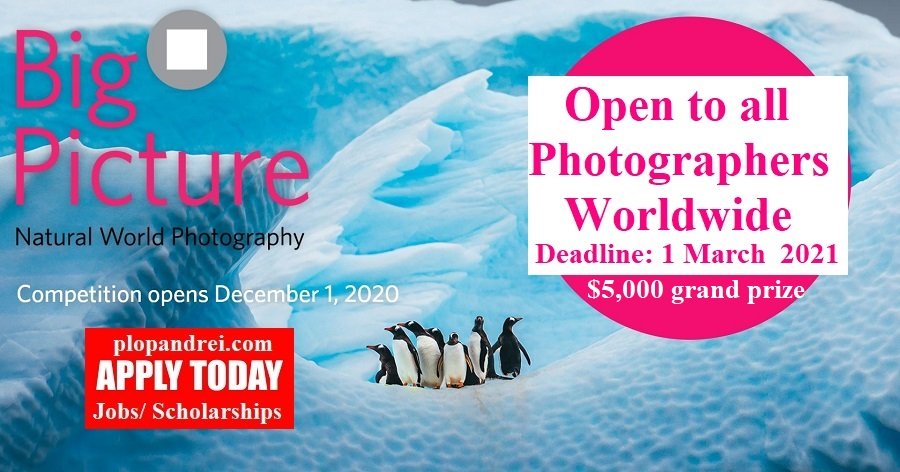 Open to all Photographers Worldwide
BigPicture is open to all photography enthusiasts and professionals alike worldwide to compete for a chance to win the $5,000 grand prize. See eligibility restrictions below.
Competition Overview
Now in its eighth year, BigPicture encourages photographers from around the world to contribute their work to this competition that both celebrates and illustrates the rich diversity of life on Earth and inspires action to protect and conserve it through the power of imagery. Chaired by award-winning conservation photographer Suzi Eszterhas, BigPicture welcomes high-quality nature, wildlife and conservation images and is open to all photographers around the world. Enter your work for a chance to win cash prizes and be exhibited at the California Academy of Sciences.
Entry Fees
Each photographer can enter photos as follows:

$25 for up to 10 single image submissions in any category.
‍
$15 for each 4–6 image Photo Story submission.

Entrants are limited to up to 10 image submissions per registered email address and may register an unlimited number of email addresses. Payment is made on a secure web page using a major credit card. Entry fees must be received by the competition deadline (March 1, 2021) to be eligible to win. Images are not entered into the competition, eligible for prizes, or made viewable to judges until entry fees have been paid. Entry fees are used to provide the competition prizes and help the Academy in its mission and are non-refundable.
Competition Period
The BigPicture Photo Competition begins at 12:00 am North American Pacific Standard Time (PST) on December 1, 2020 and closes at 11:59 pm North American Pacific Standard Time (PST) on March 1, 2021. Presented by the California Academy of Sciences.
Eligibility
BigPicture is open to all photographers worldwide, except employees, volunteers and Board Members of the Academy (as well as their sponsors) and the immediate families and individuals living in the same household as such employees, volunteers and Board Members. The Academy reserves the right to verify, in its sole judgment, entrant eligibility. Void where prohibited.
Image Rights
Entrants retain ownership and all other rights to submitted photographs subject to the following: By entering the Competition, each Entrant grants to the Academy a non-exclusive, irrevocable license to reproduce, publish, and display submitted images directly relating to the Competition in all media throughout the world in perpetuity. This includes but is not limited to use in the context of the Academy website and social media sites, the exhibition of winning images* at the Academy, and and and all promotional and marketing materials regarding the Competition and Exhibition. In other circumstances, commercial opportunities may exist for awarded photographers to benefit from the use of their images, such as print sales or merchandise. Where such a commercial benefit is likely to arise, permission will be sought in advance and terms and conditions will be agreed upon with the photographer.

*Winning images include images designated as grand prize, first place, and finalist images.
Additional Information
Full Rules, Terms and ConditionsSubmit PhotosSubmit Photos
For more information please open this link
https://www.bigpicturecompetition.org/competitiondetails
2021
Competition
Categories
$12,000 in Cash Prizes to be awarded to the 2021 winners!
The Grand Prize winner will receive $5,000 for the best overall image in the 2021 BigPicture Natural World Photography Competition and be featured in the annual exhibit at the California Academy of Sciences. The first place winners of the seven official categories will each receive $1,000 in cash and also have their winning images featured in the annual exhibit. Up to 6 additional finalists will be awarded a certificate of recognition for each category, with the exception of the Photo Story category. The Photo Story category will have one first place awarded.
Landscapes, Waterscapes, and Flora
Photo Story: Out of the Ordinary
How to Stop Missing Deadlines? Follow our Facebook Page and Twitter !-Jobs, internships, scholarships, Conferences, Trainings are published every day!