APPLY FOR THIS OPPORTUNITY! Or, know someone who would be a perfect fit? Let them know! Share / Like / Tag a friend in a post or comment! To complete application process efficiently and successfully, you must read the Application Instructions carefully before/during application process.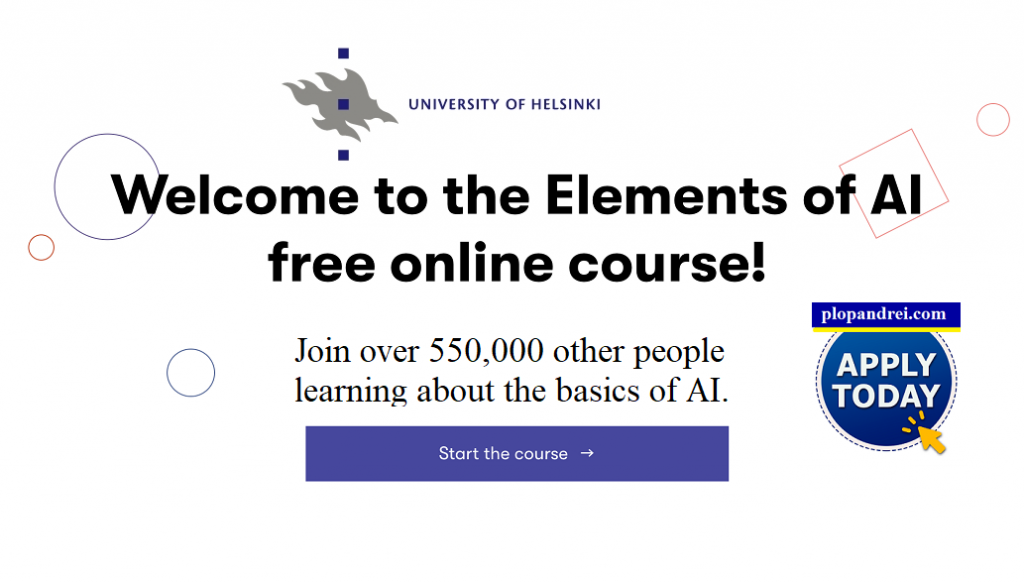 The Elements of AI is a series of free online courses created by Reaktor and the University of Helsinki. We want to encourage as broad a group of people as possible to learn what AI is, what can (and can't) be done with AI, and how to start creating AI methods. The courses combine theory with practical exercises and can be completed at your own pace.
In spring 2018, Reaktor and the University of Helsinki came together with the aim of helping people to be empowered, not threatened, by artificial intelligence. Together, they built the Elements of AI to teach the basics of AI to people from a wide range of backgrounds.
For more information please open this link
550,000 students
Over 550,000 students have signed up for the Elements of AI course.
170 countries
The course has spread worldwide, with graduating students from over 170 countries.
40% women
About 40 % of course participants are women, more than double the average for computer science courses.
The University of Helsinki is the oldest and largest institution of academic education in Finland. Through the power of science, the University has contributed to society, education and welfare since 1640.
Reaktor Education is an online education company world famous for breaking the established barriers around education. We are empowering people to participate in a rapidly evolving globalized society.
How long will the courses take?
You can do the courses at your own pace, but we recommend trying to finish in 6 weeks (in our experience, having a deadline makes it more likely students will finish the course).
Introduction to AI:
We expect it will take approximately 4-8 hours to finish each part of the course. Some exercises require a lot of thinking, drawing on paper and going back to the theory part so they can take up to 45 minutes. You will also find lots of links in the course and looking at these as well will add to the time needed.
Building AI:
The time required depends on which difficulty level you've chosen, whether you do exercises at more than one difficulty level, and whether you finish the optional AI project in the last chapter of the course. We estimate it will take approximately 50 hours to complete the whole course.
How can I get ECTS credits (Finland only)?
You can apply for ECTS credits for completed Elements of AI courses through the University of Helsinki Open University, if you have one of the following:
a Finnish social security number, or
a University of Helsinki user ID, or
a user ID at another HAKA member institution
Available study credits:
Introduction to AI: 2 ECTS
Building AI: 1 ECTS (with Intermediate honors) OR 2 ECTS (with Advanced honors)
To register the ECTS credits for a completed course, log in to https://www.mooc.fi/en/profile… with your course email. Follow the instructions.
The course credits will be registered in the student records of the University of Helsinki within six weeks. You can view your registered studies in My Studyinfo (Finnish bank identification codes, mobile certificate or certificate card required).
If you want to apply for credits at your own university, here's the official course description.
feel that the Elements of AI courses should be available in my language, how do I proceed?
We are currently trying to bring the Elements of AI courses to as many people as possible – in their native language. In order to do that, we need local partners – a university and a company. The university should be willing to help with the practicalities of running the course, such as answering student questions and grading. The company should be willing to cover the costs of this endeavour. If you think you have the right combo, please contact us at elementsofai@reaktor.com. We're looking forward to hear from you (there's a lot of demand at the moment, so please bear with us)!

The Finnish Presidency of the Council of the EU has decided to invest in people's future skills and will make Introduction to AI the first part of the Elements of AI online course family, freely available in all official EU languages. Our ambitious goal is to educate 1 % of European citizens by 2021. We have been launching new language versions since the spring of 2020. The course is already available in English (global), Finnish, Swedish, German, Estonian, Latvian, Lithuanian, French, Dutch and Maltese. Read more about our EU expansion here.
How can I interact with other students or the staff on the course?
Join the Online Community at Spectrum! You can share tips and thoughts with other students on the course, as well as reach the course staff.
How to Stop Missing Deadlines? Follow our Facebook Page and Twitter !-Jobs, internships, scholarships, Conferences, Trainings are published every day!