APPLY FOR THIS OPPORTUNITY! Or, know someone who would be a perfect fit? Let them know! Share / Like / Tag a friend in a post or comment! To complete application process efficiently and successfully, you must read the Application Instructions carefully before/during application process.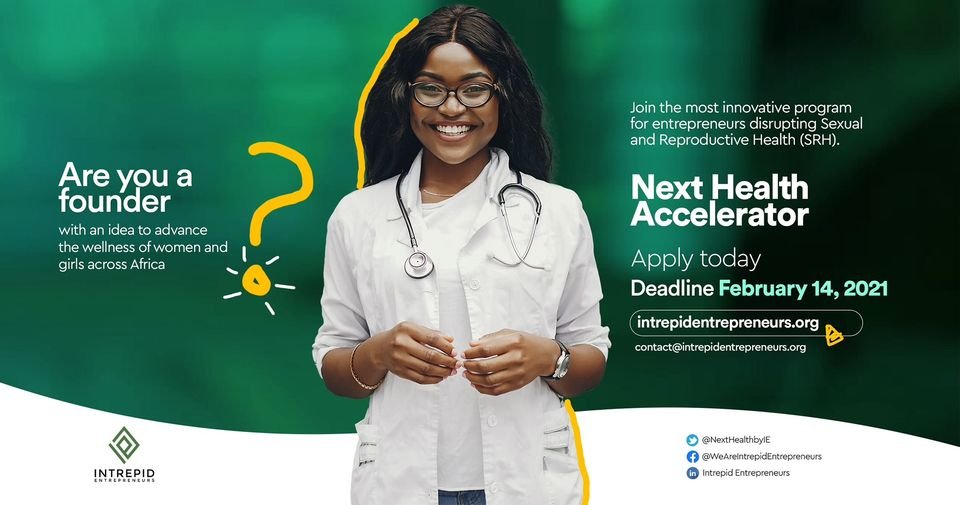 Intrepid Entrepreneurs Announces Application for its SRH Acceleration Program
Intrepid Entrepreneurs (IE) exists to catalyze the power and promise of young people and women to fundamentally advance their societies. IE is delighted to announce applications for our inaugural Next Health Accelerator (NHA). NHA will support innovators offering solutions in the Sexual and Reproductive Health (SRH) sector with an emphasis on self-care.
Applications are due by February 14, 2021. We welcome startups with an MVP from across Africa. Startups will be selected based on the strength of the team, the dedication, and passion of the founders, the potential market size, and the unique value proposition of their product or service. Startups must include a female founder or co-founder.
Next Health Accelerator will provide market readiness training, international mentors and coaches, access to a strong network of value chain partners and $15,000 worth of seed funding for 10 successful startups.
Sexual and Reproductive Health is an expansive term including most stigmatized health issues, all of which are burdens for women to bear: contraception, abortion, menstruation, childbirth, and menopause. The issues are numerous, and the incidence is cyclical and multiple for each girl on the planet. These issues are common for women such that females are constantly managing them. Too often girls and women struggle with sexual and reproductive health issues in silence, in shame, in unawareness, and even in danger.
Next Health Accelerator aims to change this. This initiative is leading a movement to create sexual and health wellness for girls and women by supporting startups that dynamically understand the problems girls and women face and boldly undertake the solutions to these problems.
The Next Health Accelerator (NHA) exists to create Sexual and Health wellness, reaching beyond existing boundaries to ensure women and girls in Africa have access to Sexual and Reproductive Health services. Do you have an innovative idea to advance the wellness of #women and #girls across #Africa?Join #NHA, the most innovative program for #entrepreneurs disrupting SRH!
For more information please open this link
How to Stop Missing Deadlines? Follow our Facebook Page and Twitter !-Jobs, internships, scholarships, Conferences, Trainings are published every day!