APPLY FOR THIS OPPORTUNITY! Or, know someone who would be a perfect fit? Let them know! Share / Like / Tag a friend in a post or comment! To complete application process efficiently and successfully, you must read the Application Instructions carefully before/during application process.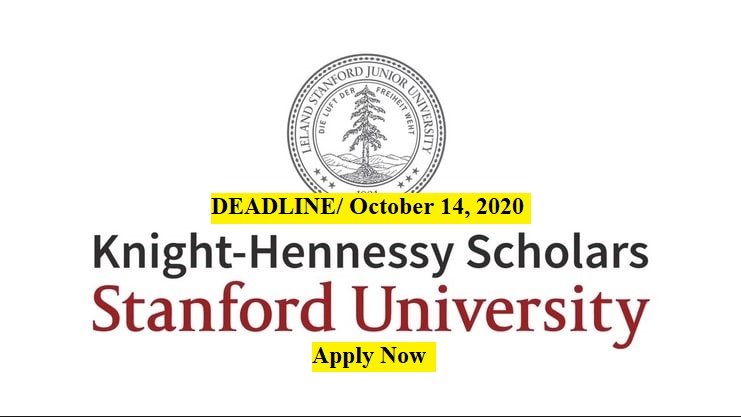 Eligibility
The Knight-Hennessy Scholars program is designed to be open to a broad set of qualified applicants. As such, there are no restrictions based on citizenship, age, field of study, career aspiration, etc. — nor are applicants required to seek endorsements from institutions.
Beyond eligibility for your graduate program, the eligibility factor is the year you received your undergraduate degree. Please use the guidelines below to determine whether you are eligible to apply to the Knight-Hennessy Scholars program for autumn 2021 enrollment.
Unsure if you are eligible to be a Knight-Hennessy Scholar at Stanford University? Answer a few simple questions and we can guide you.
Did you (or will you by September 2021) earn your undergraduate degree at an institution in the United States or outside the United States?
United States
Abroad
Who is eligible to apply?
Applicants from All Countries Welcome
We encourage applications to Knight-Hennessy Scholars from residents of all countries as we expect Knight-Hennessy Scholars to have global impact.
We expect that over time about one-third of our scholars will be from the U.S., and about two thirds will be from countries outside the U.S. Those numbers will fluctuate from year to year, since our goal is to admit the world's very best students, regardless of location.
Any Academic Discipline in any of Stanford's Graduate Schools
You are eligible to apply to the Knight-Hennessy Scholars program if you are applying to enroll in a full-time graduate program(s) at Stanford (for example, but not limited to, DMA, JD, MA, MBA, MD, MFA, MPP, MS, or PhD) or if you plan on pursuing one of Stanford's many joint- and dual- graduate degree options (for example, but not limited to, MD+PhD, JD+MA, MBA+MS).
While we are excited to build a cohort that reflects the breadth of excellence at Stanford, there are no allocations or quotas by discipline or program.
Please note, however, that we will give priority to applicants who will spend at least two years at Stanford. We do not believe one year is sufficient to form the community we envision and benefit from the leadership platform we are developing.
Rooted in the year you received your undergraduate degree
You are eligible to apply to the Knight-Hennessy Scholars program if you received your first/bachelor's degree in 2014 or later. That means:
You must have graduated in January 2014 through September 2021 to enroll at Stanford in autumn 2021.
U.S. military (active or veteran) applicants: You receive a two-year extension of eligibility due to longer service commitments. You are eligible if you earned your undergraduate (bachelor's or first) degree in 2012 or later.
If you are still in college studying for your first/bachelor's degree, you are eligible to apply as long as you will complete your first/bachelor's degree before you enroll as a graduate student at Stanford.
New Leaders for New Challenges
We believe the Knight-Hennessy Scholars program will attract the most promising future leaders from all disciplines and geographies. As a scholar, you will broaden your knowledge, develop skills, and strengthen your character; this will prepare you to effect positive change.
What We're Seeking in a Scholar
There is neither a typical nor an ideal Knight-Hennessy Scholar. In selecting Knight-Hennessy Scholars, we look primarily at three areas:
1. Independence of Thought
Exhibits first-step mental sharpness
Seeks out knowledge and new experiences
Full of original ideas
Makes sense of ambiguity
Can hold a contrarian or dissenting point of view
2. Purposeful Leadership
Ambitious, in the best sense
Driven to improve self
Able to bring others along
Self-aware
Persistent and resilient
3. Civic Mindset
Personally humble and kind
Supportive and accountable
Embraces difference
Concerned for and helpful to others
We find evidence of these selection criteria throughout your application and, if you are selected as a finalist, at Immersion Weekend. We look forward to getting to know you, what you have done, your influences, ideals, hopes, and dreams.
Application Process
A Distinctive Opportunity
We designed the Knight-Hennessy Scholars admission process with the goals of allowing you to know yourself better, enabling us to understand you, and empowering you to make your best case for admission — all while making the application process itself a great experience for you.
Application Process
You must apply separately to the Knight-Hennessy Scholars program and to your Stanford graduate degree program. Please determine which Stanford graduate program you will apply to pursue as you will be asked for that information in the Knight-Hennessy Scholars application.
Step 1: Start your online application for Knight-Hennessy Scholars and prepare application requirements. (Tip: Ask your recommenders early.)
Step 2: Submit the online application for Knight-Hennessy Scholars by October 14, 2020, 1:00 PM Pacific Time. (Note: You will not be able to edit once you submit your application.)
Step 3: If necessary, update test scores for Knight-Hennessy Scholars through your application status page. Upload video by December 9, 2020 through the link provided on your application status page. (Note: The status page is visible only after you submit your application.)
Separately: Prepare and submit the application for the Stanford graduate program you are interested in pursuing by its deadline. Visit the website of the program you are interested in for its application deadline, program requirements, and any fees. Pay close attention to any deadline specific to Knight-Hennessy Scholars program, as it may differ from the standard deadline for that program.
FOR MORE INFORMATION PLEASE OPEN THIS LINK
https://knight-hennessy.stanford.edu/admission
POPULAR POSTS
How to Stop Missing Deadlines? Follow our Facebook Page and Twitter !-Jobs, internships, scholarships, Conferences, Trainings are published every day!