APPLY FOR THIS OPPORTUNITY! Or, know someone who would be a perfect fit? Let them know! Share / Like / Tag a friend in a post or comment! To complete application process efficiently and successfully, you must read the Application Instructions carefully before/during application process.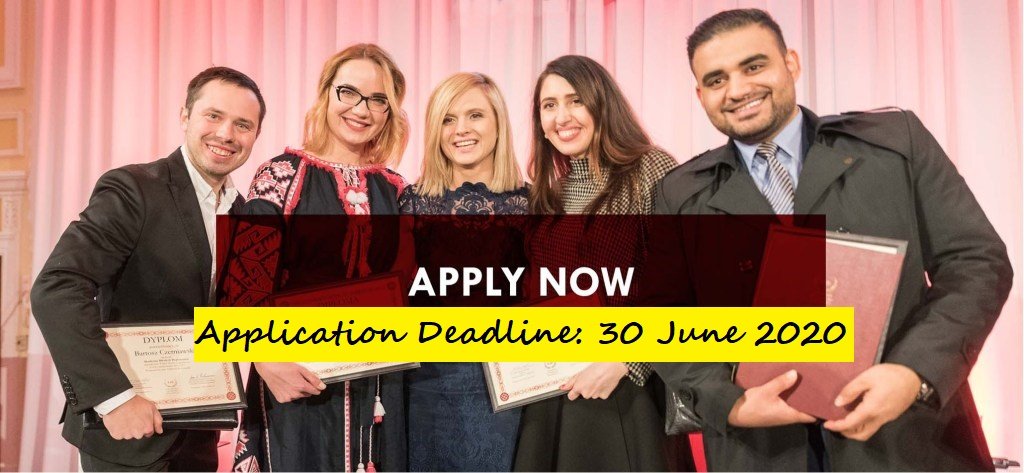 About Academy of Young Diplomats
The Academy of Young Diplomats (AYD) is a top-tier postgraduate diplomatic Program, which empowers a new generation of global leaders, through an innovative year-long training experience, ending with an Executive Diploma in the Art of Diplomacy (EDAD).
Established in 2004, the AYD prepares future diplomats, civil servants and social entrepreneurs for international careers. The Program is known for its world-class faculty, practitioners-oriented approach and a network of more than 3000 graduates from over 60 countries. It is also accredited with the Ministry of Education of Poland.
A selected cohort of approximately 100 promising talents from around the world will take part in over 140 hours of stationary lectures, workshops, practical exercises, study-visits and personal leadership development groups. In the academic year 2020/2021 the program will be enriched by online modules connecting the groups with world leaders from all around the world.
Program Structure & Highlights
5 Three-days sessions in Warsaw (December 2020 – June 2021)
1 Two-days workshop session in Cracow (January 2021)
1 Full participation in the world-renowned 2021 Warsaw Security Forum
1 Official Graduation Ceremony (Winter 2021)
3 Specializations: International Organizations, International Security, Polish Foreign Service
140 Hours of hands-on diplomatic training
10 Study-visits to Embassies, international organizations and government agencies in Warsaw
3 Online Meetings with inspiring world leaders
5 Meetings of the Leadership Development Groups
1 Executive Diploma in the Art of Diplomacy issued by the European Academy of Diplomacy
1 Class network of over 100 leaders coming from over 45 countries
1 Alumni network of more than 3000 AYD graduates from 60+ countries
Specializations – click to discover the classes
The AYD specializations are designed to accommodate the various interests of our participants. The aim of these tailored workshops is to prepare our participants for the career path they chose.
Why join us?
Unique Methodology & Highest Quality of Education: emphasis on the development of practical skills; carefully selected instructors with extensive experience ranging from diplomacy to international business ; lecturers evaluated on session-to-session basis while working with multinational groups; a number of special guests like former Ministers of Foreign Affairs, Presidents, Prime Ministers, and senior diplomats.
Extraordinary Student Profile & Group Diversity: AYD participants come from over 60 countries; guided by the Program values of global openness, social involvement and professional development; international, diverse network and friendships lasting well beyond the graduation date.
Openness & Collaboration: The European Academy of Diplomacy is always eager to strengthen its cooperation with AYD Participants, both during the Program and after its completion, through assisting with their initiatives, conferences, as well as other activities and the Alumni Club.
AYD 2020/2021 Schedule*
I Session 11/13 December 2020 – Commencement Ceremony
II session 15/17 January 2021 – Cracow Workshop Session
III session 19/21 February 2021
IV session 26/28 March 2021
V session 07/09 May 2021
VI session 11/13 June 2021
Warsaw Security Forum 2021
Official Graduation Ceremony December 2021
*Please note that the schedule might undergo minor modifications.
FOR MORE INFORMATION PLEASE OPEN THIS LINK
How to Stop Missing Deadlines? Follow our Facebook Page and Twitter !-Jobs, internships, scholarships, Conferences, Trainings are published every day!