APPLY FOR THIS OPPORTUNITY! Or, know someone who would be a perfect fit? Let them know! Share / Like / Tag a friend in a post or comment! To complete application process efficiently and successfully, you must read the Application Instructions carefully before/during application process.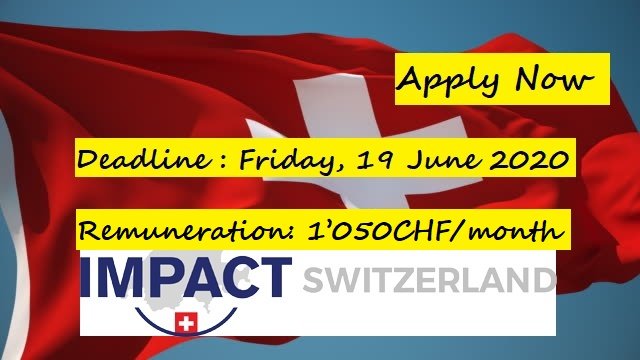 Added Date: Monday, 08 June 2020
Deadline Date: Friday, 19 June 2020
BACKGROUND ON IMPACT AND REACH
REACH was born in 2010 as a joint initiative of two International NGOs (IMPACT Initiatives and ACTED) and the United Nations Operational Satellite Applications Programme (UNOSAT). REACH's purpose is to promote and facilitate the development of information products that enhance the humanitarian community's decision making and planning capacity for emergency, reconstruction and development contexts. REACH facilitates information management for aid actors through three complementary services: (a) need and situation assessments facilitated by REACH teams; (b) situation analysis using satellite imagery; (c) provision of related database and (web)-mapping facilities and expertise.
IMPACT Initiatives is a humanitarian NGO, based in Geneva, Switzerland. The organisation manages several initiatives, including the REACH Initiative. The IMPACT team comprises specialists in data collection, management and analysis and GIS. IMPACT was launched at the initiative of ACTED, an international NGO whose headquarter is based in Paris and is present in thirty countries. The two organizations have a strong complementarity formalized in a global partnership, enabling IMPACT to benefit from ACTED's operational support on its fields of intervention.
We are currently looking for a HUB Intern to support our team in Geneva.
Department: Travel
Position: Travel Intern
Contract duration: 6 months
Location: Geneva, Switzerland
Starting Date: July/August
Remuneration: 1'050CHF/month
FUNCTIONS
The main responsibilities of the Travel & Procurement Intern will be the following:
1. Travel
Address travel requests in a timely manner, prioritizing as needed
Coordinate with other departments (HR, Finance, field) to provide mandatory travel information and documents
In consequence of COVID-19, manage staff return to field as restrictions are lifted
Book flights, train tickets and hotels for IMPACT staff, in coordination with our partner travel agency
Advise, support and follow-up visa applications
Organise bi-monthly induction sessions for new staff prior to their deployment
2. Office management
Assist in day-to-day communications with service providers (building management, insurance, telephone and internet providers, etc.)
Assist in welcoming visitors and answering phone queries
Assist in organising events, trainings or meetings
REQUIREMENTS
Studies in Logistics / Procurement / Administration or equivalent (Bachelor/Master)
Fluent in French and English;
Capacity to work independently and under pressure;
Good capacity to learn and apply procedures;
Organized person, with attention to detail and rigor;
Interest in the humanitarian field;
Proficiency in MS Word, Outlook and Excel
FOR MORE INFORMATION PLEASE OPEN THIS LINKhttps://uncareer.net/vacancy/travel-intern-for-hq-298620
How to Stop Missing Deadlines? Follow our Facebook Page and Twitter !-Jobs, internships, scholarships, Conferences, Trainings are published every day!