APPLY FOR THIS OPPORTUNITY! Or, know someone who would be a perfect fit? Let them know! Share / Like / Tag a friend in a post or comment! To complete application process efficiently and successfully, you must read the Application Instructions carefully before/during application process.
Our Summer Internship Program provides the opportunity for highly motivated undergraduate students to join one of the labs at the Max Planck Institute of Neurobiology(link is external) and the Max Planck Institute of Biochemistry(link is external). The program will allow you to become familiar with different scientific approaches and laboratory methods. The aim of our internship program is to provide excellent students with a broad range of research experiences and knowledge to promote them early on in their career.
Highly motivated students in Biology, Chemistry, Computer Science, Math, Neuroscience, Physics, Psychology, and related fields can apply.
The program intends to promote students early on in their career. We welcome applications of bachelor, master, or post-master students that have already gained some research experience during their studies. Please note that the program is highly competitive.
We invite applications from excellent students with top grades from all countries.
This is a fully funded internship program. Successful applicants will benefit from the following:
Free student accommodation
Stipend of approximately 800 Euro per month
Reimbursement of travel costs to and from Martinsried, near Munich
The application platform is open between January 1st and February 15th, 2021 (24:00 CET).
Registration closes on February 12th. After your registration, you will be able to log in and to upload your application files at the application platform.

The International Max Planck Research School, IMPRS-LS is hosting the platform (therefore please keep in mind: without being logged in, the top menu of this page is specific for the PhD program IMPRS-LS not for MaxSIP; the top menu changes once you are logged in as a MaxSIP applicant).
The following documents are required for your application:
Curriculum Vitae (PDF file, max. 1-2 pages)
Transcript (record of study) and degree certificate for all completed degrees (if applicable)
Temporary/provisional transcripts for degree programs, you are currently enrolled in
Document qualifying for university studies (typically high school degree, Abitur, Matura or equivalent)
Letter of recommendation of one referee (see information below)
Letter of motivation (will be typed into the application form directly, no upload)
If an applicant's academic training was not in English or German, a language certificate (such as IELTS or TOEFL) is highly recommended
All information need to be submitted in English or German. Please provide a respective translation if original transcripts are in a different language.

Upon submitting your complete application, you will receive an automatic confirmation email.
Letter of recommendation
Applicants need to name and invite one referee through the online application platform. We recommend that you personally contact your referee before triggering the email invitation. Please keep in mind that applications lacking the letter of reference after the deadline for submission are incomplete and cannot be processed any further. Please ensure that the referee submits the letter of recommendation before the deadline.

You will receive an automatic confirmation email, once your referee has submitted the letter of recommendation.
The five steps to submission, schematic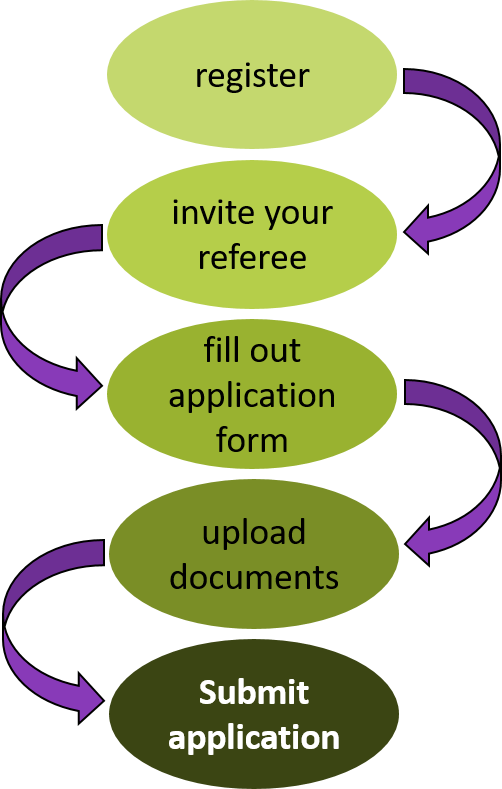 The internship is a full-time immersion for up to ten weeks. It takes place between mid-June to end-September. Within this framework, the starting date and duration of the internship
is determined by mutual agreement between the host lab and the student.
The program committee will evaluate and select students based on their grades, research experience, CV, letter of motivation and letter of reference. The committee aims to announce their decisions to the applicants by the end of March 2021.

The number of internships is limited. Host labs will interview pre-selected students interested in working in their labs via Skype, Zoom or other means.
During your internship, you will be a full member of the institutes with the ability to join numerous social activities such as lab parties, hikes, sports groups, PhD activities, the institutes' summer parties, in-house lectures and much more.
The Max Planck Institute of Biochemistry(link is external) and the Max Planck Institute of Neurobiology(link is external) are located door-to-door at the life science campus Martinsried(link is external). The working language at both institutes is English.
The Campus Martinsried lies at the outskirts of Munich(link is external), not far away from the Bavarian Alps.
For more information please open this link
Apply Here
https://imprs-ls.opencampus.net/en/MaxSIP
How to Stop Missing Deadlines? Follow our Facebook Page and Twitter !-Jobs, internships, scholarships, Conferences, Trainings are published every day!