APPLY FOR THIS OPPORTUNITY! Or, know someone who would be a perfect fit? Let them know! Share / Like / Tag a friend in a post or comment! To complete application process efficiently and successfully, you must read the Application Instructions carefully before/during application process.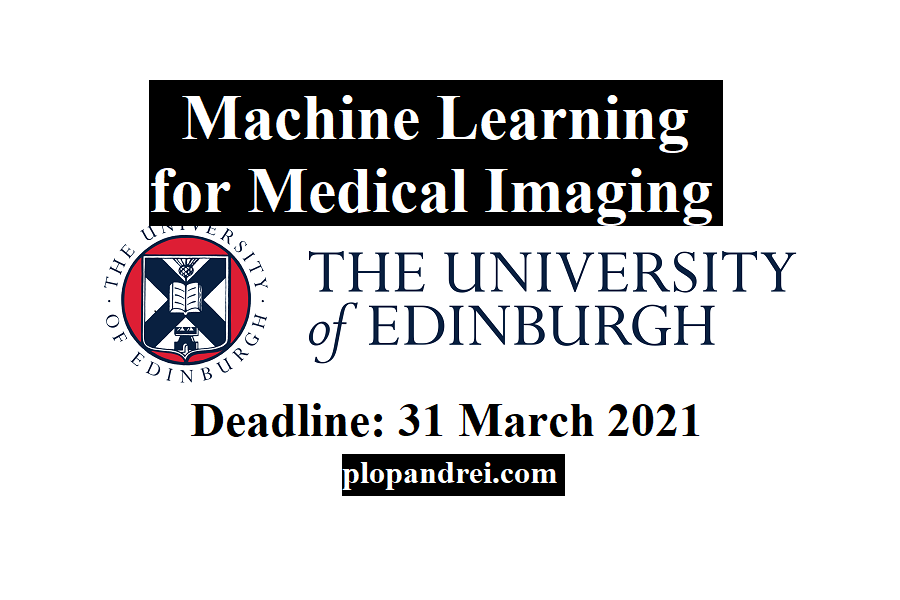 Machine Learning for Medical Imaging
Medical imaging plays a crucial role in improving public health for all populations. With the imaging techniques becoming more common and more advanced, ways of analysing medical images are increasingly needed to fully exploit the contained information. Machine leaning for medical imaging is now an important growth area. Machine learning algorithms have shown their capability in learning complex tasks, even beyond human perception. This has led to substantial interest in the development of artificial intelligence and machine learning for medical image computing, which can enable fast and early diagnosis and clinical decision making, and will ultimately support a major redesign of clinical pathways to improve outcomes and efficiency.

The PhD research will explore the important topics of investigating machine learning solutions to improve the entire medical imaging workflow. Particularly, the research project will focus on equipping deep neural networks with the ability of knowing what they do not know and quantifying their risk of failures, i.e. quantification of uncertainty/confidence and explanation of its source. Though deep learning methods have shown great success for their remarkable predictive performance, there is often a lack of consideration of their risk management. However, this is an urgent need for translating deep learning methods to such safety-critical medical imaging applications. The aim of the research is to allow better understanding of deep learning models and their predictions via uncertainty quantification, and also to enable a more robust and reliable medical imaging workflow for safer diagnosis and treatment.
The research is at the intersection of artificial intelligence and healthcare and has the potential to make significant positive impact on society by improving patient care through better diagnosis and treatment.
Further Information:
The University of Edinburgh is committed to equality of opportunity for all its staff and students, and promotes a culture of inclusivity. Please see details here: https://www.ed.ac.uk/equality-diversity
Closing Date:
Wednesday, March 31, 2021
Principal Supervisor:
Eligibility:
Minimum entry qualification – an Honours degree at 2:1 or above (or International equivalent) in a relevant science or engineering discipline, possibly supported by an MSc Degree. Further information on English language requirements for EU/Overseas applicants.
Prospective students will have good first degree in Computer Science, Electrical Engineering, Mathematics, Physics or other engineering-related disciplines. Experience in one or more of the following areas is also desired: machine learning, deep learning, mathematical modelling, and software engineering.
Funding:
Tuition fees + stipend are available for Home/EU students (International students can apply, but the funding only covers the Home/EU fee rate)
Applications are welcomed from self-funded students, or students who are applying for scholarships from the University of Edinburgh or elsewhere.
Further information and other funding options.
Informal Enquiries:
For more information please open this link
https://www.eng.ed.ac.uk/studying/postgraduate/research/phd/machine-learning-medical-imaging
How to Stop Missing Deadlines? Follow our Facebook Page and Twitter !-Jobs, internships, scholarships, Conferences, Trainings are published every day!