APPLY FOR THIS OPPORTUNITY! Or, know someone who would be a perfect fit? Let them know! Share / Like / Tag a friend in a post or comment! To complete application process efficiently and successfully, you must read the Application Instructions carefully before/during application process.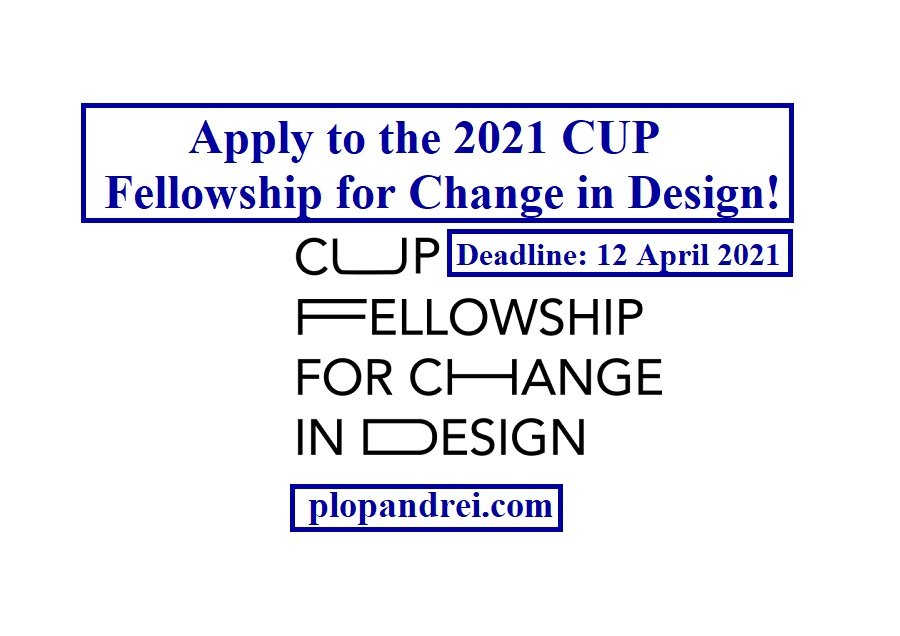 We're now accepting applications for the 2021 CUP Fellowship for Change in Design!
The Fellowship is a paid, year-long, full-time, training program designed to promote and support individuals in gaining the skills, contacts, and experience to help them excel in their design careers.
The Fellow works at CUP full-time, collaborating on our community-engaged design projects as part of the CUP team, working as an in-house designer, and participating in mentoring opportunities.
The Fellowship is an initiative to support the development of a pipeline of talented individuals from historically under-represented communities into the design fields, and to dismantle the systemic biases that stand in the way of their advancement as leaders in these fields. The 2021 Fellow will be selected through a competitive, juried process and will work with CUP from July 2021–June 2022. Meet this year's jury here!
The selected Fellow will receive a stipend of $40,000 (paid in monthly installments), along with free health insurance benefits, a flexible leave policy, and a small budget for professional development activities.
Applications should include:
– A cover letter saying why you are interested in the Fellowship, what you hope to get out of it, your career goals, and how you meet the Fellowship criteria
– A current resume
– A portfolio of your design work. We're looking for your skills to work on a range of visuals and with type. Please describe the context that your projects were completed in and your role. Your portfolio will be reviewed on screen and in a print-out. Please format your work so all pages can be printed out at 8.5 × 11in. (Max file size: 5 MB)
– A list of 3 references, with contact information
Submit all materials through Submittable by Monday, April 12th at noon, EST. The application portal will close then, so if you need an extension, please email siyona@welcometocup.org in advance and we'll try our best to accommodate.
Please note that we will not review applications that do not provide all requested materials. And we will not use links to access additional information that is not uploaded to Submittable, including links to web-based portfolios. No phone calls, please.
For more information please open this link
http://welcometocup.org/NewsAndEvents/ApplyToThe2021CUPFellowshipForChangeInDesign
How to Stop Missing Deadlines? Follow our Facebook Page and Twitter !-Jobs, internships, scholarships, Conferences, Trainings are published every day!