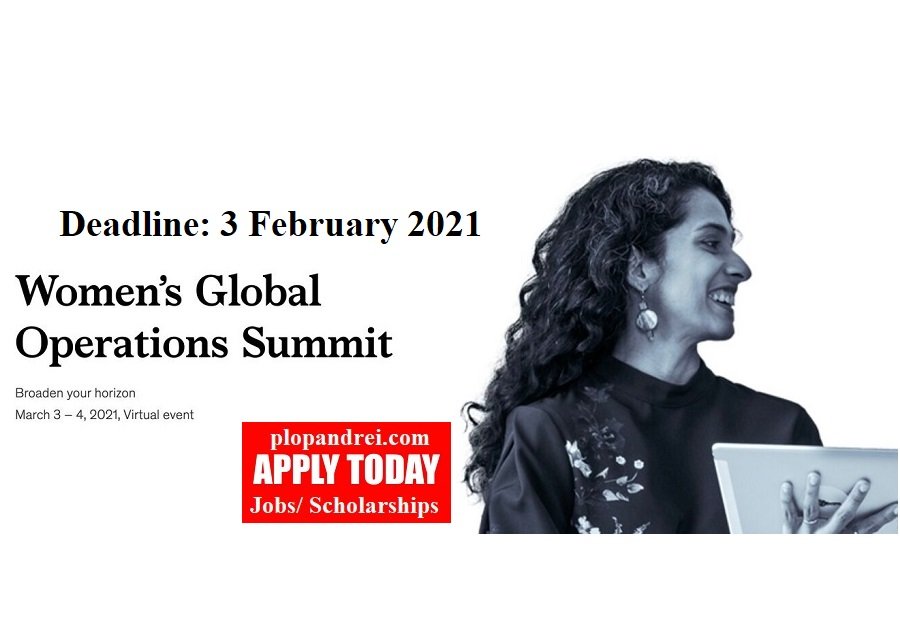 Broaden your horizon
March 3 – 4, 2021, Virtual event
McKinsey passionately believes in developing outstanding women leaders and promoting gender diversity, both at our firm and in the world at large.
We invite you to broaden your horizon at our virtual Women's Global Operations Summit taking place March 3 – 4, 2021. Those selected to attend will have the opportunity to:
learn about McKinsey's global work in operations
engage with McKinsey Operations consultants and meet other like-minded women from around the world
strengthen their operations skillset through interactive workshops and client case studies
EVENT DETAILS
Date:
March 3 – 4, 2021
Eligibility:
We are looking for individuals who self-identify as women and meet at least one of the following requirements:
professionals who have a background in engineering or business and (initial) work experience in operations—for instance, manufacturing, supply-chain management, product development, procurement, service operations, implementation, capital excellence, advanced analytics, or quality management
students working toward a Master's degree, an MBA, or a PhD, with an engineering or business background
This event is non-evaluative. It is an opportunity for you to get to know us and learn more about working at McKinsey.
Why Apply:
You should apply to our Women's Global Operations Summit if you:
have a passion for Operations
actively seek ways to maximize your own potential
enjoy problem solving and creative thinking
thrive in a team environment
want to use your talents to make positive changes
How to Apply:
Your application should include a CV in English. No cover letter is needed and transcripts are optional.
Applications are due by February 3, 2021. We will inform you of the outcome of your Women's Global Operations Summit application by February 17, 2021.
Apply by February 3, 2021
AGENDA
March 3, 2021
Welcome & networking (2 hours)
March 4, 2021
Networking & interactive workshops and Q&A sessions (full day)
We will share the specific times in line with your time zone closer to the event.This virtual event is just one of our many worldwide programs aimed at helping individuals who self-identify as women get to know McKinsey better. Stay tuned to our Real Life at McKinsey Facebook page, as well as our Careers blog, for more information regarding upcoming events and initiatives.
For more information please open this link
https://www.mckinsey.com/careers/womens-global-operations-summit#
MEET OUR OPERATIONS COLLEAGUES
"One of the things I value most about working at McKinsey, not only those who are part of my immediate team during a project, but also the entire network of colleagues around the world. Coming from the industry, one of the first things that surprised me was how easy it was to contact someone on the other side of the world and the willingness of that individual in helping you solve whatever challenge you are facing. The collaboration and knowledge at McKinsey is what makes our work different and special every day, because at the end of the day, this is what you put on the table when you are looking to bring solutions to your clients, it is not only your experience but that of the entire firm."
Aixa, Junior Specialist, Procurement & Product Development, Bogotá
"It was my dream to work on a large transformation for an Australian mine, preferably somewhere in the outback. Not long after I joined McKinsey, I spent 28 hours traveling to a mining site in remote Queensland, where kangaroos would visit my 'donger' (aka camp room) at night. The client and McKinsey team formed a deep connection and the work we did with the maintenance team felt very rewarding. I loved the entire experience so much that I returned to the outback for another few months later that year at an even more remote mining site in Western Australia."
Mandy, Engagement Manager, Implementation, Amsterdam
"I applied to McKinsey after attending the Operations Women's Leadership event in 2016. Not only was I inspired by the success stories and accomplishments of others at the event, I was empowered by our shared experiences and ability to overcome obstacles as women leaders in Operations. Since joining the firm, I have created a network of highly motivated, accomplished women leaders. I have leveraged my industry experience to help utilities develop grid modernization strategy, advise clients on public-private partnerships, and develop business cases for large scale infrastructure in North America."
Bernice, Associate, Capital Excellence, Toronto
Questions?