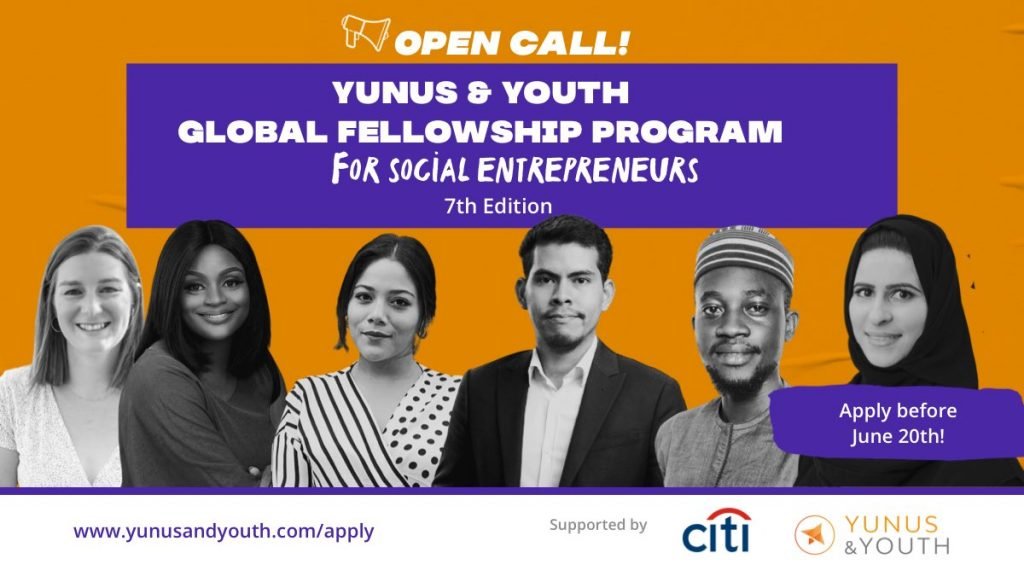 Are you a passionate young social entrepreneur with an early-stage social business?
The Yunus & Youth Global Fellowship (Y&Y Fellowship) is a virtual, six-month program that is designed specifically for operating social businesses. The program is free, with no fee or equity stake required, and the application season is now open for the seventh global cohort.
Deadline: June 20, 2021 11:59 PM (GMT-3)Z
We offer Y&Y Fellows a high-quality experience that includes access to our online training platform, interactive projects, mentoring with Fortune 500 professionals, and access to top thinkers and institutions around the world. The experience culminates in a final pitch competition with a panel of impact investors.
Z
The Y&Y Fellowship gives you the skills you need to achieve financial sustainability, plan how to scale your business, and measure your impact.
Z
Long after you graduate, you will be part of the Y&Y community. The relationships you build will transform your social business and ultimately help promote sustainable global development and economic growth for our world.
How do you select Y&Y Fellows?
We're looking for candidates who:
Lead an early-stage social business that solves a social or environmental issue aligned with the UN Sustainable Development Goals
Hold primary decision-making power in the growth and strategic vision of their social business, typically as a founder or managing director
Can dedicate at least 5 hours per week to the Y&Y Fellowship
Will contribute to the growth and development of the Y&Y community
Can communicate effectively in English
Are between the ages of 18 and 30, with exceptions for outstanding applicants outside that range
What does the Yunus & Youth Global Fellowship include?
Y&Y Fellows access training on an online platform, including interactive assignments designed to help Fellows build a strong business plan.
The Y&Y team works closely with each Y&Y Fellow to connect them with the specialized tools and training they need.
Y&Y Fellows are matched with mentors from Fortune 500 companies, bringing know-how from the private sector.
Y&Y offers Fellows the opportunity to learn from top social business thinkers, such as Professor Muhammad Yunus and researchers from prominent institutions.
At the end of the program, Y&Y Fellows pitch to a panel of investors with deep knowledge of social businesses.
Y&Y Fellows become part of a network of social business leaders, building close ties that last long after their cohort graduates.START APPLICATION
Deadline: June 20, 2021 11:59 PM (GMT-3)
For more information please open this link
yunusandyouth.com/apply