APPLY FOR THIS OPPORTUNITY! Or, know someone who would be a perfect fit? Let them know! Share / Like / Tag a friend in a post or comment! To complete application process efficiently and successfully, you must read the Application Instructions carefully before/during application process.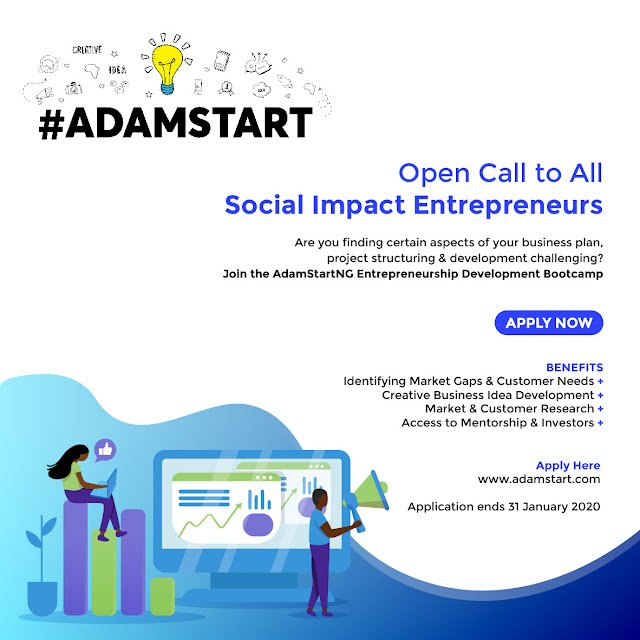 AdamStart is an international platform setup by Queens Young Leader, Board Member of the Queen's Commonwealth Trust and social-entrepreneur Mr. Adam Bradford.  Mr. Bradford is an English social activist,  BBC media personality, entrepreneur and business adviser. He has acted as an adviser to young entrepreneurs internationally and worked to develop entrepreneurship initiatives in the United Kingdom.
The AdamStart project is one of Bradford's flagship programs to help young entrepreneurs scale their ideas. Currently in its 10th year, the project has reached over 10,000 young leaders across 130+ countries. The project received a face lift three years ago when it was revamped into an international challenge, the competition received thousands of applicants across over 80+ countries, with the majority of the applicants originating from Caribbean and African regions. The year, the team has decided to pay more attention to these regions.
AdamStartNG Entrepreneurship Development Bootcamp is a multi full day series of on-line and in-person business and leadership trainings designed to impact 300 young business leaders and entry level young professionals in Nigeria across four cities in its pilot phase. These cities include:
Lagos
Abuja
Cross River
Owerri
Training sessions include: identifying market gaps and customer needs;
creative business idea development; market and customer research; and
marketing. Participants will include an array of young entrepreneurs with
business already in the first year of operations across multiple sectors
(preference will be given to individuals whose business solves a problem –
social impact entrepreneurs.) Training is provided in English language onsite in partnership with youth centers; business/innovation/creative hubs and enterprise development schools.
The project aims to build cohesion between entrepreneurs who have brilliant ideas and the local community through entrepreneurial ventures that contribute not just to the local economy but helps in solving one or multiple sustainable development goals. In addition to the series of trainings for entrepreneurs, start-up will be offered advisory, legal support, local & international media package, access to the AdamStart global network and financial support (on a need base) to scale-up.
PROGRAM BENEFITS.
Free access to our Intensive 2 days incubation
Call for Applications: AdamStart Enterprise Bootcamp Nigeria 2020
plopandrew.blogspot.com
How to Stop Missing Deadlines? Follow our Facebook Page and Twitter !-Jobs, internships, scholarships, Conferences, Trainings are published every day!