APPLY FOR THIS OPPORTUNITY! Or, know someone who would be a perfect fit? Let them know! Share / Like / Tag a friend in a post or comment! To complete application process efficiently and successfully, you must read the Application Instructions carefully before/during application process.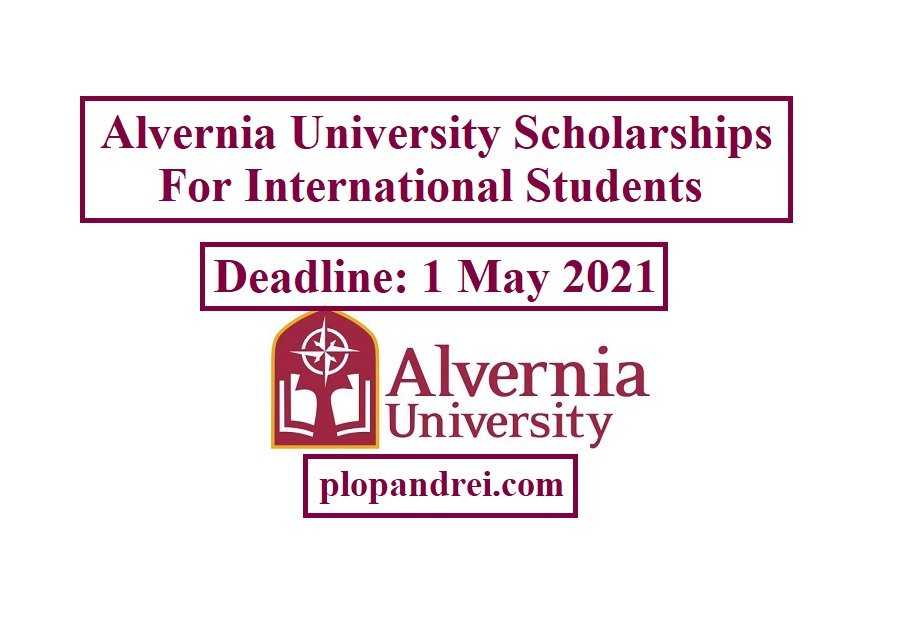 Alvernia University offers a limited number of international scholarships to qualified degree-seeking students. Interested students must complete a separate scholarship application in addition to an application for admission.
All students who wish to study at Alvernia University must complete an online Alvernia admission application, which can be done by clicking here.
After submitting the admission application, international students may apply for this scholarship opportunity, which consists of several levels of support ranging from $10,000 to $22,000 per year as a merit award. These scholarships are offered to both freshman international students and those transferring from another college or university located outside the United States.Accessing the Scholarship Application
The application is an online form that the applicant must complete and submit to our Admissions Office in order to apply for a scholarship.
Click here now to access the scholarship application.Eligibility Requirements
Alvernia University offers scholarships to each international freshman and transfer student wishing to earn an undergraduate degree as a traditional day student at our main Reading campus.
These merit scholarships are renewable for four years (up to eight semesters), all in the same amount. Scholarships cannot be combined with any other award, including a government scholarship, therefore an applicant cannot apply for an Alvernia International Scholarship if they are already receiving another financial award.
Other requirements:
Be a full time, degree-seeking undergraduate student attending mostly daytime classes.
Have earned a minimum 3.0 overall cumulative GPA by the May 1 scholarship application deadline.
Submit each of the following documents to Alvernia's International Admissions by the May 1 application deadline:
International Scholarship application. This must be completed online via this form.
Statement of proposed study. This should be a separate document, in which the student applicant explains (in 300 words or less) why Alvernia University should provide them with a scholarship and how their academic and personal goals will contribute to our campus community.
Unofficial Grade Report. The student must submit all grades from all previous schools attended.
One Letter of Recommendation. This letter must be submitted with the scholarship application packet before the deadline.
Alvernia scholarships available to qualified international applicants include:
International Honor Scholarship is$22,000 per year for the top performing student completing their previous studies with recognized achievements. Apply now here.
Global Ambassador Scholarship grants $15,000 per year to qualified international students who exhibit leadership potential and a desire to serve as a cultural ambassador in the United States. Apply now here.
International Envoy Scholarship provides a $10,000 scholarship per year for achieving students. Apply now here.
Catholic School Scholarship awards$1,000 to first-time, full-time freshmen graduating from a Catholic high school. It can be combined with other awards as well as incorporated into financial aid packages and will be automatically applied to eligible students' applications.
The Selection Process will begin after the May 1 scholarship application deadline. During this time, the International Scholarship Committee will review all applications submitted. At least three members of the committee will independently review each application. Alvernia University notify applicants of the outcome at the conclusion of the process.
To continue your scholarship during your studies, you must enroll each semester as a full-time student, which is minimum of 12 credits, and maintain a minimum grade point average of 2.5 or higher.Outside Scholarship Opportunities
Alvernia University does not have full tuition scholarship opportunities for international students. While students cannot combine other scholarships to Alvernia awards, international students are highly encouraged to apply for outside scholarship options. Here are some suggested sites:
International Scholarships.com
International Educational Financial Aid
Next Global Scholar ProgramCost of Attendance
Tuition and fees: $38,230
Living Expenses/Room & Board: $13,280
Books/Personal/Other Expenses: $4,000
Total: $55,510**
**Above numbers may change slightly based on the applicant's room and board selection and according to the spending habits, as personal spending will vary from student to student.
When the applicant receives an international scholarship, they should deduct that scholarship amount from the yearly tuition cost.
Contact
International students with questions should contact Alvernia's International Admissions Office by email at international.admissions@alvernia.edu or call Director of International Recruitment Sibel Ahi directly at 610-568-1473.
For more information please open this link
https://www.alvernia.edu/admissions-aid/international-students/international-students-scholarships
How to Stop Missing Deadlines? Follow our Facebook Page and Twitter !-Jobs, internships, scholarships, Conferences, Trainings are published every day!