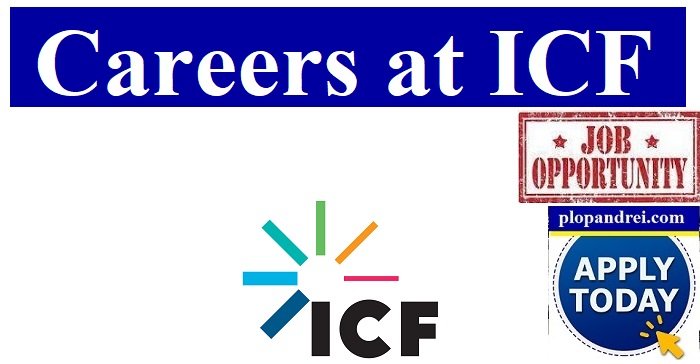 Benefits
Committed to supporting our people on life's journey.
Health and Happiness are a priority. ICF employees have access to quality healthcare and wellness benefits in most offices globally. And our employee assistance program is available when you need help coping with life's challenges.
Our goal is to attract and retain great people. Though ICF's benefits vary based on location, we routinely monitor the marketplace to ensure our benefits reflect the latest trends and best practices. Choose a link below to view our benefits by country.
FIND YOUR BENEFITS
For more information please open this link
Apply Here
https://www.icf.com/careers/jobs
Careers frequently asked questions
From questions about the application process to facing technical difficulties, we're here to support your exploration of ICF careers. Below are our 10 most frequently asked questions.
HOW LONG DOES IT TAKE TO APPLY TO A JOB AT ICF?
Once you have your resume and cover letter ready, applying to an ICF job should only take you a few minutes. It could take you a little longer if you choose to attach additional documents or if you are manually entering information such as past experiences and education information.
I HAVE A DISABILITY AND REQUIRE SPECIAL ACCOMMODATIONS. WHAT SHOULD I DO?
Reasonable Accommodations are available for disabled veterans and applicants with disabilities in all phases of the application and employment process. To request an accommodation please email ICFCareerCenter@icf.com and we will be happy to assist. All information you provide will be kept confidential and will be used only to the extent required to provide needed reasonable accommodations. Read more about non-discrimination at: EEO is the law and Pay Transparency Statement.
I HAVE CONCERNS RELATIVE TO DATA PRIVACY, WHO SHOULD I CONTACT?
First things first, you can find the applicable ICF Privacy Statement for your jurisdiction at https://www.icf.com/legal/privacy-statement. If you do not find answers to your questions in the Privacy Statement, please send us an email at dataprotection@icf.com. We'll be happy to address your questions and concerns.
I APPLIED TO A POSITION AT ICF, WHAT ARE THE NEXT STEPS?
First, you will receive an email confirming we received your application. Then, one of our Recruiters will review your resume and if your skills and experience match those required for the position you applied to, a short phone interview will be scheduled. If you've successfully completed this last step, you will be scheduled to meet with the hiring team and here's what to expect next:
I WANT TO ACCESS MY CANDIDATE PROFILE AND NEED TO RESET MY PASSWORD, WHO DO I REACH OUT TO?
Lost your password or encountered a technical glitch? No problem! Simply send us a quick note at ICFCareerCenter@icf.com and we'll take care of everything.
I FORGOT TO SUBMIT A DOCUMENT WHEN I APPLIED, HOW CAN I ENSURE IT'S INCLUDED WITH MY APPLICATION?
Once you've submitted your application, you'll need someone on the team to attach the missing document to your application. To do so, send us an email at icfcareercenter@icf.com with your name, email address, the missing document and indicate the title and number of the job you applied to.
WHAT IS THE ICF ALUMNI NETWORK?
The ICF Official Alumni Network was created on LinkedIn® to provide networking tools to reconnect former colleagues and to help alumni stay connected to ICF. The Network also provides a venue for staff of newly acquired firms to network with current and former ICF employees and to foster recruiting throughout the ICF network of distinguished professionals.
HOW DO I JOIN THE ICF ALUMNI NETWORK?
If you are a current or former ICF employee, please go to ICF Official Alumni Network and click Join This Group. Requests to join are subject to approval by the ICF Official Alumni Network Administrator.
CAN I INVITE OTHERS TO JOIN THE ALUMNI NETWORK?
Absolutely! We encourage you to invite current and former employees of ICF to join the ICF Official Alumni Network. To invite others, go to ICF Official Alumni Network page and click Share Group to select up to 10 contacts from your connections list. You can also use your own email account and send the link. Please be aware that any requests to join will be in a pending status until approved by the ICF Official Alumni Network Administrator.
THE JOB I'M CONSIDERING APPLYING TO STATES THAT IT'S REMOTE UNTIL THE OFFICE OPENS. WHAT CAN I EXPECT?
The safety of our team is our top priority. With just a few exceptions, we're working remotely until it's safe to return to our offices. We will continue to monitor conditions to determine when it will be safe to return to offices. As of today, that will be no sooner than January 2022.
I HAVE A QUESTION THAT IS NOT ADDRESSED HERE. WHERE CAN I SEND IT?
You can send us your questions at icfcareercenter@icf.com, on Twitter at @JoinICF or on Facebook at https://www.facebook.com/ThisIsICF. We'll be sure to respond within 24 to 48 hours.