APPLY FOR THIS OPPORTUNITY! Or, know someone who would be a perfect fit? Let them know! Share / Like / Tag a friend in a post or comment! To complete application process efficiently and successfully, you must read the Application Instructions carefully before/during application process.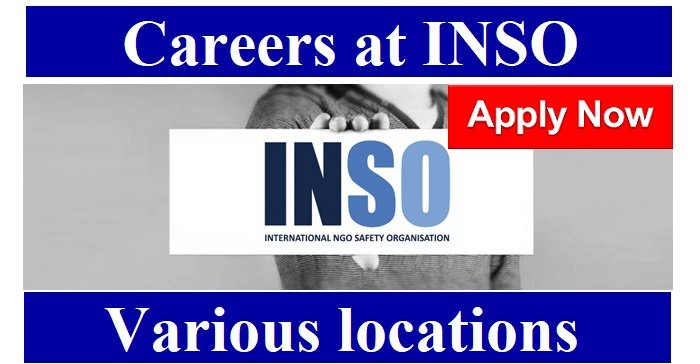 A career with INSO provides a unique opportunity to work for a fast-growing organisation at the forefront of the NGO safety coordination sector.
CURRENT VACANCIES
CAMEROON
Safety Advisor- North -based in Maroua, Cameroon (French fluency required)
Finance Manager -based in Yaounde, Cameroon (French & English required)
AFGHANISTAN
Safety Advisor- North -based in Mazar-e-Sharif, Afghanistan
Training Manager – based in Kabul, Afghanistan
NIGERIA
Information Manager – based in Abuja, Nigeria
Safety Advisor- Mobile, Lake Chad Basin – based in Maiduguri, Nigeria (French & English fluency required)

NETHERLANDS
Regional Director- East Africa -based in The Hague with travel to East Africa
Global Communications Manager – based in The Hague, Netherlands
SYRIA
Training Manager – based in Amman, Jordan with travel in the region

HAITI
Country Director – based in Port-au-Prince, Haiti


INSO does not ask for payment from applicants during a bona-fide recruitment process, nor do we provide interview or job related training prior to interview. If you are asked for payment or offered interview training then regretfully, this is likely to be a scam. Please do not submit payment for any recruitment, but please do pass on as many details as you can to us so that we can aim to prevent this happening again in the future by emailing INSO info address at info@NGOsafety.org.
How to Stop Missing Deadlines? Follow our Facebook Page and Twitter !-Jobs, internships, scholarships, Conferences, Trainings are published every day!