APPLY FOR THIS OPPORTUNITY! Or, know someone who would be a perfect fit? Let them know! Share / Like / Tag a friend in a post or comment! To complete application process efficiently and successfully, you must read the Application Instructions carefully before/during application process.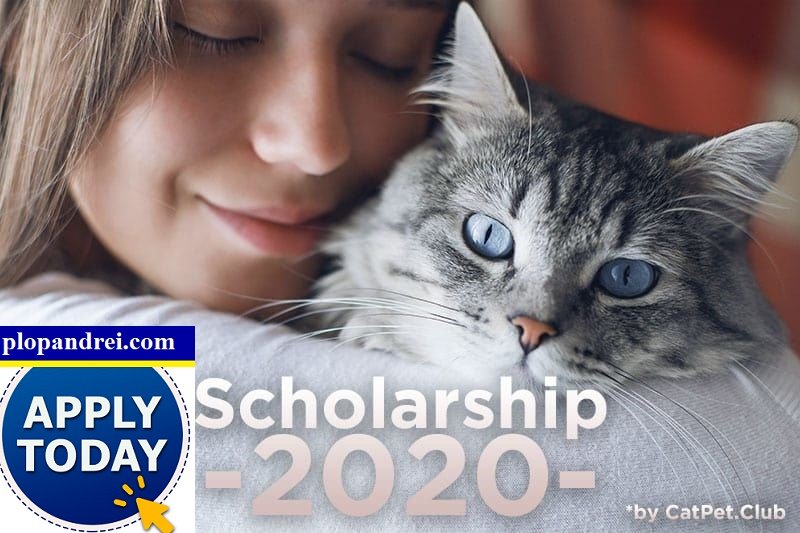 Ready to get a $1,000 biannual scholarship from CatPet.Club?Apply for the scholarshipUniversity/college staff click here
We're establishing it to help students from universities, high schools, and other educational institutions across the USA and Canada. A winner gets $1,000 to their institution's finance account.
---
Here's what you need to apply:
Please write a 600-800-word essay on ONE of the topics:
1. What can we do to cut down on homeless cats?
Did you know that 3,200,000 cats enter U.S. animal shelters yearly? More than that, about 860,000 of them become subjects of euthanasia.
Think and write about what everyone can start doing today to influence these awful statistics and make things better.
Do your best to avoid political aspects. Be creative and thoughtful.
---
2. How cat's nutrition impacts their health and well-being
We've all heard the saying, "You are what you eat." But is it true when speaking about our felines?
Please write about what cat owners should consider when feeding their pets. How to improve a cat's nutrition for better health, longevity, and disease prevention? Is it only high-quality food that matters? What about hydration, extra treats, or supplements for cats?
Also, what can you tell about the differences in healthy diets for indoor and outdoor felines?
---
3. Is it necessary to manage a cat's weight?
According to the official data, 30-35% of felines suffer from obesity, and 50% of 5-11 years old cats are overweight. Do you consider it a problem?
If so, what can a cat's human parent do to solve this problem? (Please think outside the food for weight loss when writing.) Where is a fine line between helping our four-legged friend stay healthy and body-shaming her?
*Please, pick only one topic from suggested.
---
Application Requirements
Submit your essay before the 31st of May 2021.
Your GPA should be 3.0 minimum when you apply and when rewarded.
You should be a citizen of USA or Canada.
---
Scholarship Timeline
September 9, 2020 – the start of our scholarship, and we begin to accept your applications.
May 31, 2021 – we stop accepting your applications.
June 31, 2021 – we announce the winner. (We'll notify him or her via email.)
---
Awarding
We will read all the essays and grant ONE applicant with the scholarship. The money ($1,000) will go to the winner's educational institution finance account.
---
Terms & Conditions of CatPet.Club Scholarship Program
CatPet.Club will NOT charge any fees from students willing to apply for the scholarship.
All the students (graduate and undergraduate) from universities, colleges, and high schools are welcome to participate. The verification of enrollment will occur before payment.
Your essay should be in English. We won't consider any submissions that miss or don't follow any of the above requirements.
The final day for submitting your essay is May 31, 2021. CatPet.Club will decide on the winner by June 1st, 2021.
We'll send the prize to the winner's educational institution directly on his or her behalf.
We'll notify the winner via email.
This CatPet.Club Scholarship Program is biannual, and the winners of previous programs aren't eligible to apply for a second time. Those applicants who didn't win are welcome to reapply to the next program.
CatPet.Club reserves the right to publish the received essays. We won't reveal any personal information (other than first and second names) of applicants. We can post authors' photos if they opt-in for it.
All applications must be from individual applicants. Plagiarism will be the cause of immediate disqualification.
All the questions about CatPet.Club Scholarship Program should go to scholarship@catpet.club.
Privacy Policy
CatPet.Club Magazine respects the privacy of its scholarship applicants. We will keep any personal information confidential, and will only use said information for the purpose for which it was collected (i.e., verifying scholarship eligibility and/or contacting the applicant about the scholarship).
CatPet.Club Magazine will not transfer (including but not limited to sharing, leasing, donating, selling, renting, or trading) a scholarship applicant's personally identifiable information to third parties unless the applicant explicitly grants CatPet.Club Magazine permission to do so, and we will not use a scholarship applicant's personally identifiable information to sell, market, and/or advertise its services to the applicant, unless otherwise specified in the scholarship rules.
Notwithstanding the foregoing, CatPet.Club Magazine reserves the right to disclose a scholarship applicant's personally identifiable information as required to comply with any applicable local, state, or federal laws or as necessary to protect CatPet.Club Magazine's rights, and CatPet.Club Magazine also reserves the right to alter this policy at any time with or without notice.
For more information please open this link
How to Stop Missing Deadlines? Follow our Facebook Page and Twitter !-Jobs, internships, scholarships, Conferences, Trainings are published every day!