APPLY FOR THIS OPPORTUNITY! Or, know someone who would be a perfect fit? Let them know! Share / Like / Tag a friend in a post or comment! To complete application process efficiently and successfully, you must read the Application Instructions carefully before/during application process.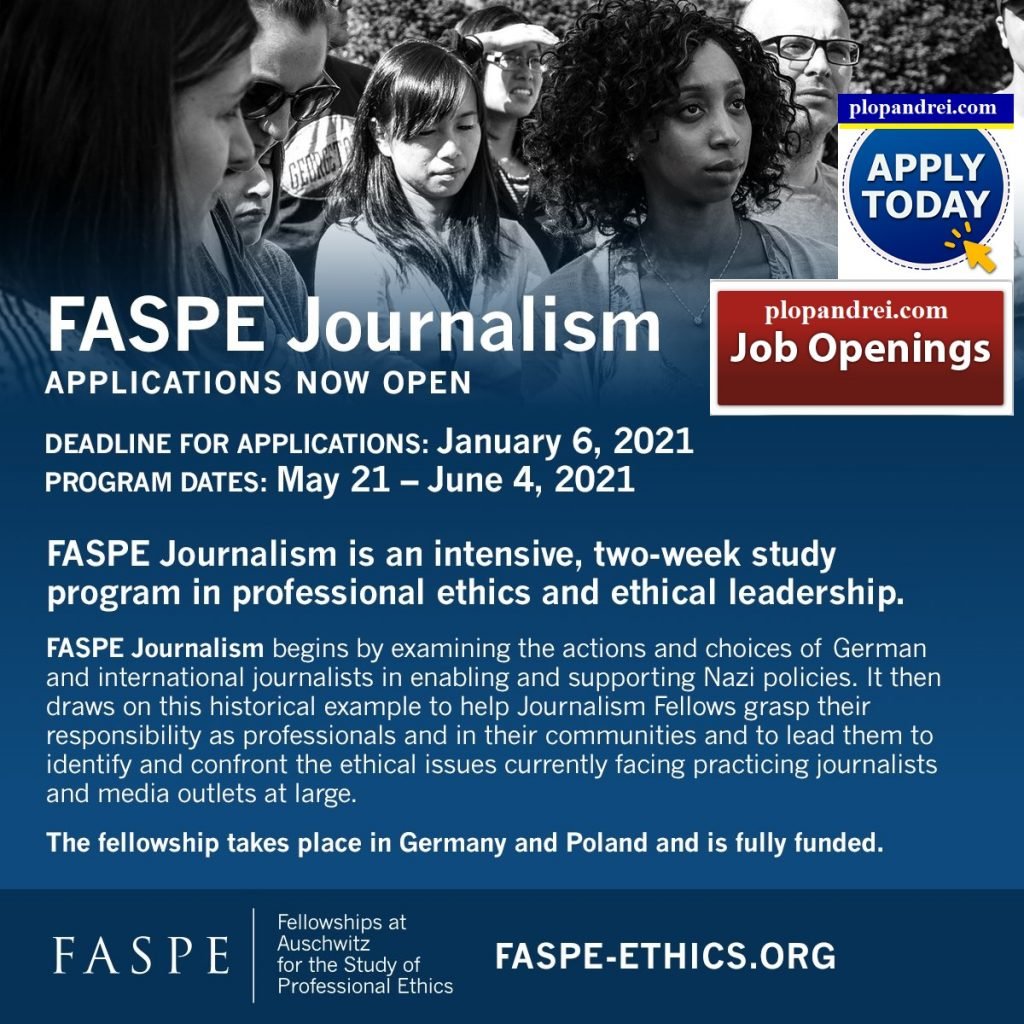 How to Apply
Applications for our 2021 Fellowship programs are available starting August 31, 2020. FASPE uses an online application system through Submittable. All applications must be submitted through the FASPE Submittable application portal. To ensure that you have the smoothest experience in applying, please be sure to first read through all instructions below carefully.
2021 Program Dates
May 21, 2021 – June 4, 2021: Business, Journalism and Law
June 11, 2021 – June 25, 2021: Medical and Seminary
For more information about our five fellowship programs, please see the descriptions under our Programs tab.
The application DEADLINE for all programs is Wednesday, January 6, 2021
To confirm your eligibility for a FASPE program, please refer to the program for which you are interested in the Programs tab.
Detailed Description of Application Components
1. Online form
The online cover form on Submittable will ask for basic information about you. This will include your contact information, schools you have attended and the names and contact information for those writing letters of recommendation and those serving as references.
2. Resume
Your resume should include your educational and employment history, along with any honors, awards and/or publications.
3. Transcripts
We require transcripts from all institutions of higher education where you spent significant time. (There is no need to send transcripts from a semester abroad or for a single summer course.) You may submit official electronic transcripts or scans of official hard copy transcripts. Printouts and screen shots of online transcripts are not acceptable. If you are in your first year of a program and are unable to submit a transcript because your grades are not yet reported, please submit a letter from your dean confirming your enrollment in your degree program, confirming that you are a student in good standing, and, ideally, including a list of the classes you are currently taking. Please note that a school admissions letter or a letter from your registrar that does not include your degree program is not acceptable as proof of enrollment.
4. Short Essay Questions
We require responses to short essay questions. The questions depend on program; and the requested length of each essay is indicated within the questions. Please select the link below that corresponds to the FASPE program to which you are applying, to see the questions and respective word limits
FASPE Business – Short Essay Questions
Download PDF of Business Questions
FASPE Journalism – Short Essay Questions
Download PDF of Journalism Questions
FASPE Law – Short Essay Questions
Download PDF of Law Questions
FASPE Medical – Short Essay Questions
Download PDF of Medical Questions
FASPE Seminary – Short Essay Questions
Download PDF of Seminary Questions
5. Letters of Recommendation
Two letters of recommendation from academic faculty are required. We prefer letters from academic faculty who have taught you in your current or most recent graduate program, although we will also accept letters from faculty from previous graduate education or from your undergraduate career. For early-career professionals or those with significant and relevant professional experience applying to the Business, Journalism, Law or Seminary programs, letters may also come from a supervisor or other employer. All letters of recommendation must come directly from the recommenders. There will be further information on the Submittable form on how recommenders can send their letters directly to us through Submittable.
If your recommenders seek guidance on what to include in their letters, please convey that we are looking for the following:
A discussion of any of your academic work and/or work or other experiences that would enrich this program with its focus on contemporary professional ethics;
Information about how actively you participate in class discussions and/or an assessment of your verbal and written expression;
Details about how you have reacted in emotionally and intellectually intense classroom exchanges or work experiences;
Details about your ability to work and travel in small groups;
An assessment of your potential to be a leader in your field, based on a comparison of your strengths and weaknesses to others who have followed similar paths; and
Any other information that he/she finds relevant.
6. References
The names and contact information of two additional references. No letter is required from these references, but they should be prepared to discuss your academic and professional work experience, intellectual and emotional maturity and ability to work and travel with others. Relatives cannot be used as references.
Thank you for your interest in FASPE. We look forward to receiving your application.
FASPE is an intensive, two-week study program in professional ethics and ethical leadership. FASPE is neither a Holocaust studies course, nor a genocide prevention program. Rather, the curriculum is designed to challenge Fellows to critically examine constructs, current developments and issues that raise ethical concerns in their professions in contemporary settings in which they work.
FASPE Journalism challenges its Fellows to recognize their responsibility to act as ethical leaders in their careers in journalism and the media. FASPE begins by examining the actions and choices of German and international journalists in covering and supporting Nazi policies. FASPE then draws on this historical example to help Journalism Fellows grasp their role and responsibility as individuals with influence in their communities and to lead them to identify and confront the ethical issues currently facing journalists and media institutions at large.
Each year, FASPE Journalism awards fellowships to 14 to 16 journalism students and early-career journalists. Fellows spend two weeks in Berlin and Poland, where they visit key sites of Nazi history and participate in daily seminars led by specialized faculty. The program couples the power of place with academic rigor and many informal opportunities for creative exchange.
FASPE draws on a large pool of applicants, whose diverse backgrounds and interests enrich discussions both inside and outside the seminar room. Journalism Fellows travel with Business and Law Fellows, allowing them to broaden their understanding of the role of professionals over shared meals and activities and in several interdisciplinary seminars. FASPE Fellowships are fully funded so that financial ability does not affect participation.
Eligibility
FASPE Journalism applicants must be interested in journalism as a career and fit into one of the following two categories: 1) be enrolled in a graduate program of any kind and planning to work as a journalist; 2) be working as a journalist with an undergraduate degree in any field received between May 2015 and May 2020 or a graduate degree in any field received between May 2019 and January 2021.
FASPE seeks Fellows who are about to embark on their career as professionals, are interested in engaging in discussions with their co-Fellows and faculty, and who have the intellectual and emotional maturity to unpack difficult and controversial issues responsibly and respectfully in small group settings. FASPE selects its Fellows on the basis of their academic background, personal and professional experiences, capacity for leadership and ability to contribute to the program and the alumni community. All applications are welcome and reviewed.
2021 FASPE Journalism Program Dates: May 21 – June 4, 2021 (Program starts on the evening of May 21)
To learn more about the application process please go here.
To view photos of the 2019 Journalism program and read about the experience, please go here.
FASPE Journalism Fellows examine topics such as:
the complicity of German and foreign journalists in Nazi policies through inadequate coverage or outright misrepresentation of the crimes being committed
the impact of technology on journalism
the role of journalists in electoral politics and in holding power accountable
the nature and propriety of advocacy journalism
normalizing aberrant behavior through media coverage
the challenge of reporting in an era in which fake news and accusations of "fake news" are common
balancing the costs and benefits of access tactics to address ethical issues within the journalism community or media outlets
Newsstand in the Free City of Danzig, 1937.Swiss National Library / Annemarie Schwarzenbach / SLA-Schwarzenbach-A-5-13/060
FASPE Journalism Fellows now work as editors, reporters, nonfiction writers, photojournalists, broadcasters and other professionals, across a wide range of media. Through their shared FASPE experience, Fellows form long-lasting relationships and deep bonds that grow over time. Journalism Fellows participate in formal and informal networks that provide support throughout their careers.
FASPE Journalism was initially developed in consultation with faculty at Columbia Journalism School.
For more information please open this link
How to Stop Missing Deadlines? Follow our Facebook Page and Twitter !-Jobs, internships, scholarships, Conferences, Trainings are published every day!