APPLY FOR THIS OPPORTUNITY! Or, know someone who would be a perfect fit? Let them know! Share / Like / Tag a friend in a post or comment! To complete application process efficiently and successfully, you must read the Application Instructions carefully before/during application process.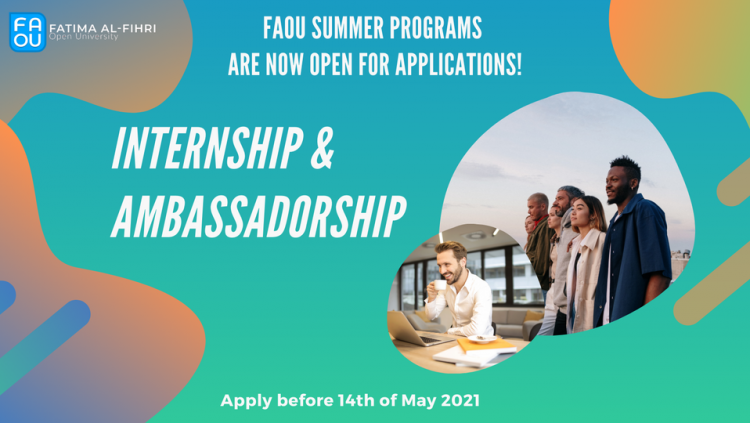 Summer Internship 2021
14th May, 2021 (By 23:59 UTC Time)
About the job
FAOU Internship Programs are open every 3 months for youth around the world to join the working force, it's an opportunity that offers professional experience within an international team. This program has been active since 2017 and by today we have hosted more than 400 interns coming from 93 countries. It's a unique experience, which allows youth to work online, remotely, with all flexibility, while studying or working. The program is not paid, and there is no fee to apply!
Requirements
Proficiency in the English language;

Basic understanding of computer applications;

Access to the internet at least twice a week;

Ability to learn and act in a fast-paced environment;

Ability to work effectively as part of a team;

High motivation to learn and grow professionally;

Ability to work in a multicultural, multi-ethnic environment and to maintain effective working relations with people of different national and cultural backgrounds.
Benefits
No program fees;

Flexible working time (Around 8 hours a week);

Certificate of completion at the end of the program;

Remotely Training during the program;

Support to apply for scholarships or to participate in other programs and events;

Dynamic global work environment with FAOU senior team's support;

Opportunity to build a diverse network with active professionals from all over the world;

Boost your confidence and develop soft skills like management and communication skill, leadership skill.
Duties
For information about the duties of each position available at this internship, please check the guide of internship, which is available in (more info) link.
For more information please open this link
How to Stop Missing Deadlines? Follow our Facebook Page and Twitter !-Jobs, internships, scholarships, Conferences, Trainings are published every day!