APPLY FOR THIS OPPORTUNITY! Or, know someone who would be a perfect fit? Let them know! Share / Like / Tag a friend in a post or comment! To complete application process efficiently and successfully, you must read the Application Instructions carefully before/during application process.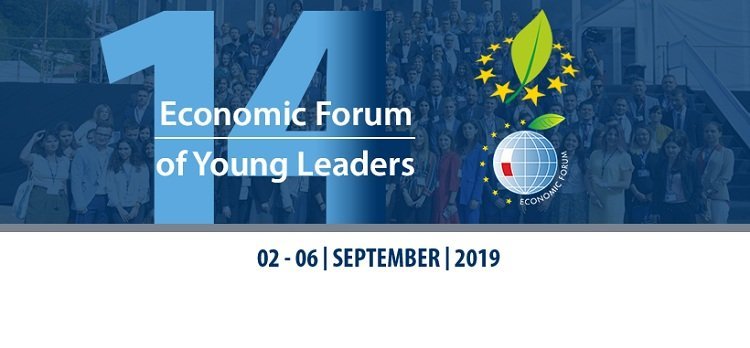 Deadline:  24 June 2019
Open to: participants from Russian Federation, Eastern Partnership countries Armenia, Azerbaijan, Belarus, Georgia, Moldova, Ukraine, Erasmus+: Youth in Action Programme countries Austria, Belgium – DE, Belgium – FL, Belgium – FR, Bulgaria, Croatia, Cyprus, Czech Republic, Denmark, Estonia, Finland, France, Germany, Greece, Hungary, Iceland, Ireland, Italy, Latvia, Liechtenstein, Lithuania, Luxembourg, Malta, Netherlands, Norway, Poland, Portugal, Republic of North Macedonia, Romania, Serbia, Slovak Republic, Slovenia, Spain, Sweden, Switzerland, Turkey, United Kingdom, Western Balkan countries Albania, Bosnia and Herzegovina, KOSOVO * UN RESOLUTION, Montenegro​
Venue: 2-6 September 2019 | Nowy Sącz – Krynica Zdrój, Poland
Description
Economic Forum of Young Leaders is one of the biggest international social and economic meetings of young leaders. Its main aim is to strengthen cross-sectoral cooperation among young leaders from programme and EECA countries and policy makers.
350 young leaders from 35 countries will meet in Poland for the 14th time to debate on the future of Europe. During mutual discussions and workshops new ideas are developed, new inspirations are created and new decisions on taking mutual actions are made. They are meant to generate changes in the future. It is also a great chance to rise quality and improve recognition of youth work, share good practices in the frame of youth work. The 14th Economic Forum of Young Leaders takes place between 2nd and 6th of September 2019 in Nowy Sącz/ Krynica Zdrój. The programme will focus on the following areas: future of Europe, economic growth, changes in education, demography, youth entrepreneurship, business management, leadership and the role of young generation in the contemporary world.
Eligibility
Motivated young professionals who are interested in Central European Studies, the Visegrad Cooperation, and the region in general. We accept applications from all fields of social sciences, humanities, economics, and legal studies. MA and PhD students, young experts and early–career professionals of international relations, political science, security studies, regional studies, economics and other
Call for Applications for the 14th Economic Forum of Young Leaders Call for Applications for the 14th Economic Forum of Young Leaders
How to Stop Missing Deadlines? Follow our Facebook Page and Twitter !-Jobs, internships, scholarships, Conferences, Trainings are published every day!