APPLY FOR THIS OPPORTUNITY! Or, know someone who would be a perfect fit? Let them know! Share / Like / Tag a friend in a post or comment! To complete application process efficiently and successfully, you must read the Application Instructions carefully before/during application process.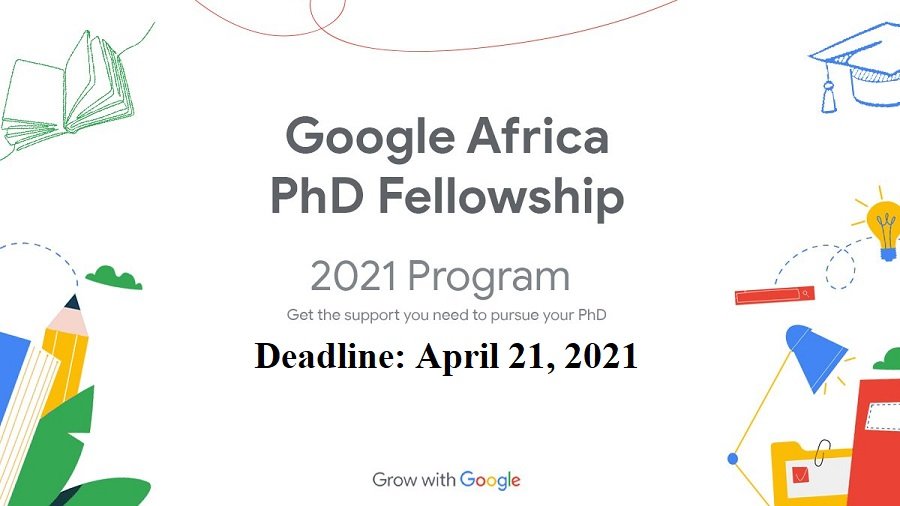 Google PhD Fellowships directly support graduate students as they pursue their PhD, as well as connect them to a Google Research Mentor.
Nurturing and maintaining strong relations with the academic community is a top priority at Google. The Google PhD Fellowship Program was created to recognize outstanding graduate students doing exceptional and innovative research in areas relevant to computer science and related fields. Fellowships support promising PhD candidates of all backgrounds who seek to influence the future of technology. Google's mission is to foster inclusive research communities and encourages people of diverse backgrounds to apply.
Africa
Applications are now open. Submit by 11:59:59pm UTC−12:00 April 21, 2021.

Submit application
Students receive named Fellowships which include a monetary award. The funds are given directly to the university to be distributed to cover the student's expenses and stipend as appropriate. The funds are given as an unrestricted gift, and it is Google's policy not to pay for overhead on unrestricted gifts. In addition, the student will be matched with a Google Research Mentor who we hope will become a valuable resource to the student. There is no employee relationship between the student and Google as a result of receiving the fellowship. Fellowship recipients are not subject to intellectual property restrictions unless they complete an internship at Google. Fellowship recipients serving an internship are subject to the same intellectual property and other contractual obligations as any other Google intern. If a Fellowship student is interested, an internship at Google is encouraged, but not guaranteed or required.
Africa
Up to 3 year Fellowship
US $30K to cover stipend and other research related activities, travel expenses including overseas travel
Google Research Mentor
Is my university eligible for the PhD Fellowship Program?
Africa, India, and Southeast Asia: applications are open to students in computer science (or an adjacent field) from any African or Indian university, or from any university in an eligible Southeast Asian country (Brunei, Cambodia, Indonesia, Malaysia, Myanmar, Philippines, Singapore, Thailand, Vietnam).
How do I apply for the PhD Fellowship Program?
Check the FAQ for details on eligibility and application requirements in your region before applying. Submission forms are available on the main Google PhD Fellowship Program page when the application period begins.
Africa, India, and Southeast Asia: students may apply directly during a region's application period.
How many students may each university nominate?
Africa, India, and Southeast Asia: applications are open directly to students with no limit to the number of students that can apply from a university.
How can I ask additional questions?
If your question has not been answered by a FAQ, email:
Africa: research-africa@google.com
For more information please open this link
How to Stop Missing Deadlines? Follow our Facebook Page and Twitter !-Jobs, internships, scholarships, Conferences, Trainings are published every day!