APPLY FOR THIS OPPORTUNITY! Or, know someone who would be a perfect fit? Let them know! Share / Like / Tag a friend in a post or comment! To complete application process efficiently and successfully, you must read the Application Instructions carefully before/during application process.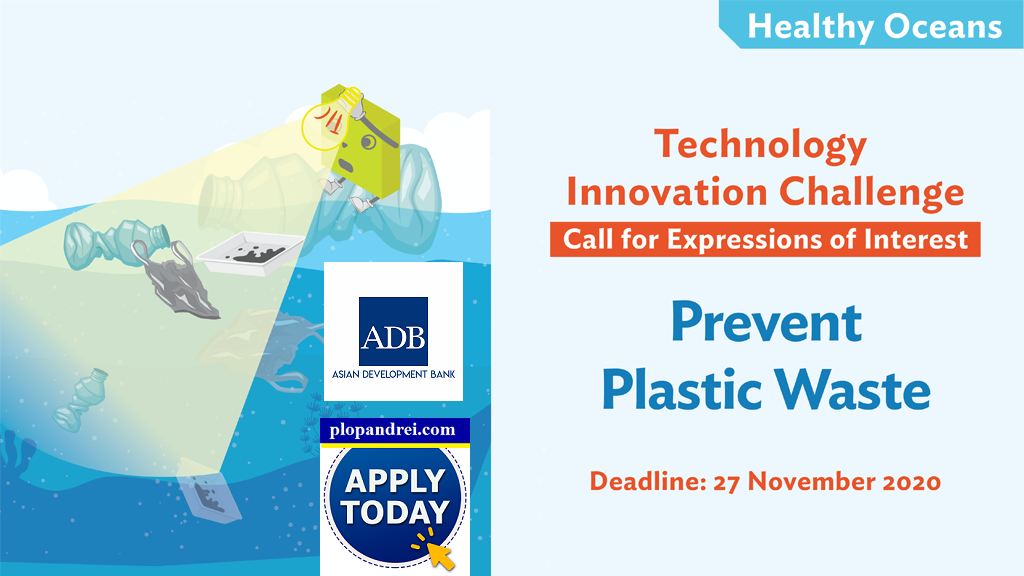 Healthy Oceans Technology Innovation Challenge (TIC) calls for technology providers to submit an expression of interest (EOI) – by Friday 12PM (noon), 27 November 2020 (Philippines Time = UTC +8)– to propose and conduct a pilot on high-level technology solution addressing one of the two development challenges below:
The selected proposal can receive up to $500,000 grant, and technology providers must co-finance at least 10% of the total cost. Two proposals are expected to be awarded under Healthy Oceans TIC.
Expected outcomes
The expected outcomes of the two development challenge are described in more detail below.
Prevent Plastic Waste
The challenge
Marine plastic pollution is an enormous and growing problem. About 150 million tons of plastic is already in the ocean, and this amount increases every year by about 8 million to 12 million tons. Marine plastics cause an estimated 1%–5% decline in benefits or services from oceans—equating to $0.5 trillion to $2.5 trillion per year—particularly relating to fisheries, aquaculture, recreation, natural heritage, and human well-being.
Hundreds of marine species suffer from entanglement and ingestion of plastic, and a quarter of all fish caught now contain microplastics in their guts. In 2015, plastic packaging waste, which is mostly single-use material designed for immediate disposal, accounted for 47% of the plastic waste generated globally. Single-use plastic packaging waste is mostly composed of low-residual-value plastic that is not collected by waste pickers as it cannot be resold, and so it is more likely to leak into the natural environment and ocean. The global COVID-19 pandemic has increased the concern for safety and caused a surge in the use of single-use plastics, such as medical wastes, bottled water, plastic bags, and other types of packaging.
The economic system today is reliant on the access to cheap and readily available resources, where single-use plastic is a noticeable product of the take-make-and-dispose economy. However, with increasing growth and development, and increasing environmental costs of resource extraction and processing, there is a need to find a way to decouple material use from economic activities, i.e. an economic system that delivers on the basic needs but with the least amount of resources. Decoupling is key as opposed to material substitution or alternatives to plastic, as no materials are abundant and free of environmental impacts when produced. Switching from plastics to other materials or using materials that appears to be unproblematic to dispose of in the environment will not be enough as it does not lead to the necessary pivot from the environmentally unsustainable linear economy.
One approach to reducing single-use plastic waste is transitioning to a circular economy. For plastic never to become waste, it must only be used in items where necessary, in small amounts with the longest possible projected lifespan. In a circular economy, the plastic materials used remain as a valuable commodity even at its end-of-life and can seamlessly integrate back into the manufacturing of new plastic items in place of virgin plastic. A circular economy redefines current production and consumption patterns in a way where businesses support positive economic, social, and environmental benefits throughout supply chains, business models, and life cycles (e.g., from the choice of raw materials, design of products/services, to recycling and end-of-life).
Expected outcome
We are seeking to pilot technologies that prevent plastic waste and accelerate the transition to a circular economy by significantly reducing or eliminating single-use plastic waste. The waste preventive technologies could support (i) the transformation of current delivery systems of fast-moving consumer goods such as food, beverages, and personal or home care products to reuse and refill models, and/or (ii) reverse logistics services, which are designed to return goods and packaging from the point after consumption back to the business or retailers and enable these to directly reuse the good or packaging for its original purpose.
A properly built circular economy focuses on preventing waste from being created in the first place, hence, avoiding the recycling stage. Therefore, this challenge is seekingpreventive reuse, redistribution and remanufacturing technologies, and NOT technologies related to the recycling processes. Plastic prevention technologies differ from plastic recycling technologies as the purpose of these technologies are to preserve the original functionality of the item or packaging and keep them in continuous function. Recycling technologies on the other hand has the purpose of reprocessing materials into a secondary raw material to be used for different purposes.
Below are a few examples of technologies contributing to preventing plastic waste and accelerating the transition to a circular economy. The challenge is not limited to these types of technologies. The examples are merely provided to show the great variety of solutions that might be proposed under this challenge:
Technologies that facilitate the remanufacturing of plastics, e.g. a particular feature in the plastic packaging design which facilitates its disassembly and/or refurbishment for reutilization for other purposes. Technologies that enable the public sector, especially municipalities, to pilot and implement new and innovative systems that leads to the reduction of single-use plastic packaging and items in the municipal waste stream. Technologies that use data, IT systems, internet of things (IOT) or artificial intelligence to help the industry, business, commerce and retailers to implement circular business models that reduce plastic waste by eliminating it or putting in place reuse-models. Technologies that enable, incentivize, improve or gamify the process of reusing plastic packaging and items. This could for instance be mobile washing technologies to be used for events or in areas where space is limited. Technologies that facilitate reuse models, such as small mobile units capable of sanitizing packaging or items, or small-scale collection vehicles mobile units for refilling options or collection of packaging and items for the purpose of reuse. These solutions can generate new, better paying and healthier jobs for informal waste collectors as well. Technologies that promote consumer behaviour change and incentivize re-use as opposed to single-use plastic packaging or items.Technologies that aim at reducing single-use plastics in a specific sector, which are especially problematic e.g. within the tourism sector.
Do you have a technology solution in mind?Send in an application!Read more under how to apply.
Restore and Protect Coral Reefs
The challenge
Corals are essential ecosystems for healthy oceans and coastal resilience, but they are currently dying and disappearing because of human activity and climate change effects. Coral reefs play a crucial role in the sustainable development and resilience of coastal areas.
The rich biodiversity of coral reefs has made them play an essential role in marine ecosystems. Coral reefs take the leading role in the provision of ecological services (marine resources, tourism, improvement of environment and coastal ecosystems, etc), protecting the livelihoods of coastal populations especially the poor. Their disappearance puts a significant amount of fish species at risk, which in turn has a direct impact on the livelihood of other animals, as well as of millions of people. Their degradation brings a decline in the productivity of marine products, threatening the livelihood of coastal populations and sustainable development along coastal areas.
Coral reefs also have a very important role in the protection of coastal areas against natural hazards. Coral reef structures buffer shorelines against waves, storms, and floods, helping to prevent loss of life, property damage, and erosion. When reefs are damaged or destroyed, the absence of this natural barrier can increase the damage to coastal communities from normal wave action and violent storms.
Currently, besides human activity and pollution, the fundamental challenge faced by coral reefs is climate change. As the planet gets warmer, glaciers melt, causing sea levels to rise. As a result, corals are predicted to end up deeper in underwater, receive less sunlight, and grow more slowly. Also, most corals have a narrow temperature tolerance, so when water temperatures rise, corals become stressed and coral bleaching occurs. Although corals can survive a bleaching event, they will eventually die if they are under repeated stress. Outbreaks of coral disease typically follow bleaching events since stressed corals are more susceptible to infections which end up causing the death of coral structures. Another predicted climate change impact is the increase in the frequency and intensity of tropical storms. These storms cause larger and more powerful waves than normal and can break coral branches and overturn coral colonies. Besides climate change, ocean acidification and ozone depletion are also causing the death of coral reefs.
Expected outcome
We are seeking to pilot technologies that can help restore and/or protect coral reefs. These technologies are envisioned to increase the resilience of coastal areas by sustaining the livelihoods of coastal populations and by protecting the coasts from natural hazards.
Below are some technologies being developed to help restore and/or protect coral reefs. The challenge is not limited to these types of technologies. The examples are merely provided to show the great variety of solutions that might be proposed under this challenge:
Technologies for seeding reefs with corals that are more resilient to heat to help coral reefs to evolve and adapt to the changing environment.Technologies to physically stabilize damaged reefs, after cyclone and bleaching events, to facilitate faster recovery.Technologies to create artificial coral reefs, such as biorock, 3D printing or any other technology or material.Technologies for coral larval restoration.Technologies to protect coral reefs from heatwaves to prevent bleaching.Technologies to monitor, protect and/or replant corals reefs.
Do you have a technology solution in mind?Send in an application!Read more under how to apply.
What is the Technology Innovation Challenge (TIC)?
Under TIC, technology providers are invited to submit a proposal to undertake a proof-of-concept/pilot of a high-level technology solution to address an identified development challenge. Selected proposals can receive a grant of up to US$500,000.
The purpose of the TIC grant is to introduce new solutions in ADB's developing member countries (DMCs) and thereby support ADB's mandate in assisting DMC's to reach the Sustainable Development Goals. Through TIC, DMCs will learn about new technology solutions to address various development challenges, and technology providers' risks related to market entry may be reduced by showcasing their technologies.
The proposed technology or solution has to be new to the country or to the context with improved efficiency, impact, and/or life-cycle cost compared to existing solutions. However, the technology should have been tested and verified before in another country or context.
What TIC expects from you
Slides from an online seminar on all 2020 TIC challenges can be found here.
TIC is supported and financed by the High-Level Technology (HLT) Fund, ADB's multi-donor trust fund promoting more widespread adoption of high-level technology in ADB projects.  The TIC is sponsored by ADB. 
For more information please open this link
https://challenges.adb.org/en/challenges/tic-ocean-health?lang=en&fbclid=IwAR2h91c7arl6Yd72ZAi_qJ1sa48Rp5Uj6SM8ruVhWKppykwH_PMBO67cjd8
How to Stop Missing Deadlines? Follow our Facebook Page and Twitter !-Jobs, internships, scholarships, Conferences, Trainings are published every day!