APPLY FOR THIS OPPORTUNITY! Or, know someone who would be a perfect fit? Let them know! Share / Like / Tag a friend in a post or comment! To complete application process efficiently and successfully, you must read the Application Instructions carefully before/during application process.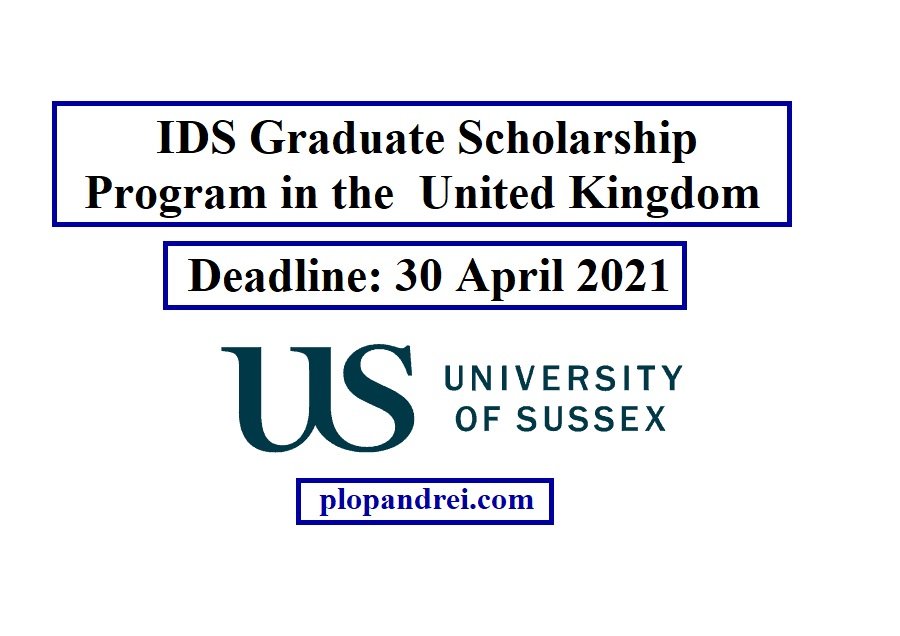 IDS Graduate Scholarship 2021
The Institute of Development Studies (IDS) is delighted to offer at least one scholarship to encourage high achieving scholars from the Global South to study for a master's degree commencing in 2021.
IDS Graduate Scholarships are supported by a number of generous funders including the Allan and Nesta Ferguson Charitable Trust and Dr Purna Chander Kotagiri Fund.
These scholarships are available to international students from low- or lower-middle-income countries who have accepted a full-time place on an IDS master's degree. Preference for one scholarship will be given to female students from Africa or Asia. Priority for all scholarships will be given to those who have the greatest potential to make a difference in their home countries after completing the degree.
Type of award
Taught full-time master's degree plus essential living costs
Award amount
Up to £18,500 for fees and up to £11,000 for essential living costs
Eligibility
The scholarship is only open to applicants who are nationals of and currently living in a low or lower-middle income country. For details please refer to the World Bank's country list.
Applicants:
Must have proven academic skills and an established career with a track record of excellence and achievement in the field of development
Must be able to demonstrate, through your previous experience and future plans, that you are committed to working for development – be it educational, economic, social or cultural – in your home country
Must not have studied nor worked in a high-income (developed) country
Must meet all of IDS and the University of Sussex's general entrance requirements.
Must have received an unconditional offer on a full-time taught IDS master's degree (see our list of IDS master's courses) by 30 April 2021 (it is possible to apply for the scholarship before receiving an offer of a place).
It is not possible to defer an award made in one academic year to a later academic year if a student is unable to take up the original place.
Application procedure
Applications for the scholarship award should be submitted via our online IDS Scholarship Application Form.
In fairness to other applicants, we are unable to consider applications from candidates who have not already secured sufficient funds to meet the remaining tuition and living expenses at the time of application (after taking account of the possible award of this Scholarship) and you must provide evidence of how you will fund your expenses.
Find out typical living costs for studying at Sussex
Find out about our terms and conditions
The closing date for receipt of scholarship applications is 30 April 2021.
Your application will be reviewed and successful candidates may be called for an interview (by phone, Zoom or Microsoft Teams). Once an award has been approved, the candidate will be notified in writing by 31 July 2021. Please note that you should not make irreversible plans to leave for the UK until you have received a formal offer letter for the scholarship.
Application deadline
The deadline to submit your scholarship application is 30 April 2021 and you must have accepted an unconditional offer on an IDS master's degree by 30 April 2021.
Contact details
If you have any questions regarding the scheme please email: teaching@ids.ac.uk
Availability
Available to:
International (low or lower-middle income countries)
At level(s):
PG (taught)
Application deadline:
30 April 2021
For more information please open this link
How to Stop Missing Deadlines? Follow our Facebook Page and Twitter !-Jobs, internships, scholarships, Conferences, Trainings are published every day!