APPLY FOR THIS OPPORTUNITY! Or, know someone who would be a perfect fit? Let them know! Share / Like / Tag a friend in a post or comment! To complete application process efficiently and successfully, you must read the Application Instructions carefully before/during application process.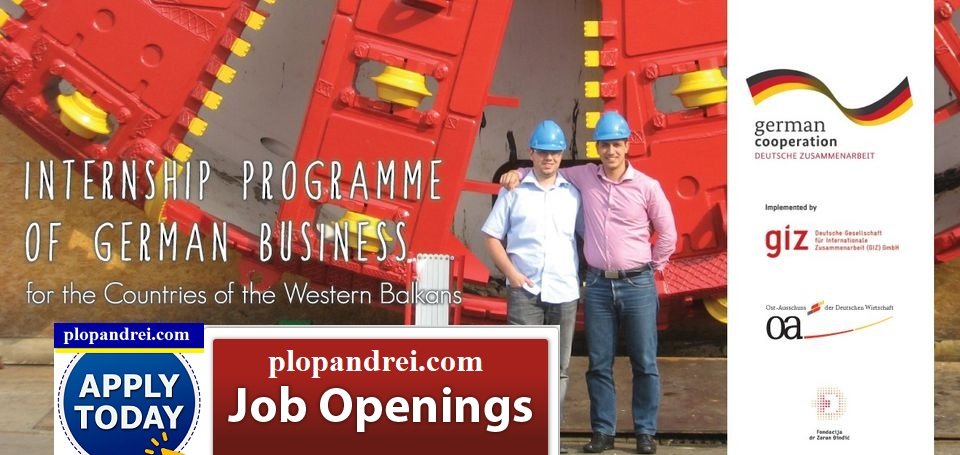 Deadline: 16 November 2020
Applicants
Annually, the Internship Programme offers up to 75 Young Professionals the opportunity to gain practical experience through internships in companies in Germany. University students and young graduates apply their theoretical knowledge they have acquired during their academic education within the framework of their company-specific internships in Germany.
They enrich their studies with practical knowledge, gain further understanding of their future professional developments and set milestones for their professional careers. The Internship Programme gives the scholarship holders an insight into market economy and corporate culture in Germany. By doing so, scholarship holders become familiar with modern management methods.
The internships last between 3 and 6 months. Scholarship holders are assigned to internship positions which match their academic background. The Internship Programme of German Business offers internships from the entire spectrum of the German economy – both large and small and medium-sized companies provide internships.
The Programme gives Young Professionals the opportunity to gain valuable professional and personal experience in Germany. It provides comprehensive organizational and administrative support and covers most of the costs before and during the internships' stay in Germany.
After completion of the internship, the scholarship holders are integrated into a very lively alumni network, which regularly offers a variety of further training measures to keep the alumni always up to date with current economic developments.
Who can apply?
Undergraduate students who are enrolled in the 5th semester or higher when applying, Master or PhD students and young graduates who graduated after January 1st, 2020 are eligible to apply.
Candidates' field of studies should have a focus on economics, business administration, various fields of engineering, agriculture, architecture or journalism.
The applicants should not be older than 29 years when applying.
A very good command of English is required. German is an asset. Exception: Candidates who apply for an internship in the fields of architecture or commercial law are required to have a good command of German (minimum B2 level).
Applicants from Albania, Bosnia and Herzegovina, Croatia, Kosovo, North Macedonia, Montenegro and Serbia who study or have completed their studies in one of these countries are eligible to apply. Not eligible to apply are candidates who are enrolled as regular students at universities outside these countries and those who have already completed BA or MA studies outside the region.
We can provide internships in the following professional fields: (click to expand)
Benefits
The Programme provides comprehensive support and guidance in all organisational steps before and during your stay in Germany. Nearly all of the costs during the preparation of interns in their home countries and their stay in Germany are covered by the Programme.
Organisational and administrative support
Programme takes care of
Documents needed for the visa application and arrangement of appointments at the embassies
Travel arrangements to Germany and back home
Work permission
Introductory week in Berlin (organisation, accommodation, travel arrangements)
Mid-term meeting (organisation, accommodation, travel arrangements)
Programme supports
Communication with companies; review and explanation of documents and contracts provided by companies
Search for accommodation and communication with landlords
Administrative steps in Germany (health insurance, registration, taxes)
Programme prepares you for your stay in Germany
Exchange of experience with alumni and mentoring by alumni
Preparatory meetings and team buildings in home countries before leaving to Germany
Intercultural training during the introductory week in Berlin
Possibility to attend a German course during the internship
Financial assistance
Covered by the Programme
Costs of accommodation and health insurance: Companies either cover the costs directly or pay a sufficient monthly allowance to the interns. The costs vary depending on the city.
Monthly scholarships of 550 EUR: The scholarships are sufficient to cover all remaining living expenses during the stay in Germany.
Preparatory meetings in home countries
Flight ticket to Germany and back home
Introductory week in Berlin
Train tickets to the internship places
Mid-term meeting in Germany
Train tickets to the airport at return
Up to 200 EUR for a German language course during the internship
Visa is free of charge
Not covered by the Programme
Costs for the translation of documents
Travel expenses in home country to the interview, for the visa application, as well as to the airport and back home
Application Procedure
The application procedure is divided into three parts:
an online application in English or German (October – November)
an interview in the capital of the respective countries (December – February)
and the selection of the proposed candidate by the company (March – May)
Candidates apply for internships in their respective fields of study, not for specific positions or companies. The Programme will forward the profiles of shortlisted candidates to the companies. Candidates should not contact companies in advance. However, they should study the list of companies very carefully and inform themselves about the desired industry in Germany.
Most of the companies make their decision based on the written application and the recommendation of the selection committee. However, some companies also conduct short telephone or Skype interviews with the proposed candidates themselves.
Stage 1: Online ApplicationYour application needs to be written either in English or in German. Choose one language to set up your application.
Before you fill in the online application, you should prepare the following documents:
1. Letter of motivation in English or German (as one PDF file)
The motivation letter is one of the main criteria which distinguish you from other candidates. Therefore, make sure that your motivation letter addresses the following topics. Sign your letter at the end:
What is your motivation to apply for the Internship Programme of German Business?
What is your working field (fields) of preference (e.g. marketing department in financial sector, research department in automotive sector) and what do you hope to learn during the internship? How will you use this internship opportunity to excel your professional development?
What makes you a valuable asset to a company? Name experience, skills and personal characteristics.
Describe the set of experiences, skills and ambitions from which you drive your motivation to contribute to the development in your country.
2. Curriculum vitae in English or German (Please use the provided template and upload it as one PDF file: Download in Word
Please note that only applications that use this template will be accepted.
3. Portrait photo in a common graphics format, e.g. JPG (as a separate document)
Please use a proper application photo (no selfie!).
4. Scanned transcript of records: overview of the courses and marks, issued by your faculty (as one PDF file)
Bachelor students: transcript of records of bachelor studies
Master students: transcript of records of master studies AND transcript of records of bachelor studies
PhD students: transcript of records of PhD studies AND transcript of records of master studies
If you just started your Master or PhD studies and can't provide a transcript of records please provide a confirmation of enrollment instead.
If the process of issuing a transcript of records takes longer at your university, you can send us the transcript after the deadline by e-mail to Dusan Andjelovic (andjelovic@stipendienprogramm.org).
5. Translation of transcript of records in English or German (as one PDF file)
The documents can be translated by you, not necessarily by an official translator.
6. Two recommendation letters from professors, supervisors or other relevant referees from the year 2020 (as one PDF file)
7. Optional: other scanned documents available, combined as one PDF file (e.g. language certificates for German or English, references, diplomas)
You may upload the documents in PDF formats. The documents should not be zipped.
Before applying, please read our homepage including the FAQs carefully! Incomplete applications will not be accepted!
Here you can find and download a detailed guide to apply.
The call for internships in 2021 is open from 1st October until 16th November 2020 at 23:59 pm!
After completing the application every applicant will receive an automatic confirmation by e-mail. Should you not receive the confirmation within a few hours, please contact Dusan Andjelovic (andjelovic@stipendienprogramm.org).
For signing up for the application for the Internship Programme of German Business for the Countries of the Western Balkans the following data protection guidelines shall apply Privacy policy.
Apply for: Business Administration, Economics and Law
Apply for: Finance
Apply for: Electrical Engineering
Apply for: Computer Science and Business Informatics
Apply for: Mechanical Engineering
Apply for: Industrial Engineering and Logistics
Apply for: Technology, Natural and Environmental Sciences
Apply for: Civil Engineering and Architecture
Apply for: Journalism
Apply for: Agriculture
Stage 2: InterviewsAll candidates will be informed about the outcome of the first selection round. Candidates will be notified by email one week in advance whether they are invited to the interview or not.
The interviews will only be conducted on certain days in Belgrade, Skopje, Zagreb, Sarajevo, Podgorica, Prishtina and Tirana. We cannot offer the possibility of skype or phone interviews. If candidates are not able to be present at the interview in their home country, they can ask to be interviewed in one of the other cities where interviews will be held.
Belgrade: end of November/ early December 2020
Zagreb: December 2020
Sarajevo: December 2020
Prishtina: January 2021
Skopje: January 2021
Tirana: February 2021
Podgorica: February 2021
The selection committees consist of project coordinators, alumni of the Programme and representatives of the respective embassies, the GIZ, the bilateral Chambers of Commerce and some companies. The interviews last about 20 minutes and will be conducted either in German or English, depending on the language skills of the applicant.
Unfortunately, we cannot cover the travel expenses to the interviews.
Stage 3: Selection by companies
Candidates will be informed whether they are placed onto the shortlist by end of February. Shortlisted candidates will be recommended to German companies. Most of the companies decide to whom to offer an internship based on the written application documents and the recommendation of the selection committee. However, some of the companies also conduct short telephone or skype interviews with the proposed candidates.
To be shortlisted does not mean that a candidate is going to be granted an internship placement. Companies will choose candidates from the shortlist according to their requirements and internship specifications. Half of the shortlisted candidates usually receive a scholarship and an internship placement.
The Programme will provide companies with profiles of shortlisted candidates in March. The decision making process within the companies can last until the end of May.
Stage 4: Preparation and Start of Internships
During May and June the scholarship holders will be prepared for the internships and their stay in Germany in their home countries. The Programme handles most of the logistical and administrative tasks.
All scholarship holders participate in the introductory week in Berlin in the last week of June. After the introductory week, the scholarship holders ravel to their final destination in Germany and start their internship on July 1st. There shall be no exceptions to this rule.
For more information please open this link
How to Stop Missing Deadlines? Follow our Facebook Page and Twitter !-Jobs, internships, scholarships, Conferences, Trainings are published every day!