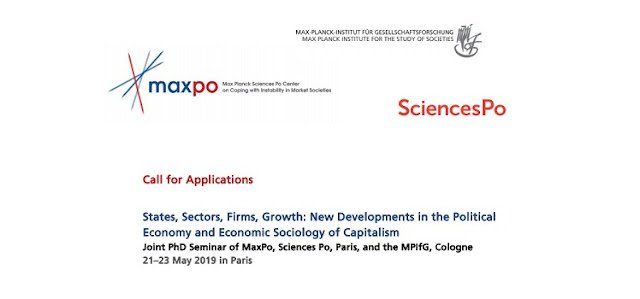 Call for Applications
States, Sectors, Firms, Growth: New Developments in the Political Economy and Economic Sociology of Capitalism
Joint PhD Seminar of MaxPo, Sciences Po, Paris, and the MPIfG, Cologne
21–23 May 2019 in Paris, France
The Max Planck Sciences Po Center on Coping with Instability in Market Societies (MaxPo) and the Max Planck Institute for the Study of Societies (MPIfG) are welcoming proposals from PhD students to participate in a doctoral seminar to be held on 21–23 May 2019 at Sciences Po in Paris. Taught in English by Professors Lucio Baccaro (MPIfG) and Olivier Godechot (MaxPo/Sciences Po) with additional invited senior guest speakers, the seminar is open to current PhD students. Preference is given to students from Sciences Po, the IMPRS-SPCE, and their cooperation partners. Participating doctoral students must have prior knowledge in the fields of international and comparative political economy or economic sociology or adjacent fields. The primary goal of the doctoral seminar is to discuss new research directions regarding capitalism emerging from two disciplinary areas: economic sociology and political economy.
Requirements
Students are expected to complete the required reading in advance (approx. 10 research articles or book chapters and 6 summaries of PhD theses in progress). The seminar includes lectures by the organizing professors and invited senior guest speakers, with a focus on classroom discussions. Students more advanced in their PhD projects will have an opportunity to present their research, which will be commented on by two discussants.
A maximum of 20 students will be admitted to the seminar. A detailed syllabus will be provided to accepted students. Students who successfully complete the course will receive 3 ECTS credits for the seminar.
The cost of accommodation, transportation in economy class, and lunches will be covered by the organizers, who will also make the hotel reservations for the participants upon confirmation of attendance. No specific fees will be charged for the course.
Financial support for the seminar is provided by a grant from the Université francoallemande/Deutsch-Französische Hochschule (UFA-DFH).
Application
If you would like to apply for the seminar, please
indicate your field of study/subject and the name(s) of your thesis supervisor(s);
submit a letter of motivation (max. 300 words), a short description of your PhD project (max. 300 words), and your CV.
Applications must be submitted by the deadline of March 15, 2019. Notifications of acceptance will be given by the end of March.
.
.
.