APPLY FOR THIS OPPORTUNITY! Or, know someone who would be a perfect fit? Let them know! Share / Like / Tag a friend in a post or comment! To complete application process efficiently and successfully, you must read the Application Instructions carefully before/during application process.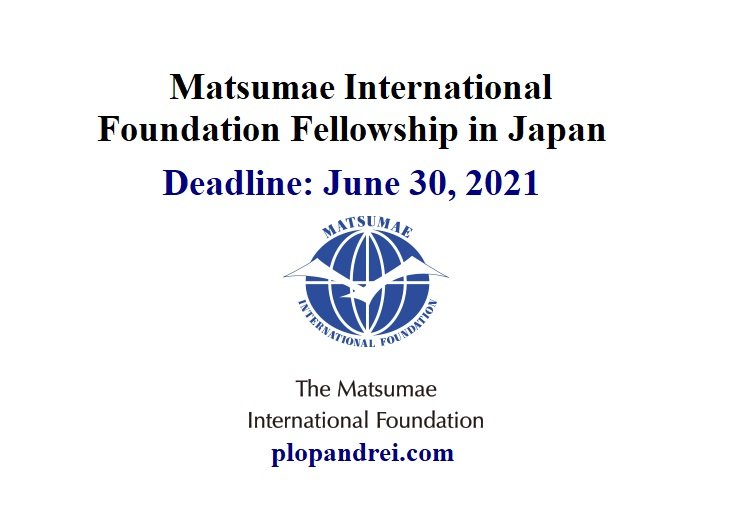 Upon the concept of the founder of the Matsumae International Foundation (MIF), "Towards A Greater Understanding of Japan and a Lasting World Peace", MIF has started the Research Fellowship Program in 1980."2022 Research Fellowship Program" has been officially released.
Application Period will be from April 1, 2021 to June 30, 2021 (Japan Standard Time).
Application Form
Eligibility Requirements:
Applicant of non-Japanese nationality; employed in your home country, holding a doctoral degree, at the age of 49 or younger, without previous/current experiences of staying in Japan etc.
Host Institution in Japan:
Applicants are free to select host institutions (university research laboratories, national research institutions or the corresponding facilities of private industry)Fellowship Details:
Monthly Allowance for research and stay, Insurance, Air Transportation (Round-trip air tickets to/from Tokyo), Start-up Fund upon Arrival.
Fellowship Period:3 to 6 months within the period between April and March.
Number of Fellowship Recipients:10 or less For details, please download " Fellowship Announcement"
FAQ :
I do not have a host institution in Japan at the time I apply for MIF program. Will MIF introduce a host institution to me?
A : An acceptance by a host institution in Japan is a must when applying for our program and the arrangement must be made by an applicant him/herself. MIF does not offer such a service as introducing a host institution to an applicant.
Q : I have already obtained an academic degree from a Japanese institution. Am I still be eligible to apply for the MIF program?
A : This program is available only for those who have no previous experiences in Japan. Thus, your case does not meet our eligibility requirement.
Q : I had been in Japan for a short period of time for attending a conference or for sightseeing. Am I still be eligible to apply for the MIF program?
A : Yes, you are eligible to apply for our program. Please make sure to state the length of previous stay(s) in Japan and purpose(s) in your application document.
Q : I am a student being a candidate for a master's degree. Am I still be eligible to apply for the MIF program?
A : Our program is basically for professional scholars/researchers with PhD.s or with equivalent academic degrees. MIF encourages graduate school students to apply for our program once they become to be able to meet our eligibility requirements
Q : Can I apply for the MIF program if the length of my research stay is only for two months?
A : Our program is offered for those whose length of research stay in Japan is between three and six months.
For more information please open this link
http://www.mif-japan.org/fellowship/faq/?hl=en
How to Stop Missing Deadlines? Follow our Facebook Page and Twitter !-Jobs, internships, scholarships, Conferences, Trainings are published every day!