APPLY FOR THIS OPPORTUNITY! Or, know someone who would be a perfect fit? Let them know! Share / Like / Tag a friend in a post or comment! To complete application process efficiently and successfully, you must read the Application Instructions carefully before/during application process.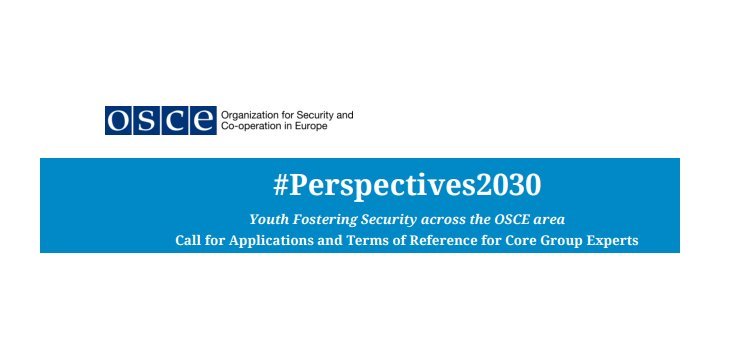 Deadline:
29 March 2019
Open to:
participants between the ages of 20 and 30 years old,
​
OSCE participating States. (See:
https://www.osce.org/participating-states
)
Costs:
Fully funded – costs of participation (accommodation, transport and lodging) are fully covered by the OSCE
Description
The OSCE is looking for 20-30 young women and men passionate about international relations and inspired by OSCE principles and commitments in order to develop a vision of security and cooperation in Europe, Eurasia and North America – the so called "Perspectives 20-30"
​With 57 participating States in North America, Europe and Asia, the OSCE is the world's largest regional security organization. The OSCE works for stability, peace and democracy for more than a billion people, through political dialogue about shared values and through practical work that makes a lasting difference. The OSCE is a forum for political dialogue on a wide range of security issues and a platform for joint action to improve the lives of individuals and communities. The organization uses a comprehensive approach to security that encompasses the politico-military, economic and environmental, and human dimensions. Through this approach, and with its inclusive membership, the OSCE helps bridge differences and build trust between states by co-operating on conflict prevention, crisis management and post-conflict rehabilitation. With Institutions, expert units and network of field operations, the OSCE addresses issues that have an impact on our common security, including arms control, terrorism, good governance, energy security, human trafficking, democratization, media freedom and national minorities.
Eligibility
Proven interests and/or relevant experience or expertise in the field of international security, international relations, political science, economy, environment and climate studies, human rights, law, or other related fields.
Practical experience in the fields of academia, think-tanks and their networks, civil society organizations, youth and youth-led organizations, education and media. Previous experience in engaging with international organizations and national authorities would be an asset
Open mindset and willingness to engage in a multi-cultural environment is crucial.
Fluency in written and spoken English.
Very good drafting skills
Age between 20 to 30 years.
Nationality of and residence in one of the 57 OSCE participating States. (See: https://www.osce.org/participating-states)
Cost
Costs of participation (accommodation, transport and lodging) are fully covered by the OSCE.
Application
If you are interested and eligible, you should submit the application form with a separate free form motivation and network statement (Word or PDF document) in the email, outlining your motivation to apply and which networks you are part of and which could help you to "multiply" the process. Shortlisted candidates will be asked to submit a short video (duration: max 90 seconds) at a later stage.
Deadline for applications: Friday, 29 March 2019, at midnight CET
Please submit the application to:
perspectives2030@osce.org
.
How to Stop Missing Deadlines? Follow our Facebook Page and Twitter !-Jobs, internships, scholarships, Conferences, Trainings are published every day!