APPLY FOR THIS OPPORTUNITY! Or, know someone who would be a perfect fit? Let them know! Share / Like / Tag a friend in a post or comment! To complete application process efficiently and successfully, you must read the Application Instructions carefully before/during application process.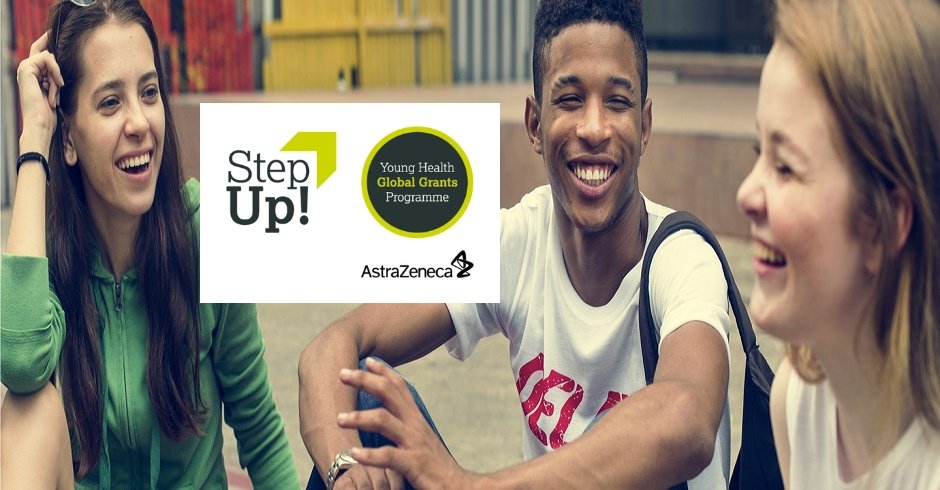 Overview
StepUp!, part of AstraZeneca's Young Health global grants programme, aims to extend the reach and impact of AstraZeneca's investment in young people's health.
It builds on the success of the Young Health Programme and helps NGOs and charitable non-profits engaged in youth-centred health promotion to innovate and scale up their impact, in line with the United Nations Sustainable Development Goal 3 (health and wellbeing).
Innovation and fresh thinking are required more than ever at this time of COVID-19 pandemic to meet health and wellbeing challenges for young people.
You can read about previous StepUp! projects, and a case study outlining what we have learned from the programme so far, to understand the sort of programmes that we support.
Objectives
We aim to:
Have a positive impact on the young people involved in the programmes that we support and the communities that they serve
Learn about what really works in youth health promotion
Increase wider understanding of health and wellbeing initiatives for young people
And to generate:
Case studies and other evidence of promising approaches
Opportunities for future collaboration and investment
Grants available
StepUp! provides grants of up to US$10,000 to help small, innovative, youth-focused and youth-led non-profits to deliver health promotion messages effectively in under-resourced and marginalised communities worldwide, taking account of the COVID-19 pandemic.
We are particularly interested in work to reduce risk behaviours in young people that can lead to non-communicable diseases (NCDs) such as mental health conditions, cancers, diabetes and heart and respiratory diseases.
NCD risk behaviours, such as tobacco use, harmful use of alcohol, unhealthy diet, insufficient physical inactivity, and exposure to air pollution, often start in adolescence and go on throughout adult life. Reducing these NCD risk behaviours in youth can improve the lives of young people today, in their future adult lives and those of their children.
Who can apply?
The fund is open to registered NGOs and non-profit charitable organisations managing youth-focused projects for health promotion or NCD prevention. Organisations must be 'funding-ready' and able to provide appropriate documentation to verify their charitable status and financial situation.
Organisations which have been funded previously by AstraZeneca are welcome to apply, but not for the same project that was previously supported.
What can be funded?
We are seeking grant applications for projects which:
Take place in under-resourced and marginalised communities
Address the health needs of young people aged 10-30, and/or be youth-led
Are focused on health promotion
Show innovation in approach, settings or implementation
Can provide evidence at the conclusion of the project of what has been delivered, as well as outcomes and what has been learned
Can be completed within 12 months of grant payment (ideally by March 2022).
We are acutely aware of the likely effect of the COVID-19 pandemic on organisations that we would like to support and the communities that they serve. We are particularly open to supporting non-profits that are finding new ways of working with this 'new normal' and to projects that link COVID-19 and the prevention of NCDs.
Priority will be given to projects that:
Demonstrate a response to the 'new normal' of the COVID-19 pandemic
Operate in low- or mid- income countries, as defined by the World Bank
Are run by non-profits with an annual income of less than US$1 million
Utilise technology and digital health solutions
Address health disparities
Are inclusive, addressing the needs of vulnerable young people and especially those with limited access to education
Focus on NCD risk behaviours such as tobacco use, physical inactivity, unhealthy diet, the harmful use of alcohol, and exposure to air pollution
Aim to engage other stakeholders to make a wider difference in the world
What StepUp! will not fund:
Individuals
Organisations that

Discriminate on the basis of religious or political belief
Primarily promote political or religious viewpoints to their beneficiaries
Are not registered as charitable
Use the funds to make grants or donations to other organisations or individuals
Are unable to supply appropriate registration and financial documents, bank details and personal details of trustees/directors
Cannot report back effectively on outcomes

Projects already funded through the Young Health Programme or StepUp!
Projects that provide treatment or pay for medicines
Projects that benefit AstraZeneca's commercial business
Organisations applying for projects which last more than one year
Projects that have already taken place or are planned to start before April 2021
Applications for over US $10,000
Top tips for completing your application
Watch our video on how to write a great grant application
When planning your project and completing the application form, please make sure your application is targeted and clear. Make sure you tell us about:
Who you intend to work with – the young people, their needs that you are addressing, and evidence of that need
The specific outcomes you want to achieve and what difference this will make for the young people
How you will measure the difference you will make and how you intend to learn from this
How you might grow and develop your project in the future
For example, a good description might look like this:
Working with young people (ages and demographics given) on targeted health outcomes (eg alcohol reduction or stronger mental resilience) through a clear project (eg youth-led project in a specific community) which takes the implications of the COVID-19 pandemic into account (including how to affect those hardest to reach), with clear measurable outcomes (eg through measurement such as surveys before and after). By working with local partners (eg government) there is potential to share learning and develop the project.
Applications, and associated documents, must be submitted in English. Free online translation services can be used if English is not your first language. Please note that applicants will not be penalised for language skills.
before you apply
First step
Please ensure that you have read the programme details above carefully before deciding whether to apply. Is your project eligible and suitable for this programme? Do you already have all the documents needed for the verification checks? We anticipate a very high demand for this programme, and we will not be able to fund all organisations which apply.
What is the timetable?
View the Step Up! 2020 process timeline below or download the timeline.
Application deadline
Monday 12 October 2020.
Apply
To start a new application for this programme, please use the 'new applications' link below. You will be asked to log in to the online portal, or register if you have not previously used it, with your email address and a password.
Following registration, you will need to complete a short series of questions to ensure your organisation is eligible to apply. This is designed to save time for prospective applicants. If your answers do not meet the eligibility criteria, you will be able to recomplete the eligibility questions if appropriate (for example, if an initial answer was submitted in error).
After successfully completing the eligibility questions, you can then access the full online application form, answer questions about your organisation and project, and upload supporting documents.
The application form can be saved and revisited on an ongoing basis. It does not need to be completed at one time. To return to a saved application form, please use the 'existing applications' link below.
Decisions
Following a thorough selection process, we aim to notify all applicants whether they have been selected for a grant by December 2020.
Due diligence
All grantees must then complete a CAF verification check to ensure charitable purpose; we will send you a list of documents required at this point. We cannot complete this check unless we have a signed, scanned copy of the documents, which will include English translations of your governing document, most recent annual financial accounts, your most recent transactional bank account statement, personal details of your trustees or directors and in some circumstances further information may be required. These checks must be completed within 3 months of notification that you have been selected for a grant. You must make sure that you have these documents ready before you apply.
Contracting and payment
If the verification checks are successful, your organisation will be sent a grant agreement and, once signed, funds will be transferred in one payment.
Project delivery
We anticipate funding projects which will take place during April 2021-March 2022.
Impact reporting
After the completion of the project, you will be sent an Impact Report to complete, to tell us about how the funds have been spent, what you have achieved and the difference the funding has made. We may contact you to develop a case study. 
For more information please open this link
https://www.cafonline.org/charities/grantmaking/astrazeneca-stepup
How to Stop Missing Deadlines? Follow our Facebook Page and Twitter !-Jobs, internships, scholarships, Conferences, Trainings are published every day!