APPLY FOR THIS OPPORTUNITY! Or, know someone who would be a perfect fit? Let them know! Share / Like / Tag a friend in a post or comment! To complete application process efficiently and successfully, you must read the Application Instructions carefully before/during application process.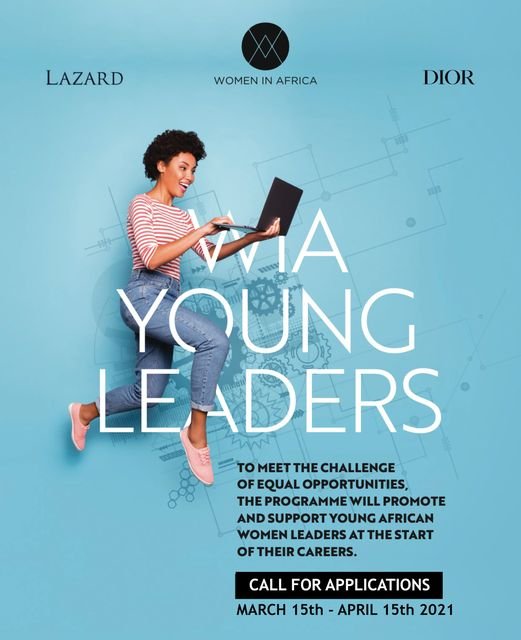 The Young Leaders Programme is a catalyst for training young women leaders at the beginning of their careers.
In 2021, WIA is launching the first edition of the WIA Young Leaders programme, developed in collaboration with its partners Dior and Lazard. Through this programme, WIA and its partners want to support and promote young African women leaders. In 2021, five selected Young Leaders will benefit from an international support program. The goal is to roll out this program every year, with the vision of opening it up to more than 400 young women by 2030.
Selection
The call for applications opens Monday, March the 15th, 2021. Applicants will be asked to answer a questionnaire on WIA website.
Candidates should be African nationals and must show a strong interest in the development of the continent. The winners will be selected by a prestigious international jury for their career and their exemplary leadership capacities. The jury welcomes candidates from underprivileged backgrounds.
Each application will be reviewed according to specific criteria such as:
·  Interest in Africa's development and a vision for the continent;
·  The ability to reconcile business conduct and social impact;
·  Awareness of the need for and importance of public-private dialogue;
·  The ability to become decision-makers at the highest level;
·  The strength of conviction combined with a sense for teamwork;
·  Social ascension: self-made paths will be a priority;
·  Strong bonds to Africa: the candidate – or her parents – must be born in an African country or be linked to an activity or cause in Africa;
·   Humility, empathy and resilience.
Programme
The five winners will benefit from a two-part programme: they will first take a digital training course covering women's leadership and skills needed for the future, taking place in the second quarter of 2021. Then, they will attend the in-person-session part of the programme, during the month of September, which will take place in Paris.
Personalized monitoring will be implemented by WIA. It will enable to identify the individual needs of Young Leaders and to respond precisely to the rise in skills of each of them.
The face-to-face part of the program will take place in Paris. During their stay in Paris, the Young Leaders will have the opportunity to visit Paris and make many meetings essential to the development of their network. They will also have, for example, the exclusive opportunity to visit the Maison Dior archives, as well as to be welcomed into the Lazard offices. A virtual event will finally be organized on the return from this trip, to allow the very first WIA Young Leaders promotion to share their experience.
Thanks to this program, five Young Leaders will have the opportunity to develop their skills, but also to network, to discover new organizations, to meet leading personalities from the worlds of business, politics and media.
The call for applications opens Monday, March the 15th, 2021.
Young African women who are contributing to shaping the continent's future are invited to apply.
The deadline is 15th of April at midnight (Central European Time).
For more information please open this link
https://wia-initiative.com/wia-young-leaders/
How to Stop Missing Deadlines? Follow our Facebook Page and Twitter !-Jobs, internships, scholarships, Conferences, Trainings are published every day!