APPLY FOR THIS OPPORTUNITY! Or, know someone who would be a perfect fit? Let them know! Share / Like / Tag a friend in a post or comment! To complete application process efficiently and successfully, you must read the Application Instructions carefully before/during application process.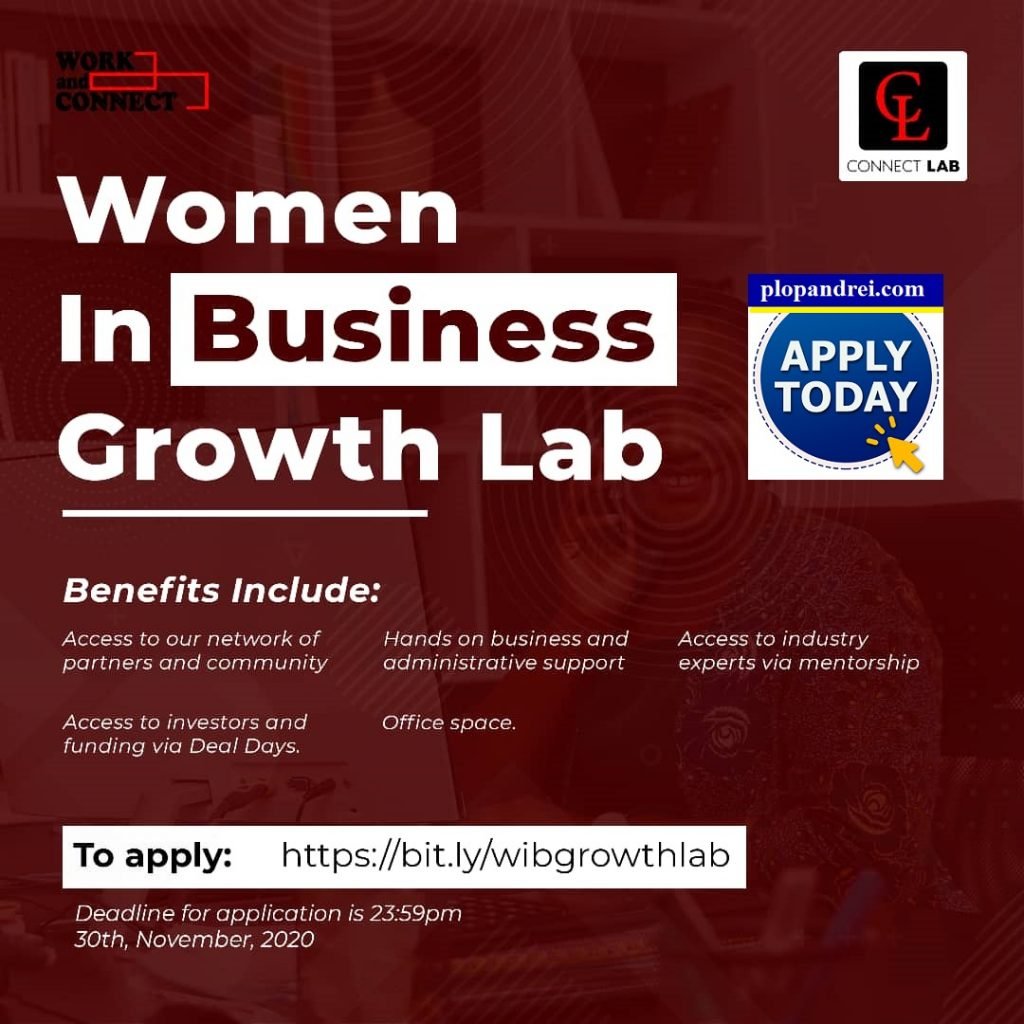 Connect Lab, an African focused Innovation Lab has launched a female entrepreneurship development programme designed to reduce the inequalities and barriers affecting women in business by accelerating progress in gender equality through entrepreneurship development, linking and learning and access to finance.
The Women in Business Growth Lab is a 3-month programme for early-stage women-led start-ups in Nigeria, created to stimulate businesses into profitable & sustainable enterprises to accelerate the creation of jobs on the continent. The project is aimed at fostering gender equality and bridging the gap in the African tech ecosystem through impact investment for the attainment of Africa we want: Agenda 2063.
Through the Women in Business Growth Lab, Connect Lab will be supporting 40 female entrepreneurs covering four programme components; The Co-creation and Value Proposition Bootcamp, Incubation Programme, Women in Business Deal Day and the Growth Mentorship Exchange.
To advance social sustainability and inclusion, we are calling for applications from female start-up founders in Nigeria for the Women in Business Growth Lab
Interested female entrepreneurs, please Apply Here
Please note that the deadline for application is 11:59 pm 30th, November 2020.
Connect Lab is focused on developing the next generation of youth-led ventures and impact-driven social enterprises, supporting the development of the African innovation and entrepreneurship ecosystem through entrepreneurship development, policy advocacy, and start-up investment. A subsidiary of Work and Connect, a hybrid model enterprise support organisation that holistically builds capacity supports the growth of youth-led businesses, innovation-driven entrepreneurs, accelerating MSMEs, and innovates for good.
 For more information, visit connect-lab for partnership and sponsorship, email us at molorunfemi@workandconnect.net
For more information please open this link
How to Stop Missing Deadlines? Follow our Facebook Page and Twitter !-Jobs, internships, scholarships, Conferences, Trainings are published every day!